Explorer Selesnya Angels by havzy – #2 Mythic – March 2023 Ranked Season
Best-of-Three (BO3)
Decklist
Explorer #2 Mythic Selesnya Angels
by briyellowduck@gmail.com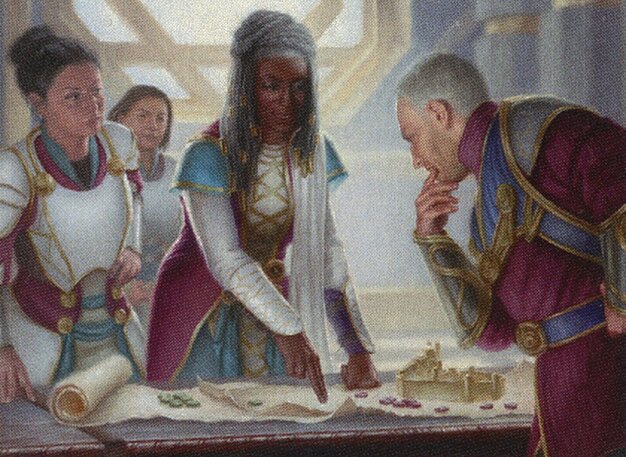 60 Cards
$594.58
15 Cards
$22.71
Visual view
Explorer #2 Mythic Selesnya Angels
Explorer
by briyellowduck@gmail.com
Description
The original list is from Masahide Moriyama, for Pro Tour Phyrexia: All Will Be One.
27-10 record from Plat 2 to Mythic #2. Stats are here: https://mtga.untapped.gg/profile/851479ff-d48f-42d4-84c0-3ce81c14613e/KZG3J6YCIJGFBKND7OX5LACS4U/deck/6e59a5df-0e62-44bc-83d7-0258e4b9090a?gameType=constructed&constructedType=ranked
Sideboard changes: +3 Elite Spellbinder, +1 Damping Sphere, -1 Ajani, Strength of the Pride, -3 Anointed Peacekeeper. I personally felt that Spellbinder was slightly stronger than Peacekeeper  – and it flies, which is huge in this deck. It\'s also way better against Creativity and UW, two of our toughest matchups, because even if it dies the effect still works, whereas you have to have Peacekeeper stay on the battlefield to function. The third Damping Sphere is in there for both Elves and Monogreen – Elves is sometimes faster than the Angels deck is, especially on the play, and stopping Nykthos is huge. Monogreen is a solid matchup for us already, but Sphere really seals their fate.
Deck felt very strong against the field. The redundancy provided by Kayla\'s Reconstruction on top of Company is incredible. Righteous Valkyrie is an absolutely ridiculous card, and Razorverge Thicket is just perfect – turn 1 Elf into turn 2 Skyclave is vital for many of the matchups. My twitter is @havliggles, feel free to DM me w/ any deck questions.
I\'ll touch on decks that I played against 3+ times – most of the others were random off-meta things.
MATCHUPS AND BASIC STRATEGY
(sideboarding may be different than I played it in game, this is how I think I\'d do it going forward):
EASY MATCHUPS
Monowhite is very easy, just rely on the lifegain creatures to get you ahead – 3-4 land hands with 2+ of coco/kayla\'s are great to keep too. SB cards: +2 Skyclave, +1 Portable Hole, -2 Giada, -1 Turntimber.
Abzan Greasefang is fast, but 13 damage just isn\'t that bad for us. We gain 4 a lot of life and, similar to the monowhite matchup, we just lean on our lifegain creatures. Letting Parhelion II resolve + swing usually does not lose us the game, unlike most other decks in the format, so they have to both disrupt us AND pull of their combo to win. Resolving a good Company/Kayla\'s usually ends the game. SB cards:  +3 Elite Spellbinder, +2 Pithing Needle, -3 Giada, -1 Youthful Valkyrie, -1 Turntimber.
Monoblack is easy, but you have to identify whether it\'s a Nykthos deck is not – should be easy to tell by their two-drops, whether they play Misery\'s Shadow or Gifted Aetherborn. 3-drops make it easy to tell too (Underworld Dreams is a dead giveaway, so is Gary). Try to bait out their removal for things that aren\'t Righteous Valkyrie, that\'s by far the best card in the matchup – Resplendent Angel can win you games too. Company/Kayla\'s are great here provided they live through Thoughtseize. SB cards for Nykthos version: +3 Damping Sphere, -2 Giada, -1 Turntimber. No sideboarding for the non-Nykthos versions, we just want to keep our game plan perfect. If they have a lot of powerful 3-4 cost things like Gix, Sheoldred and Obliterator, you can add +2 Skyclave, -1 Giada and -1 Youthful Valkyrie as well.
5c Enigmatic is easy too – just gotta beat them to that Elesh Norn. If they get that, the game is largely over. For game 1, we just go as fast as we can and try to build up multiple creatures on the board to beat Trial of Ambition. SB cards: +3 Spellbinder, +2 Reidane, +2 Skyclave, -3 Giada, -1 Youthful Valkyrie, -2 Emeria\'s Call, -1 Turntimber. Since you\'re already taking mulligans aggressively in this match to get your hate cards, you can feel free to cut a few flip cards.
Monogreen is pretty easy – they\'re fast, game 1 feels about 50/50 – if we can Skyclave something valuable of theirs that\'s a huge win for us. SB cards: +3 Damping Sphere, +2 Pithing Needle, -2 Emeria\'s Call, -1 2 Giada, -1 Turntimber – same mulligan strategy as vs 5c Enigmatic, you really just care about finding Damping Sphere. Needle for Kiora or Karn is always good. Watch out for Karn –> Haywire Mite, make sure to get the Sphere down early so they can\'t hit that line.
RELATIVELY EVEN MATCHUPS
Rakdos is a pretty fun matchup – I feel slightly favored. Their deck is very value-centric, and can take advantage of a bad hand very well, so learning to mulligan well is vital to this matchup. Sheoldred is solid against us, Thoughtseize is solid against us too, but if we can slam a Company or Kayla\'s, we can usually out-value them pretty well. Righteous Valkyrie is very good in this matchup. Went 4-2 vs Rakdos in my run. SB cards: +1 Shaper\'s Sanctuary, -1 Turntimber. If they run a lot of good Skyclave targets, put +2 Skyclave and -2 Giada.
Creativity is a tricky one. I went 4-1 in my run, but a few of those were cuz they just didn\'t draw the combo, and it feels pretty even to me. Game 1 is just a race – they have a lot of 3-damage spells so Bishop and Righteous Valkyrie are the best here. Gotta go fast, they win on turn 5 pretty often. SB cards: +3 Spellbinder +2 Reidane, -2 Emeria\'s Call, -1 2 Giada, -1 Turntimber. Sideboard games are about you trying to delay Creativity and them trying to take out your Righteous Valkyries and Resplendent Angels.
Golgari Tyvar/Priest is 50/50. If they get a Priest online quickly enough, they can absolutely slow us down fast enough where we get no value. Skyclave is an all-star in this. Game 1 is a value-oriented race – if we can start gaining 8+ life in a turn and can continue producing creatures (Bishop and Righteous Valkyrie are the best cards here), then we win – if we can\'t, they will finish us pretty quickly. SB cards: +2 Pithing Needle, -1 Turntimber, -1 Emeria\'s Call. Needle is for Priest, Tyvar sometimes as well.
Golgari Elves almost feels less than 50/50, mostly because they are one of the only decks that can go wider than us. Elvish Warmaster is a big problem, Circle of Dreams Druid is too. Leaf-Crowned Visionary grows a bit faster than our deck and can draw more cards, and everything they have is cheap enough that they can get bigger faster than we can. Not a fun matchup to be honest. SB cards: +2 Pithing Needle, -1 Turntimber, -1 Emeria\'s Call. They have good black removal for our Bishops and Righteous Valkyries, and if we can\'t produce life, then we can\'t usually win this.
TOUGH MATCHUP
UW Control is our tough matchup. Supreme Verdict and Farewell are amazing against us, and if they stick a Teferi they can usually draw enough countermagic to keep us locked out of the game until they find a finisher. Went 3-5 against it in my run. SB cards: +3 Spellbinder, +2 Reidane, -3 Giada, -1 Youthful Valkyrie, -1 Turntimber. This just feels like a bad matchup for us – gotta force them to have both the sweepers and the counterspells. Wandering Emperor is very good on turn 4, and by playing around that we open ourselves up to Memory Deluge.
Other notes:
I never played the mirror, but I\'d bring in +2 Skyclave and +1 Ajani and I\'d take out -2 Giada and -1 Turntimber. Not many people are piloting this deck right now, and it\'s very strong against most of the top decks. Kayla\'s Reconstruction + Razorverge Thicket have pushed this deck from really good tier 2 to tier 1.
I will be trying out Skrelv soon in this deck. I\'ve been noticing that I take Turntimber Symbiosis out every time I play, I rarely use it for a turn 1 green source and I think I should probably just replace it with another Youthful Valkyrie or a land.
Bishop is often better to play before Righteous Valkyrie cuz it gains 4 whereas Righteous Valkyrie gains equal to the creature\'s toughness.
Against any deck that doesn\'t have counterspells, Kayla\'s Reconstruction is your best card and Company is your second-best. Prioritize a turn 3 Company/turn 4 Kayla\'s for X=2 over anything else.
It\'s almost always a good idea to play for the EOT company into untap, draw, Reconstruction. Board state is huge – we like to go bigger than other decks.
Cards that are really bad for us:  Supreme Verdict, Farewell and Elesh Norn are the three worst to run into. Considering Heroic Intervention for the Verdict decks, but Farewell just dodges that – Reidane and Spellbinder are very helpful vs those two. If they get down Elesh Norn, I think you just give up unless you can still just beat them down with flyers – and the only deck that plays Elesh Norn is 5c Enigmatic, so that\'s a real possibility (and I did it during my run). Other tough cards to play against are Elvish Warmaster (fantastic counter to Righteous Valkyrie + Bishop) and Creativity, which usually ends the game upon resolution.
This deck is really good right now. If UW takes a larger metagame share it\'ll be worse, but it\'s the strongest Company deck right now, and it\'s got a very good place in the format. Highly recommend it for a ranked grind.
❓ Importing and Copying Decks into MTG Arena
Source
Went from Plat 2 to Mythic #2 in two days with GW Angels, 27-10 on my way there, 34-15 overall cuz I played more after I hit #2. Original list from @SakeIzumo with a few SB tweaks. Deck is extremely well-positioned right now @ArenaDecklists @mtgazone @fireshoes pic.twitter.com/TFM5L58vEa

— havzy (@havliggles) March 6, 2023
Enjoy our content? Wish to support our work? Join our Premium community, get access to exclusive content, remove all advertisements, and more!