Introduction
Discover the best Magic: The Gathering Arena Explorer decks and archetypes that the players are using to climb the ranked ladder and win tournaments. Our MTG Arena Best of One (Bo1) Explorer Meta Tier List regularly reviews and ranks the top decks in the format, carefully curated by our expert Altheriax. We also follow up our choices based on a variety of factors and sources, with comprehensive analysis from the data available. Updated for The Brothers' War (BRO)!
Tier 1 Decks
Mono Blue Spirits
Bo1 Mono Blue Spirits
by DoggertQBones
This is a tempo deck that is capable of some very fast aggressive starts and also has good disruption in the form of counterspells, bounce spells, and the ability to tap down the opponent's creatures. The Spirits tribal theme gives the deck access to strong creatures that also pack disruptive abilities like Mausoleum Wanderer that can counter non-creature spells, Rattlechains which can protect your other creatures from removal and then allow you to play almost entirely at instant-speed, and Shacklegeist that can tap down opposing creatures.
Creature heavy draws alongside Supreme Phantom enable some very fast starts that are even capable of outracing other aggro decks, but other draws with fewer creatures allow you to play games where you suit up a single creature with a Curious Obsession or Combat Research, protect it with counterspells, and then win on card advantage.
Weaknesses: Like a lot of tempo decks, Spirits can struggle against very fast low to the ground aggressive decks, since it generally prefers to play against slower decks where it can leverage counterspells and bounce spells to prevent the opponent from stabilizing. It can also struggle against decks with a lot of cheap interaction like Fatal Push, especially with hands where you're trying to suit up a single creature with Curious Obsession.
When is it good to play? As long as the format isn't completely overrun by very low to the ground aggressive decks then Spirits is a great choice, since it's great against slower decks, and is very capable of outracing faster decks too due to the high amount of flying threats, and creature disruption like Brazen Borrower and Shacklegeist which can slow down the opponent.
Selesnya Angels
Bo1 Selesnya Angels
by DoggertQBones
This is a tribal deck built around life gain synergies that has a lot of flying creatures and creatures with high toughness that are solid blockers. Packing creatures that are great on defense alongside a ton of life gain makes this naturally very well positioned against aggro decks which make up a big portion of the Best of 1 metagame. It's also one of the best Collected Company decks in the format since it has a bunch of great 2 and 3 mana creatures with good synergy, so a good Collected Company hit can single-handedly win you a lot of games.
Additionally, the deck is very good at turning the corner and closing out the game once it's stabilized because most of your threats are flyers, especially if you've gotten a bunch of +1/+1 counters from Giada, Font of Hope, or you've managed to hit the 27 life threshold for Righteous Valkyrie, or the 5 life threshold for Resplendent Angel.
Weaknesses: Although Angels is very strong against aggressive, creature-based decks, it has a really big weakness to slower, more interactive decks like control which makes it a risky choice if those are a big part of the format. Thankfully in Best of 1, aggressive creature decks make up a much bigger portion of the meta and the slower, more interactive decks like Azorius Control and Rakdos Midrange are generally less popular than in Best of 3, so this isn't as much of an issue in Best of 1.
When is it good to play? As long as the meta is made up of a lot of aggressive or creature-based strategies then Angels is a great choice.
Abzan Greasefang
Bo1 Abzan Greasefang
by DoggertQBones
This is a combo deck that is trying to pitch a vehicle into the graveyard, and then bring it back with haste using Greasefang, Okiba Boss as early as turn three! This is especially powerful in Best of 1 since the two main ways of stopping the combo (graveyard hate and instant-speed creature removal) are both much less common in Best of 1 which increases your odds of being able to combo off.
The deck can set up vehicles in the graveyard very consistently using mill spells like Grisly Salvage and Stitcher's Supplier, or discarded from your hand with cards like Liliana of the Veil and Raffine's Informant. With graveyard hate being less common in Best of 1, the mill spells are even more potent since the deck runs four Can't Stay Away which also allows you to reanimate Greasefang, Okiba Boss if you mill it over, so it's very easy to find both parts of your combo. Even if the opponent is able to stop the combo or you take a little longer to find Greasefang, Okiba Boss, the deck is still capable of playing a reasonable fair game off the back of cards like Liliana of the Veil and Esika's Chariot too.
Weaknesses: The combo is weak to graveyard hate and insant-speed interaction, so if the opponent has either of those, you're often forced to rely on your 'fair' game plan which won't be good enough in certain matchups. Additionally, most of the Best of 1 Greasefang, Okiba Boss lists are very focused on setting up the combo and don't tend to run much interaction themselves outside of Thoughtseize, so if you're against a fast aggressive deck, and you have a slower start, or the opponent has a way to stop your combo then you can sometimes get overrun.
When is it good to play? Abzan Greasefang is generally a great choice in most situations in Best of 1 since your linear game plan is so strong and the deck has a good amount of resilience too. Having said that, it can be risky if people start running more graveyard hate or instant-speed interaction since that will shut off the most powerful part of your deck.
Mono Red Aggro
Bo1 Mono Red Aggro
by DoggertQBones
This is a very pure aggro deck that is trying to commit creatures to the board as fast as possible to close the game out before the opponent has a chance to stabilize. The deck is capable of some very fast starts since it runs a lot of haste creatures and cards like Burning-Tree Emissary really help you to flood the board quickly.
Embercleave and Torbran, Thane of Red Fell also allow you to force lethal damage through even if the opponent has stabilized against you, especially if you can equip Embercleave to Anax, Hardened in the Forge. The deck also has access to decent reach in the late game because it has elements of burn like Ramunap Ruins, Bonecrusher Giant, Kumano Faces Kakkazan, etc. so it's very difficult to completely stabilize against this deck unless the opponent has a decent amount of incidental life gain.
Weaknesses: The deck is very one dimensional which means it's fairly easy to stop if you're running a deck with a lot of interaction or sweepers like Azorius Control. It doesn't have great ways to stop other linear decks that are attacking from a different angle either like Abzan Greasefang (that is very capable of outracing you if they get the combo off early), and doesn't have great ways to beat a deck like Selesnya Angels that is essentially built to take advantage of aggro decks like Mono Red (although you could main deck Rampaging Ferocidon as a way to improve that matchup).
When is it good to play? Mono Red is a very generically strong deck, especially when it's on the play, so it's generally a good choice as long as its tougher matchups like Selesnya Angels or Rakdos Sacrifice don't account for a big portion of the metagame.
Tier 2 Decks
Mono Green Stompy
Mono Green Turbo Henge
by MTG Arena Zone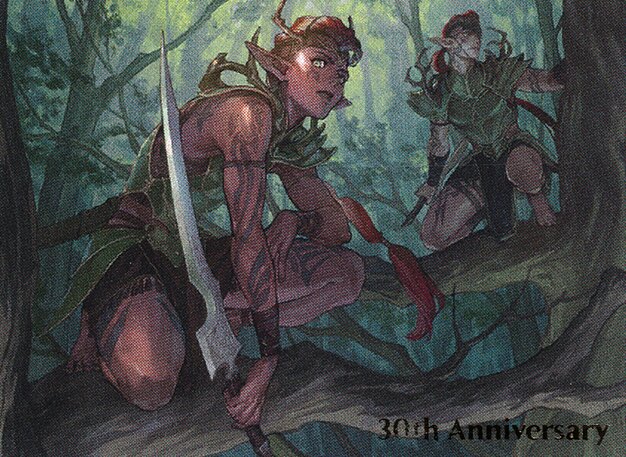 This is an aggro deck that leverages big creatures to apply pressure fast, and has access to Collected Company and The Great Henge as a way to go over the top of a lot of other decks in the format. The green creatures generally have very big stats relative to their mana cost which gives you an inherent advantage over most other aggro decks in the format since your creatures out scale theirs in most cases.
Being able to run four Llanowar Elves and four Elvish Mystic also enables some very fast starts where you can land a huge three drop on turn two or potentially play a Collected Company or The Great Henge on turn three. Speaking of which, Collected Company is a really strong card in this deck due to the high number of powerful three-drops, and The Great Henge allows you to out grind even Control decks if you can resolve it, so these cards provide the deck with solid ways to beat the slower, more grindy decks that a lot of other aggro decks struggle to beat.
Weaknesses: One of the biggest weaknesses of Mono green is it doesn't have access to great interaction (all of the green creature removal are fight spells which mean they can't be played very early and are vulnerable to instant-speed interaction), which means you tend to struggle against a deck like Mono Blue Spirits or Selesnya Angels that can often outrace you because most of their creatures have flying, and you don't have great ways to slow them down.
Additionally, the fact that none of your creatures have haste means that it's easier for more interactive decks to stabilize against you (assuming you don't land Collected Company or The Great Henge) because they'll always have a turn to kill your creatures before they start dealing damage.
When is it good to play? This is a great choice if decks that require early interaction like Mono Blue Spirits and Selesnya Angels aren't a big part of the meta.
Mono Green Elves
Mono Green Elves
by Altheriax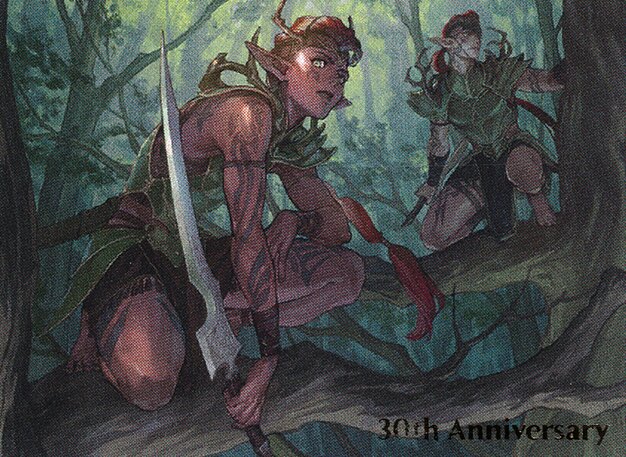 This is a go wide aggro deck that is trying to capitalize on a lack of sweepers in the Best of 1 format. The idea with this deck is to go wide fast and pump your whole board with lord effects on cards like Elvish Clancaller and Leaf-Crowned Visionary. Going wide also allows you to generate a lot of mana off cards like Circle of Dreams Druid and Marwyn, the Nurturer, which you can then pump into Elvish Warmaster to boost your whole board, or produce a ton of card advantage off Leaf-Crowned Visionary.
The vast majority of creature removal run in Best of 1 is single-target which this deck is fairly resilient to because it's able to swarm the battlefield so fast, and since it's a creature deck with some combo elements, it's often capable of going over the top of other creature decks in the format.
Weaknesses: The single biggest weakness of Elves is to board sweepers which means your matchup against a deck like Azorius Control will be really bad. It also doesn't run any interaction which means it can often be outraced by other linear decks like Abzan Greasefang or Selesnya Angels.
When is it good to play? Elves is generally a good choice as long as board sweepers and combo decks like Abzan Greasefang or Temur Ignus aren't very popular.
Rakdos Sacrifice
Bo1 Rakdos Sacrifice
by DoggertQBones
60 Cards
$341.36
Sideboard
1 Cards
$5.99
This is a high synergy sacrifice deck that is looking to take advantage of the high amount of creature decks in Best of 1. Cauldron Familiar + Witch's Oven paired with cheap efficient removal like Claim the Firstborn, Fatal Push, and Bloodtithe Harvester gives Rakdos Sacrifice a naturally good matchup against the creature decks in the format. The deck also has very good reach in the lategame due to the direct damage off cards like Cauldron Familiar, and Mayhem Devil so it's very capable of winning games without even needing to attack.
Additionally, Fable of the Mirror-Breaker really helps to filter your draws off the second chapter, and provides great lategame engines if Reflection of Kiki-Jiki survives since it can copy Bloodtithe Harvest to act as a removal spell every turn, or copy Mayhem Devil to deal a bunch of direct damage, and Unlucky Witness and Deadly Dispute also give you good card advantage to grind if the game goes long.
Weaknesses: This particular build is very focused on beating creature decks (which makes sense considering that makes up a big portion of the Best of 1 metagame) but not running any cards for the slower decks like Thoughtseize or Ob Nixilis, the Adversary means that you'll have a pretty rough time against slower decks like Azorius Control and 4/5C Enigmatic Incarnation.
When is it good to play? As long as there are a high number of creature-based decks in the format, Rakdos Sacrifice will be a great choice. If the meta shifts to more slower, late game decks like Azorius Control or Emergent Ultimatum for example, then it might not be the best choice but I don't see that happening any time soon.
Mono Red Goblins
Bo1 Mono Red Goblins
by DoggertQBones
A derivation of Mono Red Aggro, Mono Red Goblins looks to use tribal synergies and play to the board rather than looking to necessarily be blazingly fast or kill the opponent with a barrage of burn spells.
While this does make the deck slower, you can build a much more powerful board state as you have so much synergy between Battle Cry Goblin, Conspicuous Snoop, Rundvelt Hordemaster, Hobgoblin Bandit Lord, Goblin Warchief, and Goblin Ringleader. If your opponent will allow you to keep adding to the board, you can snowball quite quickly.
Weaknesses: Being slower than your typical Mono Red deck can make racing in some matchups a struggle. Furthermore, removal can be more effective against this deck as your cards are weaker individually, but stronger the more you are able to play. However, with Goblin RIngleader and Conspicuous Snoop, you can rebuild if they give you enough time.
When is it good to play? The slower the meta, the better Goblins would be. Since you can be surprisingly grindy and you're fast enough to get under slow decks, that's the ideal matchup for this style of deck.
Azorius Control
Azorius Control
by Altheriax
60 Cards
$431.74
1 Cards
$1.49
This is a late game deck that is trying to stabilize in the early game with a plethora of early interaction in the form of single-target removal, board sweepers, and counterspells, and then win in the late game off your finishers like Teferi, Hero of Dominaria. Control in Best of 1 is really trying to take advantage of a lot of the aggro decks being incredibly linear which makes them vulnerable to a lot of the interaction that control packs like Supreme Verdict.
There are also a number of decks like Rakdos Sacrifice that usually have good tools to fight Control in Best of 3, but tend to focus on beating creature decks in Best of 1, so you tend to have an edge in those matchups too. Instant-speed interaction also gives you a way to stop the most popular combo deck in Greasefang, Okiba Boss so the deck has tools to fight a lot of the popular decks in the format.
Weaknesses: Control is very weak to aggro decks that also pack disruption for non-creature spells like Mono Blue Spirits which runs Mausoleum Wanderer, counterspells, and protection spells in addition to other instant-speed threats which makes that matchup incredibly difficult to navigate. It's also weak to discard effects which means that Abzan Greasefang and Rakdos Midrange which both tend to run four Thoughtseize and 3/4 Liliana of the Veil in Best of 1, so they have good tools to fight you.
On top of that, you need your interaction to line up well in order to stabilize so there will be some games against Aggro, especially where you're going second where your interaction is either too slow or the opponent can outrace you (or has good ways to force through lethal like Den of the Bugbear or Ramunap Ruins from Mono Red).
When is it good to play? Control is generally a good choice so long as Mono Blue Spirits and to a lesser extent decks with discard spells like Abzan Greasefang and Rakdos Midrange arern't a big part of the meta.
Tier 3 Decks
Rakdos Midrange
Bo1 Rakdos Micrange
by DoggertQBones
This is a deck that is packing a lot of very cheap, efficient removal and generically powerful threats. Discard spells like Thoughtseize and Liliana of the Veil are very effective against combo decks like Abzan Greasefang and control decks like Azorius Control, cheap removal like Fatal Push, Bonecrusher Giant, and Infernal Grasp are great against the variety of creature decks in the format, and generically powerful threats like Chandra, Torch of Defiance, Sheoldred, the Apocalypse, and Fable of the Mirror-Breaker allow you to cement your position in the game and get ahead. Graveyard Trespasser also acts as a generically powerful threat that doubles up as graveyard hate which can be particularly useful against a deck like Abzan Greasefang to stop them from comboing off.
Weaknesses: Unlike Best of 3 where this is one of the best decks in the format, Rakdos Midrange tends to struggle a lot more in Best of 1 because it's a deck that really leverages it's sideboard to pivot it's game plan depending on what it's against. Obviously you don't have access to your sideboard in Best of 1, so you lose the ability to cut your worse cards and adapt to the matchup you're against, and you have to just hope you draw the right 'half' of your deck: for example if you're against an aggro deck you have to hope to hit your creature removal and not your discard spells and planeswalkers, and against control, you have to hope to not draw a bunch of creature removal.
Additionally, since most creature decks are much more linear and generally faster in Best of 1, a lot of them are capable of outracing your single-target removal which means they can sometimes outrace you, even if you do draw creature removal against them.
When is it good to play? Rakdos Midrange is always going to be a fine choice in Best of 1 as long as the aggro decks aren't going very wide (which makes your single-target removal less effective), but you'll always be plagued with the issue of hoping to draw the right interaction for the particular matchup which isn't always going to happen.
Temur Ignus
Temur Ignus Combo
by MTG Arena Zone
60 Cards
$352.22
Sideboard
1 Cards
$5.99
This is a combo deck that is looking to reduce the cost of Grinning Ignus (using some combination of Runaway Steam-Kin, Hazoret's Monument, or Birgi, God of Storytelling) which then allows you to bounce and recast Grinning Ignus an infinite number of times.
Once you've achieved this, you can then pair it with a payoff card like Risen Reef (which can essentially draw your whole deck since Grinning Ignus is an elemental), Hazoret's Monument (which lets you loot through your whole deck), Devilish Valet (which grows exponentially and can then deal infinite damage), Prosperous Innkeeper (which gains you infinite life), or Light Up the Night (which is a payoff for generating infinite mana if you can reduce Grinning Ignus by two mana). The deck also runs Collected Company as a way to find your combo pieces, and Risen Reef works nicely as card advantage that also triggers off both Grinning Ignus and Runaway Steam-Kin.
Weaknesses: This deck suffers from an issue that a lot of all-in combo decks without redundancy for it's main combo piece has in that the disparity between hands you can get is quite big – sometimes you'll just have a fast combo win which is capable of outracing most of the decks in the format, but a lot of the time you'll have a slower hand that requires some digging to find the combo pieces, and those sorts of hands will often get punished and outraced by the faster, more consistent linear decks in the format.
Having said that, the deck does have some good ways of stabilizing against fast aggressive starts like the lifegain off Prosperous Innkeeper, but it will definitely be less consistent overall compared to other combo decks like Abzan Greasefang.
When is it good to play? Temur Ignus is largely a good choice when there isn't as much creature removal around, and the fastest aggro and combo decks aren't as popular.