Hello fellow gamers, I attempted to build a Selesnya Humans deck early on in the release of Midnight Hunt. I was enchanted by the prospect of drawing a million cards with Rite of Harmony and Join the Dance backed up by Katilda, Dawnhart Prime. It did not work out well. Therefore, dejected, I missed the more obvious way to build this list which is to abandon the Rites of Harmony all together and move into a more beatdown-centric plan.
Powered by
When I saw this list, and kudos to the creator I am sorry I do not know who you are, I was instantly intrigued. They cut away all the chaff and what remains is a beatdown machine. I took this puppy for a drive today and piloted myself to a cool 9-1 record. I faced mono-green 3 times along the way and roundly stomped the big green machine. I am going to show the original and my take on the list and it's only slightly different. I swapped out the three copies of Codespell Cleric as they were underperforming and instead inserted Usher of the Fallen (while not human itself, it does generate human tokens). The other minor tweak was to remove one Rally the Ranks in favor of a Paladin Class just to give myself more action turn one and to annoy counterspell players.
Before I show you this list, I want to note one important thing, this deck plays differently than mono-white. Granted, it has a lot of the same cards such as Elite Spellbinder and Luminarch Aspirant. However, it is not interested in cards like Monk of the Open Hand because it relies on a cavalcade of methods to pump its creatures that do not involve casting two spells a turn.
Ok without further ado, here is the copy of the original list:
Selesnya Humans Original
by DoggertQBones
Standard
Tribal
best of 1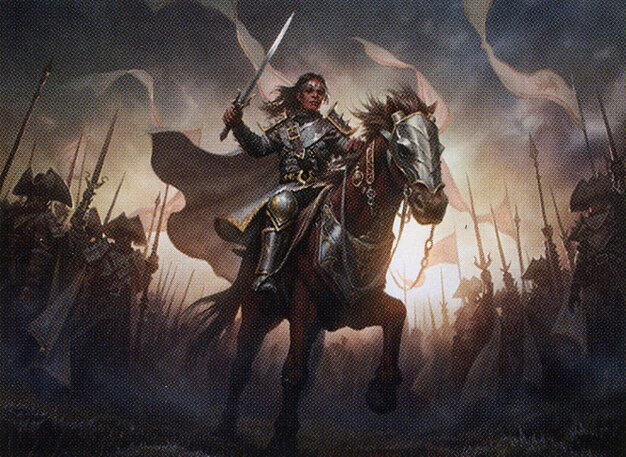 Here is my take on it:
Selesnya Humans 2.0
by DoggertQBones
Standard
Tribal
best of 1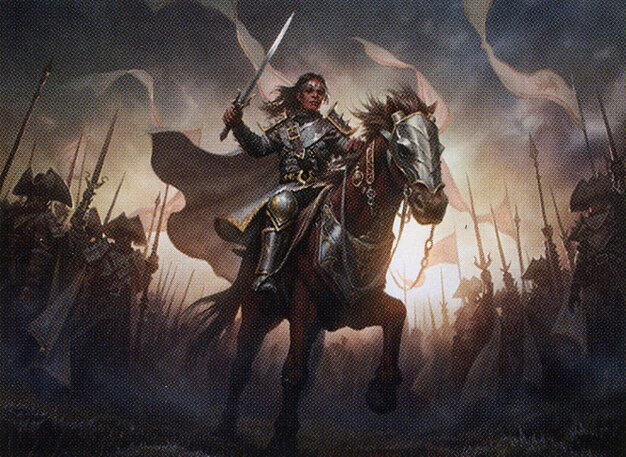 With this iteration, I was able ton get a 72% win rate across 39 games which is obviously excelelnt. Let's see what makes it tick, shall we?
Card Choices
Sorceries
Join the Dance – This card takes advantage of the power of multiplication, we have a ton of ways to buff our board including Paladin Class, Rally the Ranks, Katilda, Dawnhart Prime, Intrepid Adversary, and last but far from least Sigarda, Champion of Light. Therefore, two tokens can hit the board as beefy 3/3s or even larger, as opposed to less threatening 1/1s. Plus, you know, flashback.
Instants
Kabira Takedown – After further play testing I found that I was getting stuck on too few lands too often for my liking. This allows us to hedge our bets and play 24 lands functionally and not worry about flooding as much. Also it's not a horrible piece of instant speed interaction either when it needs to be.
Enchantments
Rally the Ranks – Hey, it's Honor of the Pure with a caveat around creature type! I love the fact that this card persists after a board wipe too. Heck, in the case of a red board wipe such as Crush the Weak it can help you dodge most of the damage all together. These humans are not so weak after all.
Paladin Class – Adding two of these in my deck was one of the slight modifications, granted the four total mana investment versus two for Rally the Ranks is a bummer, but it can also power up Sigarda, Champion of Light and Usher of the Fallen. In addition, its final mode can quickly end games. Do not discount the one mana tax either on instant speed interactions, this deck moves fast enough to certainly make it relevant.
Creatures
Chaplain of Alms – This was the biggest revelation for me, this card has been an all-star. On the surface a 1/1 is obviously not-threatening but as the game progresses this creature gets much bigger. Suddenly First Strike and Ward 1 are ridiculously good when it is a 3/3 or bigger. Better yet, it cost a bargain-bin rate of 1 mana. Best of all, it comes back via disturbed to protect your whole army and give you a flying body.
Usher of the Fallen – I have decided to call the Usher up from the bench in place of Codespell Cleric. Usher of the Fallen is less awkward to play on turn 1 and can grow your ranks with human tokens.
Intrepid Adversary – Another form of buffing your army, this is decent early as a 3/1 body to trade with Werewolf Pack Leader and later on it's an amazing mana sink to catch your opponent off-guard with a suddenly huge board presence. It's especially nice coupled with Katilda, Dawnhart Prime as she can fuel it with a lot of extra mana.
Luminarch Aspirant – We all know the drill on this cleric. I imagine it will continue to see play until rotation. We are just happy it is on team humans.
Katilda, Dawnhart Prime – Is the freshness that we have been seeking. This card is amazing early as a way to quickly ramp out your board and amazing late to buff your entire army. I suppose the three copies are due to its legendary status.
Brutal Cathar – The Cathar has been surprisingly good for me. It helps that there are Cat and Treefolk tokens everywhere right now; but it's great against cards like Old-Growth Troll too. It helps that this deck has lots of ways to pump your creatures up to make Brutal Cathar less likely to get removed and release the creatures it locked down. I love the fact that this flips over and becomes an agent of beatdown. First strike is an underrated ability.
Elite Spellbinder – We all know this is a great card, it is especially important in the control matchup to take away a Doomskar or Blood on the Snow. Also, happy to have this on team Humans.
Adeline, Resplendent Cathar – This card has been an absolute house for me. First of all, it has massive stats with four toughness and normally plenty of power. Second of all, this is the best home for it because the 1/1 tokens (that are forced to attack on creation) often are much bigger thanks to all the passive buff effects we are packing.
Sigarda, Champion of Light – Your curve topper. This angel does so many things: it provides a huge flying body that dodges things like Shadow's Verdict. It provides card advantage by letting you search the top five for the human of your choice. Finally, it is yet again another way to buff your entire human army. I think it's fine to have four of these as they are generally targeted with removal first.
Lands
I am certain that some consideration had to be made about tempo on this deck. The original list I found was only running a single copy of Lair of the Hydra and zero copies of Cave of the Frost Dragon. I decided to add one copy of Frost Dragon, but I am hesitant to go too heavy on them as it is really tough to play lands 3 and 4 tapped.
I did find sometimes that I was running short on mana, but these were few and far between and this deck tops out at 4 and that is only for four cards so twenty-three lands appear to be correct.
Color distribution was a slight concern too: there were a few games where I couldn't make all my colors but it did not prevent me from pulling out the win most times. Just be aware if you start tweaking this list the mana could come back to bite you.
Notable Card Exclusions
Codespell Cleric – This was in the main deck of the original list and I found it too awkward. We don't have enough one-drops to consistently trigger this so it often came out as a vanilla 1/1. The other thing that always bothered me about this card: you really want to play it on turn 2 to get any value out of it. So in a way it's a two-drop disguised as a one-drop
Archpriest of Iona – We don't have enough party to support this card.
Ambitious Farmhand – I like this card for its card advantage. It really makes you wish that Loyal Warhound was a human and not a dog though. The main drawback here is the 3 activation and the fact that you need coven. It just has instant-speed-removal blowout written all over it.
Gavony Trapper – Too mana-intensive and too slow.
Cathar Commando – Imagine a play where they have Esika's Chariot and you slam this down, they get to keep two cat tokens while you are out a card, yeah not a great trade.
Lunarch Veteran – I suppose you could play this with Hallowed Priest who is legal in Best of One, but neither would be the focus of the deck and therefore they'd be terrible to play if you don't have them together. It's a case of a bad floor versus a mediocre ceiling.
Portable Hole – You don't really have issues going over the top of small creatures with your deck. It's nice for tokens, but so is Brutal Cathar. Besides the main draw of this card is getting second spell activations which as mentioned before this deck is not about.
Star Pupil – We have no way to put additional plus one counters on this card.
Monk of The Open Hand – Not a human, not mono-white, not worth it.
Clarion Spirit – This is not a mono white deck; we have 7 one-drop spells we are not going to activate Clarion Spirit enough to make it worthwhile. If the spirits it generated were human then we would have to think about it.
Skyclave Apparition – This is really competing with Brutal Cathar's spot, but Brutal Cathar gets the nod because it is a human. Not to mention that Brutal Cathar is so good against Wrenn and Seven tokens.
Werewolf Pack Leader – This is a great human and I would love to play it but I think it might be sidelined mainly because of the double green casting cost in a deck that skews white.
Rite of Harmony – I experimented with this and Join the Dance and it really is too difficult to set up effectively. You almost need to have Katilda, Dawnhart Prime in play to make it worthwhile. I have not given up on this card, I think it will be awesome in historic elves or in standard if there is more support printed.
Maja, Bretagard Protector – Too slow, and once it does hit the board this deck runs 23 lands, how many triggers do you think you will get before it dies?
Matchups
As always, this is a best of one guide so we will be eschewing a sideboard primer and sticking with helpful notes on the most common matchups.
Dimir Control
This has to be one of your rougher matchups. The most recent list I have seen runs a full 8 board wipes. Granted The Meathook Massacre is not as scary because it is slow and your creatures might get too big for it., but Shadows' Verdict wipes out all but four cards in your entire deck. That is why Elite Spellbinder is so vital: the only thing you should be binding is board wipes. If the game goes past 6-7 turns your chances of winning decline dramatically.
Werewolves
When their creatures transform, they are as big or bigger than yours. I do think it's a beatable match. Try to keep them from flipping their cards and if they do flip be prepared to cast two spells in a row to undo this. Trade creatures heavily. Try to prevent them from drawing cards with things like Tovolar, Dire Overlord. I did not see Katilda, Dawnhart Prime, but don't forget she has protection from werewolves so she could come up big here.
Mono Green Stompy
As mentioned, this match seemed to be heavily in your favor, you can get both wider and bigger than them. I played a lot of monogreen lists that are rocking Wrenn and Seven and Brutal Cathar showed up to eat those tokens right up. Just play aggressively.
Mono White Aggro
I think this is a solid matchup. You are not quite as fast as them, but the quality of your creatures is better overall. Sigarda, Champion of Light is huge here to stop them from pecking you to death with flyers. On the other hand, Skyclave Apparition can be a real downer. You have to trade blows with them because if you do not their evasive creatures will get the better of you so put them on the defensive and force them to trade or block.
Izzet Dragons
You definitely want to end them before Goldspan Dragon and Alrund's Epiphany show to spoil the fun. Luckily you're pretty fast and your creatures are quite beefy. Paladin Class will be thorn in their side as will Elite Spellbinder. Spellbinder should definitely target their bigger swingier spells.
Rakdos Treasures / Mono Black Control
You outclass their creatures early on. Elite Spellbinder can buy you a few critical turns. You do not want this to go into the late game. On the turn they hit six mana, it may be best to hold one creature in hand on turn 5 to avoid having zero follow-ups to the inevitable Blood on the Snow. Against Rakdos, Brutal Cathar can deal with Immersturm Predator.
Party Decks
I actually think this might be a good deck versus them. Brutal Cathar should focus on taking on Squad Commander or changeling tokens (depending on the list). Their Concerted Defenses are nearly a non-factor to you as you are 90 percent creatures. Keep the pressure on and force them to break up their party by trading or losing creatures to blocks.
Tips and Tricks
While Katilda, Dawnhart Prime will have summoning sickness when she hits the board, she can still grant her mana abilities instantly to any human who does not, so keep that in mind when considering the play order of your spells.
Enemy number one versus this deck is board wipes so Elite Spellbinder should always be targeting these.
Note that Adeline, Resplendent Cathar generates tokens even when it is not the one attacking so it's great to curve out with this card on turn three and attack with your 2-drop card to immediately generate a token.
Brutal Cathar can flip over multiple times and eat more than just one creature. Be aware of this and try to manipulate the day/night cycle in your favor.
Luminarch Aspirant is a juicy target for removal when it hits the board that is why it's best to buff other creatures with the cleric's ability that way your opponent is forced between two bad decisions: remove the creature that is constantly buffing other creatures or remove the buffed creature.
Overall, this Is a pretty linear deck so there is not a lot of tactical advantage to be had. It is imperative that you have a fast start but as long as you have a few mana and a spell to play on at least turn two that would be a keeper in my opinion.
Your best defense is a good offense, by keeping the pressure on your opponent will be forced into unfavorable blocks.
Thanks for reading and good luck!