Another week means another MTG Arena Announcements blog from Wizards of the Coast! While there's nothing particularly new this week as we wind down for the release of Streets of New Capenna on April 28, big announcements are happening tomorrow instead!
Digital Premier Play
More details will be provided on the road to the World Championship via MTG Arena. The new tabletop structure was already outlined in detail on March 31st with the exciting return of the Pro Tours:
Here's what we know so far regarding MTG Arena and MTG Online:
Events on both platforms will feed tabletop events at nearly every level, including the World Championship.
Magic: The Gathering Arena Qualifier Weekends will continue, with some exciting twists.
Magic: The Gathering Online Showcase events will continue and will feed the World Championship directly!
MTG Arena will include new ways to qualify for Qualifier Weekends besides ladder play.
The updated MTG Arena qualification path will start with April ladder play and May qualification events! There will be some differences between how that first month plugs into the tabletop path and later months, but we'll cover those details separately.
The digital path will have different eligibility requirements that we'll outline in April.
New Non-Rotating Format
As Historic gradually introduced non-Standard cards such as Anthologies, Remastered sets, Historic Horizon sets, and even Alchemy rebalances, it became a mish-mash of a format and the premise of Pioneer coming to MTG Arena was delayed indefinitely.
With that, players will be hearing more about a new "bridging" format to Pioneer (Return to Ravnica and forward) coming to MTG Arena as mentioned in the economy stream on March 24th. With the client already having around 60% of the cards available, it's already quite close!
We've been getting some glimpses of the new format so far, with the closest being the What Was Written events (this week's Midweek Magic). Here's our take on the subject:
Early Access Streamer Event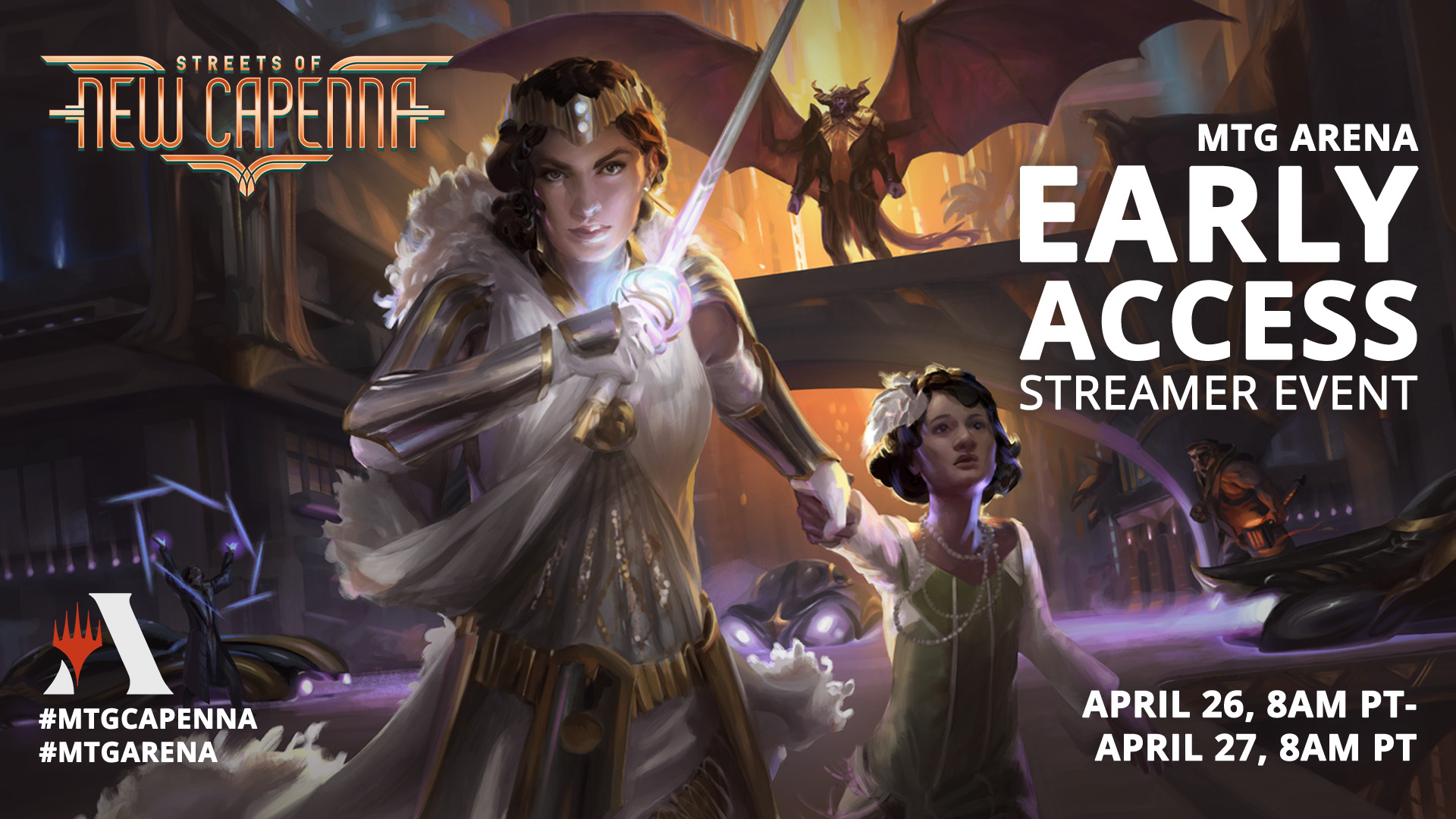 The Early Access Streamer Event returns, and we'll be able to catch our favorite streamers play with the new cards a day before the release and find some cool decks in the process. As always, we'll try to collect them all so you can see what brews to take with you when the new set launches!
---
BIG ANNOUNCEMENTS ON APRIL 21!
We have some big news coming tomorrow, April 21. First, we'll be detailing how to qualify for the Magic World Championship in MTG Arena. Then, we'll be revealing a new format coming to MTG Arena! Check back on DailyMTG this Thursday to get all the info!
STREETS OF NEW CAPENNA ARRIVES IN MTG ARENA APRIL 28!
The glitzy new Magic set, Streets of New Capenna, and its greedy five crime families muscle into MTG Arena on Thursday, April 28!
If you want to get an early tabletop taste of the set, head down to your local game store for the Prerelease events April 22–28 to play in-person Sealed matches!
GRAB STREETS OF NEW CAPENNA PREORDER BUNDLES NOW!
Whether you're a competitive or casual player, don't miss your opportunity to get a head start on collecting the new set by grabbing one—or both!—of these preorder bundles for Streets of New Capenna before they disappear on April 28:
ELSPETH PACK BUNDLE
$49.99/€49.99
OB NIXILIS PLAY BUNDLE
$49.99/€49.99
TINKERER'S CUBE NOW THROUGH APRIL 28
The Tinkerer's Cube is happening now through April 28. Draft three 14-card packs for Best-of-One and Best-of-Three matches with a chance to win gold and Historic individual card rewards! This is a Phantom event, so drafted cards are not added to your collection.
Find out more, plus the full card list and updates, in the Tinkerer's Cube article.
EARLY STREAM ACCESS: GET A PEEK AT STREETS OF NEW CAPENNA PLAY!
Catch your favorite Magic streamers playing with Streets of New Capenna before it comes out! Tune in to Twitch on April 26 for a 24-hour celebration of the new set and follow @MTG_Arena for the latest on #MTGCapenna!
EVENT SCHEDULE
MIDWEEK MAGIC
Midweek Magic events begin on Tuesdays at 8 a.m. PT and end on Thursdays at 11 a.m. PT.
April 26–28: Historic Brawl
May 3–5: Streets of New Capenna Bot Draft
May 10–12: Standard
May 17–19: Artisan
QUICK DRAFT
April 22–29: Kamigawa: Neon Dynasty
April 29–May 13: Kaldheim
May 13–27: Streets of New Capenna
May 27–June 10: Strixhaven: School of Mages
June 10–24: Streets of New Capenna
June 24–July 8: Innistrad: Midnight Hunt
ARENA OPENS
May 14–15: Mixed Limited Streets of New Capenna

Day 1: Sealed, Day 2: Traditional Draft
OTHER EVENTS
April 15–28: Tinkerer's Cube
April 28–May 20: Sealed Streets of New Capenna
Beginning May 12: Streets of New Capenna festivals—details coming soon!
May 20–23: Streets of New Capenna Constructed
APRIL 2022 RANKED SEASON
The April 2022 Ranked Season begins March 31 at 12:05 p.m. PT (19:05 UTC) and ends on April 30 at 12 p.m. PT (19:00 UTC).