Let's talk a little about Alchemy. After almost one year of this format debut, this version of Standard became something that was not meant to be. Even though it is supposed to be an improved version of Standard where we can stop worrying about bans, thanks to the premise of how the cards can be nerfed or buffed; the inclusion of only-digital cards that pushes the limits of card design, makeing this format evolve to one of the wildest environments in the history of MTG.
In the lastest Alchemy set, without a doubt, one of the most significant efforts WotC's made to make Alchemy eye-catching was created.
For those who start playing Magic during the later years, "The Power Nine" could mean not too much, so, let me explain this a little bit further. The nine cards that Oracle conjures into our deck are called that way because they are historically known as the nine most powerful cards in the game.
It's clear, even for the untrained eye, that these nine cards are extremely powerful; but Time Walk is the one that understandably can get out of control in many ways.
With the passing of the years, getting an extra turn in MTG became something extremely rare. R&D (Research & Development) had made some efforts to make cards that can give extra turns without breaking anything in the process, but time after time, this kind of card ends getting banned in many formats, even despite how many restrictions they had in its design.
Time Warp, Nexus of Fate, and Alrund's Epiphany are good examples, and the ones that are still legal like Temporal Trespass can certainly be game changers in the right deck.
I'm not even sure why we get a card that let us have Time Walk in our deck, even if it's just one copy (well, many of us know why), but now that it's the case, playing four Oracle of the Alpha in Alchemy is clearly the way to go.
I play a lot of Alchemy during this week, and this time of testing made me know that many variants of Oracle's decks are viable and very powerful. I'm going to present to you the more predominant ones, those who are capable, without a doubt, of achieving seven wins during this weekend's Alchemy Metagame Challenge. There's something for everybody; Azorius runs firm and steady, controlling the game until Time Walk can get things out of control, Sultai seeks to outvalue every other Oracle deck, and Izzet goes for a tempo plan. There's is even a possibility of going Mono Blue… so with that being said, let's start the extra turns party!
Azorius Oracle Control
Azorius Oracle Control
by Bohe
60 Cards
$158.81
15 Cards
$3.25
One of the first iterations of Oracle's deck is Azorius. Sasha Coulter, one of the pioneers in playing Oracle of the Alpha and getting success with, it made a 7-x run as early as the day this card became available in Arena.
Sasha's list has small differences compared with mine, nevertheless, the plan is clear. Play a control plan, stopping any attempt to generate advantages from our opponents. Different from other Oracle variants that try to seek Time Walk as soon as they can and assemble an infinite turns engine, Azorius plays methodically, using Seek New Knowledge and Discover the Formula when it's safe to find Time Walk, Ancestral Recall, and the rest of our tools for generating advantages.
When comparing both lists, we have to take into consideration some variables. First, Sasha's list is designed for Bo1, mine is for Bo3, and secondly, after some days of DMU Alchemy hitting Arena, Goblins quickly rise to a top-tier contender and clearly the best aggro deck in the format. With this in mind, I tweak the list, ready for facing all the angry goblins that can be around in the Metagame Challenge and any other Oracle variant:
Go for this deck if you prefer a control angle and enjoy taking the bull by the horns without fear, knowing that this variant is capable of facing any archetype and ending victorious.
Sultai Infinite Oracle
Sultai Infinite Oracle
by Bohe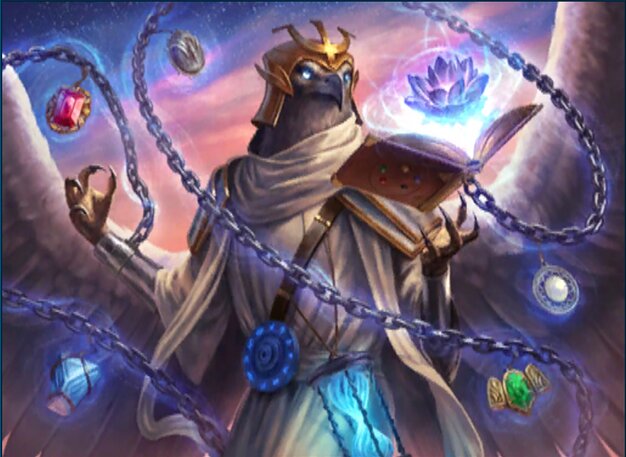 60 Cards
$185.81
15 Cards
$5.62
This was powerful enough to help its designer, Jsp, reached Mythic four days after DMU Alchemy was released.
Sultai works differently than any other Oracle variant out there. The engine is simple; after playing Oracle of the Alpha and having a Time Walk in our deck, we search for it with Dig Up. After playing it we can re-buy it from our graveyard with Shigeki, Jukai Visionary, a creature who we can also return from our graveyard with Urborg Repossession.
This means an infinite turn combo that let us resolve the board state and attack for lethal during an infinite number of attack phases. It's clear that assembling this engine is not a piece of cake, so it's important to take some notes we have to take into account:
Micromancer is not here only for finding Ancestral Recall after we play Oracle of the Alpha, but finding Dig Up, Urborg Repossession, Wash Away, Cut Down, Rona's Vortex, You Line up the Shot, and/or Mind Spike. These plentiful options make this wizard shine the most than in any other Oracle variant.
In Sultai, Black Lotus is very relevant. Having three extra mana for zero and then the opportunity to take the Lotus back with Shigeki, Jukai Visionary alongside Time Walk is on many occasions the way to assemble our win condition.
Viconia, Nightsinger's Disciple play a major role in the current meta. Specialize Viconia to Viconia, Disciple of Arcana let us conjure a duplicate of Time Walk in our hand if we exile our Time Walk from the graveyard, but more importantly; it lets us exile cards from our opponents' graveyard, stopping any attempt to go infinite with Time Walk and giving us the chance to do so.
We have many tools in Sultai for facing the expected metagame. Drag to the Bottom can wipe any goblin board without too many worries, and a wide variety of spot removal + counter-magic help us navigate complicated matches like Rakdos or Esper.
Glorious Sunsire is fantastic helping us go infinite. Don't underestimate our single copy and try to play and protect this enchantment whenever you have the chance.
If you enjoy playing combo decks or toolbox archetypes, Sultai Oracle is a combination of both. Is extremely fun and enjoyable (except for our opponents after we get infinite extra turns…)
Izzet Oracle Tempo
Izzet Oracle Tempo
by Bohe
60 Cards
$304.29
Sideboard
15 Cards
$3.64
The whole idea of this Oracle article came after I saw Sasha's Izzet list on Twitter and realized that the Metagame Challenge for this weekend is going to be Alchemy.
I played this variant the most, and besides Sasha's belied that Goblins and other aggro decks could make us stumble, it still performed well. Adding the little changes I made to this list made me have a very good run with this archetype, no matter if the opponents were aggro or other Oracle variants.
We have to notice that I refocused the deck to have more consistency in Bo3, allowing us to have more stable draws and better ways to assemble scenarios where we can chain four or five extra turns that let us win the game:
If you prefer a variant that can close games with or without infinite turns, playing more proactively than Azorius, Izzet is your choice.
Mono Blue Oracle Kitten
Mono Blue Oracle Combo
by DoggertQBones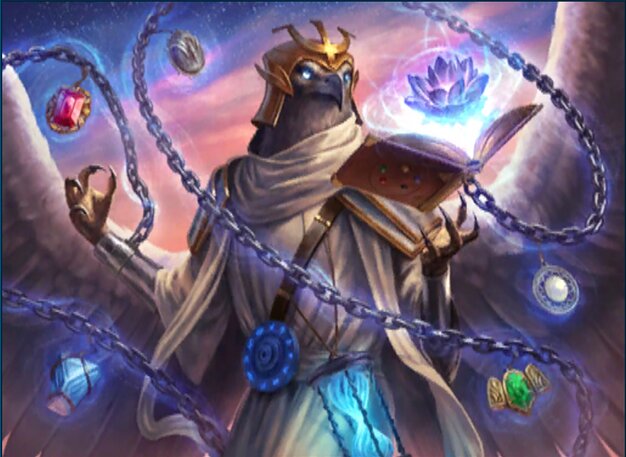 60 Cards
$102.51
15 Cards
$5.14
The final iteration of an Oracle deck is Mono Blue, a variant that wants to go infinite with one of the more broken creatures Baldur's Gate brings to the MTG world, Displacer Kitten.
We have been witnesses of many decks in many formats where this kitten is the enabler of a plethora of infinite combos, and Alchemy is not the exception. In this case, the infinite turns engine is less complicated; you only need Displacer Kitten and Saiba Syphoner on the battlefield at the same time. Casting Time Walk with this pair around is equal to infinite turns. The only extra requirement is having any other non-creature spell.
This variant has many tools to stall the game to a point where assembling the aforementioned board state became easy; however, sequencing our spells in the right order and using them only against the more relevant threats, using our life total as a resource at the same time is something that can only be achieved with enough practice and knowledge of the format.
Mono Blue takes better advantage of Micromancer than other Oracle variants, even Sultai.
With this in mind, searching for Slip Out the Back with Micromancer for protecting our combo before going off is mandatory.
Some of our lands can make black mana. This is for paying the kicker cost of Rona's Vortex and Vesuvan Mist. This makes Rona's Vortex a spot removal for any permanent that could be causing troubles, and lets Vesuvan Mist conjures duplicates of the bounced permanent into our hand.
This last ability not only could give us extra combo pieces, but also extra win conditions in case we use this against any of our opponents' problematic cards.
I played Founding of the Third Path in the aforementioned Izzet list. I thought it was good enough that I even thought about playing additional copies. However, how Izzet's list evolved made me reconsider it. Unlike other iterations, Mono Blue plays many spells that the first chapter of this saga can play without paying its mana cost, and the milling plan for Time Walk + Saiba Syphoner is better here because different from Izzet we play the full four copies of Saiba Syphoner.
The sideboard does its work against the format despite we are playing just one color: Tireless Angler help us against attrition matches giving us tools for fighting board presence, Ray of Frost is fantastic against Goblins, and Undersimplify is very flexible which let us bring it in this match or against many others. Lantern of the Lost goes in against Sultai Oracle, Negate is for any card that can't be answered with any other of our spells, and the extra Slip Out the Back goes in against decks with a high amount of removal, helping us protect our combo pieces.
If you are a "Jonny" (Jonny is one of the five-player types according to our preferred style and profile as a player) and enjoy playing combo decks, this Mono Ub Oracle Combo variant is for you.
End Step
After playing a lot of Alchemy matches this week, I realize that the current state of this format can create very convoluted scenarios. Some can be very funny (at least for one player) and make a lot of people laugh (my stream chat confirms), while others feel as if we are playing another game, but this is where Alchemy's main problem resides.
I think many of us should stop looking at this format as if it was what was sold to us in the beginning. This format is not a "re-balanced Standard" as promised, however, it evolved to a place where Magic card design can be pushed to its limits, something that could be beneficial to the future of the game we love (including Paper Magic).
With this in mind and from my personal point of view, these factors made Alchemy a very volatile format, not suitable for high levels of competitive Magic (the main problem and something that causes the general rejection of the community), nevertheless, if we kept an open mind to the new ways of playing Magic like Alchemy or Magic Spellslingers and we aim our efforts to having fun, it seems to me that we can achieve it exceeding our own expectations. That said, having fun from time to time making infinite turns loops with Oracle of Alpha (winning some wild cards in the process of opening price boosters) is without a doubt something to try this weekend during the Alchemy Metagame Challenge.
Until the next time, dear readers, let me know what you think about Oracle of Alpha and new ways of playing Magic on my social media (links below), and don't forget to smile every day; it will certainly make a difference.