Standard 5 Color Ramp Deck Guide – Is Atraxa Actually OP?
Want to absolutely decimate midrange decks? Find out how easy it can be with DoggertQBones' 5 Color Ramp guide! Learn why Atraxa is so much better than he initially thought and how this deck can be a real player in the metagame!
Hello everyone!
Today I'm going over the deck that has probably surprised me the most coming out of Phyrexia: All Will Be One. I knew Midrange decks were going to be extremely popular, so finding a deck that beat them while not completely conceding to aggro was a prime objective for me to outpace the metagame. While a deck like Mono Blue was definitely considered (and will be covered later, I'm sure), I like decks that can really go over the opposition. While Mono Blue is really good at skirting under and around decks, letting something important resolve like a Glissa Sunslayer can be absolutely devastating. If you are just way bigger than them, you know you have the inevitability so scary cards like that or Fable of the Mirror-Breaker wasn't so scary.
On a whim, I decided to try playing with The Kami War and Atraxa, Grand Unifier to see if there was any hope there. Admittedly, I thought the deck was going to be a complete meme and had no real expectations of it. However, as I kept playing and iterating on it, I realized that this is a very powerful and flexible shell that can absolutely dominate the copious amounts of midrange decks running around Standard right now. Let's take a look at the list!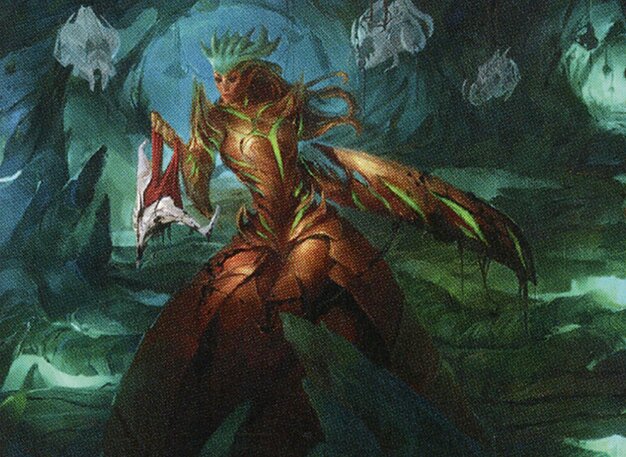 60 Cards
$478.76
15 Cards
$4.65
Overall, the whole plan is simple. Survive long enough to cast your absurd top end, but let's see how we get to do that!
Considering we have so many taplands, it only makes sense that we start our curve at two mana.
Simply to help us ramp, I'm playing a full playset of Llanowar Loamspeaker. There is a debate on whether you want this or Armored Scrapgorger as they are very close in power level. Currently, I'm opting for Loamspeaker as you can use the non-mana ability the second turn its in rather than the fifth from Scrapgorger, but if interacting with the graveyard becomes more relevant, feel free to make the switch.
One of the best ways to survive until the late game is to systemically deal with the opponent's threats, and it's really hard to do better than Go for the Throat in that capacity. While you will miss some targets like Steel Seraph or Phyrexian Fleshgorger, hitting nearly everything else is definitely worth it.
While not really a two drop, Herd Migration has the all important discard ability where you get to swap it out for a basic land and gain three life. While you think this is a backup plan, I actually find that I'm using the ability more often than actually casting it! Making sure you hit your lands and colors is paramount to this strategy, however, if you don't need to discard it early, being able to almost always get five 3/3s for seven mana is going to close a lot of games out.
While also not a two drop, the most common casting cost for Leyline Binding is either two or one. Being able to remove anything is obviously insanely good and this is one of the many reasons to be pulled into a five color strategy.
Moving up the curve, we have the heart of our deck. While the ramp payoffs are how we win, these three drops are what help us get there in my opinion.
While not getting much love otherwise, Topiary Stomper is pivotal to this deck as it can ramp you up to your late game and then give you a 4/4 body as well once you hit seven mana. It is rough that it's 1GG as we have to make concessions to our mana base to make it work, but beyond that, this card is excellent for the strategy.
Glissa Sunslayer may seem out of place here as it doesn't really fit what the deck is trying to do, and you'd be right! I'm playing Glissa solely because it's a powerful card both offensively and defensively, and while I've really liked it thus far, this is very much a flex slot.
Finally, we of course are playing Fable of the Mirror-Breaker. It pretty much goes without saying, but this card is obviously just insane and while it doesn't even synergize with this deck particularly well, it's just so good that it doesn't matter.
As our lone four drop, I've opted to play two Unleash the Inferno in my deck. Like Glissa, this is a complete flex slot, but it has been excellent thus far at recouping the value most of the best artifacts and enchantments nab the opponent.
Finally, we reach the whole reason to play five color.
Atraxa, Grand Unifier is one hell of a card. A seven mana 7/7 with Flying, Vigilance, Lifelink, and Deathtouch that will draw you between three and five cards on entry is absolutely disgusting. The only clean way to handle this is a counterspell as even a kill spell will leave the opponent massively behind. Furthermore, the opponent will only have a turn or so to deal with Atraxa itself lest they just die to it making it that much scarier. While I thought this would initially be too slow for Standard, this is the perfect card to get the leg up on a midrange deck.
Then, of course, we reach the initial reason to go five color. The Kami War is also insane as it's functionally a double removal spell that creates a creature that will kill the opponent in a few turns. Since it's six mana, it doesn't even clash with Atraxa making it a brutal one two combo. The amount of games my opponents have scooped just when I played The Kami Warhas been extremely high, as if you can't kill it, the game is more than likely over.
What makes this deck so interesting is, unlike many other lists, this one is far more malleable. There are a lot of flex slots, potential swaps, and ways to build the mana base that makes this an extremely customizable deck. While I like this configuration, I would not be surprised if there turned out to be a better one once people experiment more!
---
Best of One
Bo1 5C Ramp
by DoggertQBones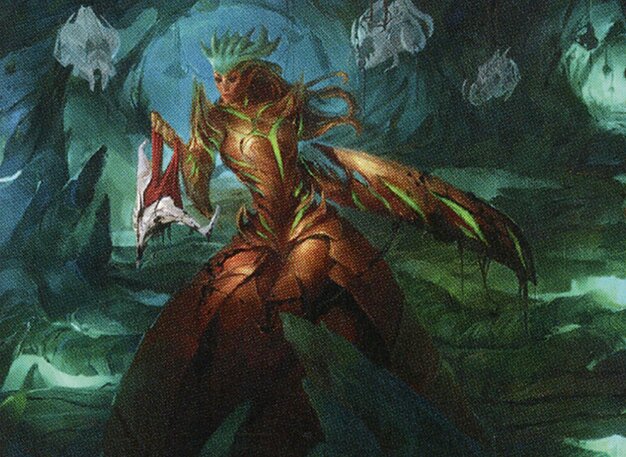 While I wouldn't necessarily recommend this for Bo1, if you prioritize the aggressive matchups, you should be in ok shape. You could go even harder on the anti-aggro if you want to reconfigure your mana, but this version should work out reasonably well.
---
Budget
Unfortunately, there are no budget alternatives to this deck. You really need all the rares and this deck is pretty much exclusively rares so this is not a new player friendly deck.
---
MATCHUPS AND SIDEBOARD GUIDE
Mono White Midrange
This is easily one of the best matchups as both decks are doing somewhat similar things, but rather having a lot of interaction like Mono White, we have bombs. Obviously, in the bombs versus interaction midrange matchup, the interactive side is going to have a terrible time. The boarding here is more out of convenience than anything else as the removal spells are quite bad against them – Go for the Throat will rarely have a good target and Leyline Binding can get easily blown up by a Destroy Evil or Loran of the Third Path. I would consider leaving in some Go for the Throat over Llanowar Greenwidow as Widow is pretty weak in this matchup, but it all depends on what you see. Stall the game out, play a few bombs, it should be easy from there.
Grixis Midrange
While not nearly as popular as before, Grixis still sees play and is a relatively even matchup. If they happen to draw a lot of hand disruption and counterspells, this is going to feel pretty awful, but if they don't, it'll be easy to run away with the game. There's no real secret to this matchup beyond making sure you keep a functional hand that has early plays as an easy way to lose is them curving out early and then them countering anything relevant later.
Esper Legends
Esper Legends is gaining popularity extremely quickly, and like other aggressive decks, the matchup isn't great, but it's not terrible. Realistically, it's all going to revolve around if you can keep yourself alive long enough to start casting bombs, because if you can, The Kami War and Atraxa, Grand Unifier are going to be extremely hard to come back from. On the bright side, Esper is the easiest of the aggressive options as they are a good deal slower than your average aggressive deck, but you definitely need to keep hands that can do something early.
Azorius Soldiers
Likely the worst matchup in Standard, Soldiers is very problematic as they're both fast and disruptive, whether it's counterspells or taxing effects like Thalia, Guardian of Thraben. Unfortunately, there's no real secret beyond you need to get kind of lucky to win this matchup. I would be unlikely to keep a hand that doesn't have Revelry or Drag to the Bottom as you're very unlikely to be fast enough otherwise, but hands that can get an Atraxa out quickly and have interaction otherwise can also be a consideration.
Jund Midrange
This matchup is quite different than Mono White or Grixis as they are much less interactive both in terms of counterspells (obviously) and creature removal, but they make up for it in threats. The way you're going to lose this matchup is that they get under you, so if you can keep your life total reasonably high throughout the course of the game, it's going to be harder and harder for them to kill you. Both The Kami War and Atraxa, Grand Unifier can win the game on their own if you aren't too far behind, so keeping slightly greedier hands that can cast them quickly is acceptable.
A small tip for this matchup in particularly, it's going to be very difficult for them to get full value off of their Unleash the Inferno, so you can consider sandbagging Fable of the Mirror-Breaker if they keep representing it as they won't have a good hit otherwise as The Kami War and Leyline Binding are too expensive to hit. Obviously, run this out turn three everytime in lieu of holding onto it.
Mirror
The mirror, unsurprisingly, is going to be battle cruiser Magic. It's really all about who can resolve their Atraxa first and take over the game from there. However, whoever resolves their Kami War first may get blown out if the opponent can respond with their own so you have to be careful in that regard. Focus on ramping then card advantage and hope you draw your Atraxa first.
---
TIPS AND TRICKS
Be extremely careful with what lands you play out in what order. In the early turns, having Green is the highest priority followed by White and Black, Red, then Blue. Play out your lands based on your hand.
While it may feel bad to do so, holding back Glissa Sunslayer so you can use it as a blocker can be a very strong play if your hand is already well sculpted.
I tend to pitch lands a lot with Fable of the Mirror-Breaker's second chapter as you have a lot of mana sources, but always prioritize hitting your land drops with this deck. Getting to seven mana is extremely important.
Once you have seven lands, you can start cycling your lands if you want, but I generally play out to nine or so before I hold all the cycling lands.
Your life total here is more important than it normally is. The Kami War and Atraxa, Grand Unifier are really good at stabilizing you, so it's ok to make non-intuitive plays if it keeps your life high!
Enjoy our content? Wish to support our work? Join our Premium community, get access to exclusive content, remove all advertisements, and more!