Standard Azorius Soldiers Deck Guide: The Best Aggro Deck in Standard
Want to learn how to play Standard's best aggro deck? With a myriad of great results, Bohe breaks down how best to build the list, how to sideboard with it, and the best practices you need to know to play this like a pro!
Since the release of Dominaria United, Soldiers can be seen as a relevant creature type for the future of Standard. Valiant Veteran was a strong indication that this tribe would get some support during the next sets, and with The Brothers War, this couldn't be more true.
Building a Soldiers deck before was something I already did. In one of my last articles, I designed an Azorius list. It was certainly an entertaining deck to play and capable of facing many of the stronger Tier 1 decks from the last Standard. However, with all the new cards for the archetype BRO brings to the table, the archetype became refined, popular, and with many players working on it, many updated versions of this idea started popping out with very good results to support them. Now, the new iteration of this archetype is not just a contender in the meta, but the strongest aggro deck of the format.
UW Soldiers – NeekosKesh 7-0 Metagame Challenge 11/22
by Bohe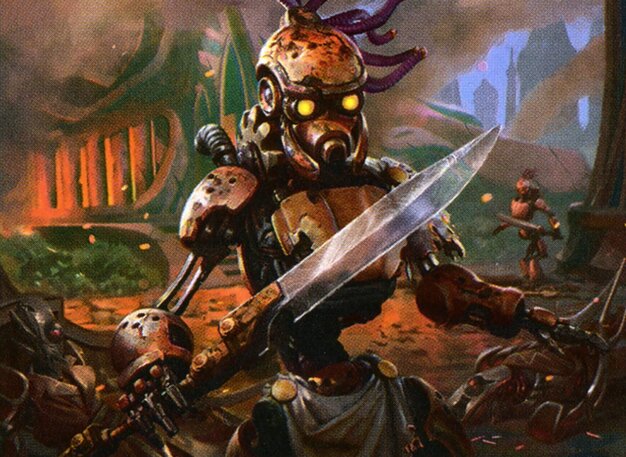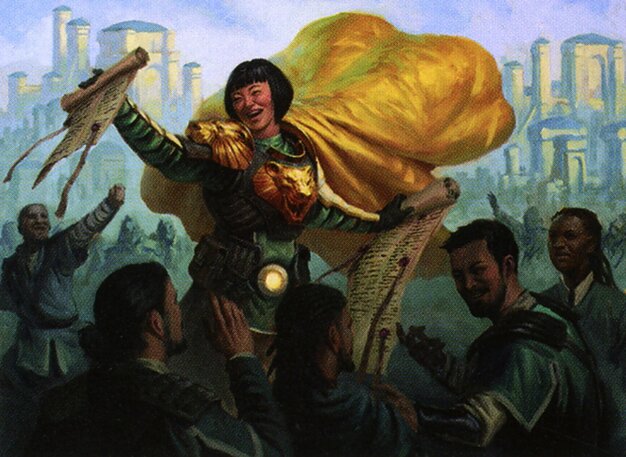 60 Cards
$120.58
15 Cards
$108.87
UW Soldiers – Gerardo Duarte 7-0 Metagame Challenge 11/22
by Bohe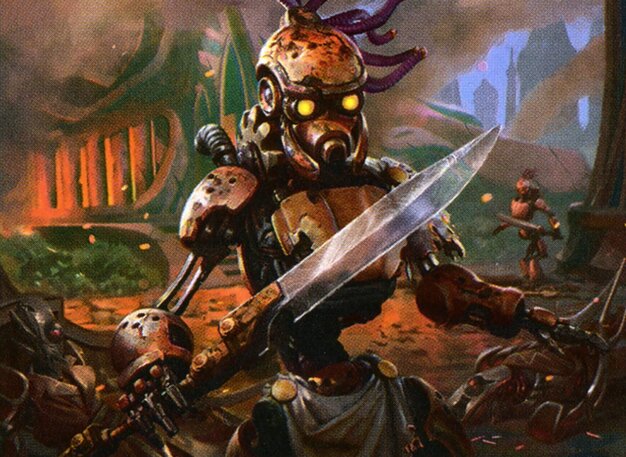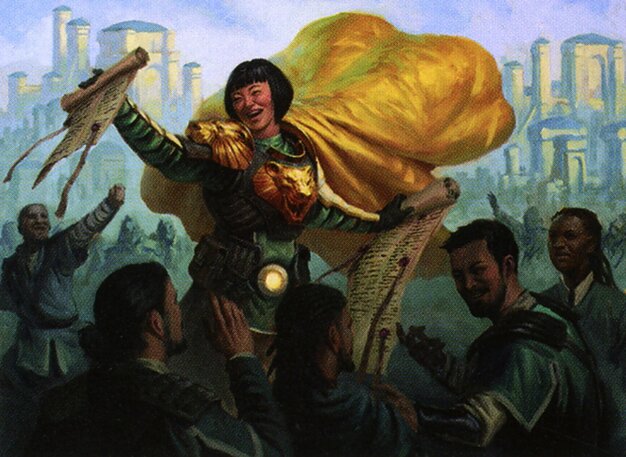 60 Cards
$164.92
15 Cards
$121.03
UW Soldiers – Binary Soloist 7-0 Metagame Challenge 11/22
by Bohe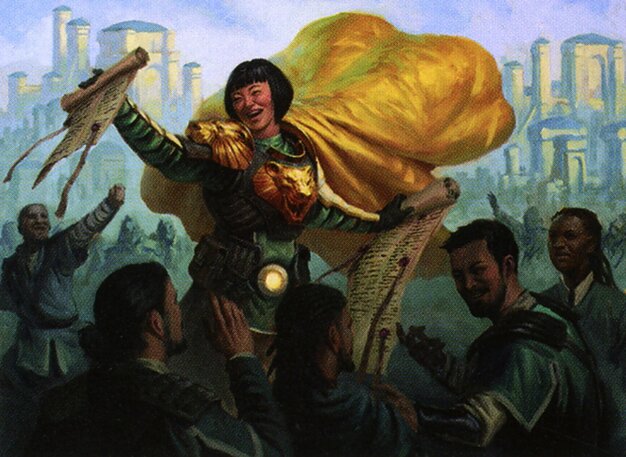 60 Cards
$190.84
15 Cards
$127.13
UW Soldiers – Taglierino #140 Mythic Bo1 11/22
by Bohe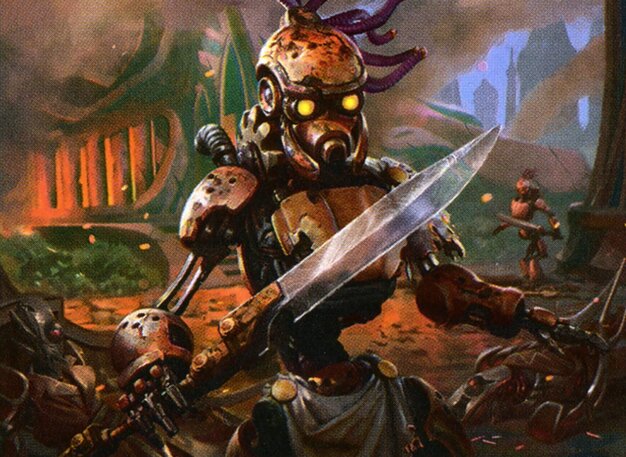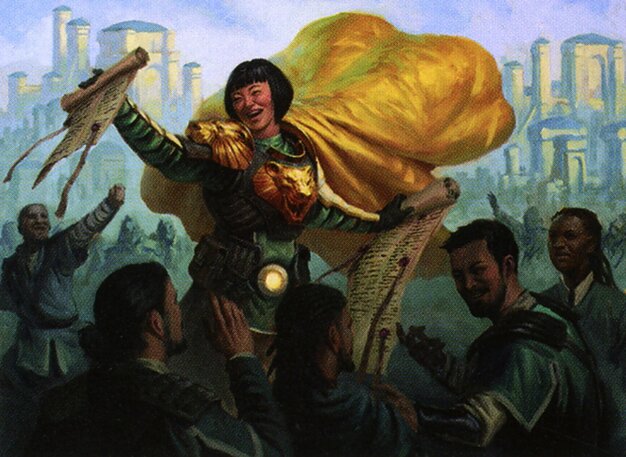 Let's review the constants:
There are certainly some good cards, both old and new, that vary between these lists like Myrel, Shield of Argive, Guardian of New Benalia, Dennick, Pious Apprentice, or In the Trenches. Nevertheless, the key here is to be clear about the central pieces on which we must base our strategy, something that lets this deck take a new dimension and position itself as a Tier 1 and the best aggro deck in the format.
Recruitment Officer is one of the missing pieces of the DMU variant of the deck. Our Content Manager, DoggertQBones, already made this clear in the first highlight of this deck, "The most important function of an aggro deck is that you can start your curve at one…". With this new one drop we not only do that, but we also get a powerful mana sink that lets us find more creatures to pressure our opponents with in later instances of the game. This creature passes the "Savannah Lions" test easily enough to make this a four on any soldier's list.
Harbin, Vanguard Aviator is probably the card that makes us win more games on its own. Being a 3/2 flyer for two mana is very good for having an aggressive start, but it's its triggered ability that makes it fantastic! Attacking with five or more creatures is not a problem when we play with more than 35+ creatures (with some token generators included like Recruitment Officer, Skystrike Officer, and Siege Veteran), and having the chance of pumping all our board while giving evasion to every single one of our creatures at the same time makes Harbin a central part of the success of this archetype.
Speaking of Skystrike Officer, do you remember Kumena, Tyrant of Orazca? Well, this is just as good as this Mythic Merfolk in many situations. Kumena needs to tap another Merfolk to become unblockable. Skystrike Officer flies, keeps our army growing with every attack (similarly to Adeline, Resplendent Cathar), and both let us draw a card by tapping three creatures. Kumena can make their army grow, but trading that for making our army wider is a good deal. Skystrike Officer is, without a doubt, another central part of the success of this deck.
Lastly, Siege Veteran is just a Luminarch Aspirant on steroids. It costs one more mana, but adding the trigger we get on any other non-token Soldier death gives our board resilience and synergy with many of our other creatures like Valiant Veteran, Skystrike Officer, and Harbin, Vanguard Aviator that cares about having a wide army.
The last four cards are the constant when we talk about The Brothers War new additions to the archetype. However, three other soldiers from past sets were also present in every successful iteration of the archetype.
With decks like Grixis and Mono Blue around, Thalia, Guardian of Thraben is a must in our deck. It not only delays cards like Make Disappear, Impulse, or Fading Hope against Mono Blue, but also Fable of the Mirror-Breaker, Cut Down, Voltage Surge, Go for the Throat, and Invoke Despair against Grixis. Thalia does all of this while at the same time being amazing against cards with 2 or fewer toughness like Bloodtithe Harvester and Third Path Iconoclast thanks to having first strike, letting us attack over many good blockers without any problem.
Valiant Veteran is our only lord, but it has all the requirements that makes any tribe lord great. It cost two mana, it passes the "vanilla test" being a 2/2 for two, and it also has another ability, making it useful even in our graveyard. Probably a top contender for the best lord of DMU, Valiant Veteran is a card we want to have a full set of in our 60 cards every game.
Brutal Cathar is a card we know very well thanks to how important it was for Mono White Aggro since its release. Keeping blockers out lets us keep the pressure up, and the possibility of doing it multiple times thanks to how low our curve is makes this soldier our best removal.
After working with this archetype I designed my own version, taking all these key cards into consideration and adding what I think are the best cards to accompany this core:
UW Soldiers – BRO Standard
by Bohe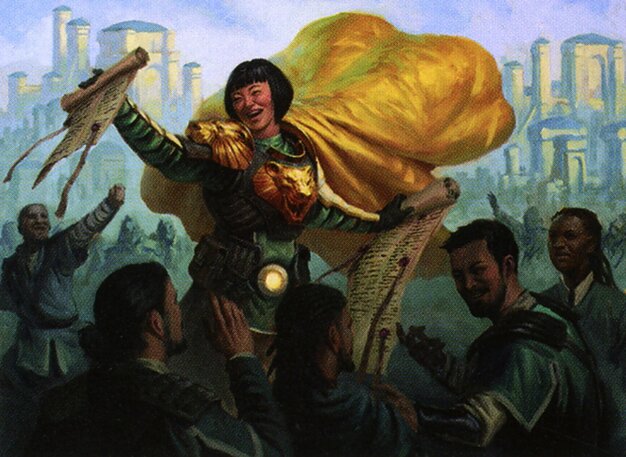 60 Cards
$205.64
Sideboard
15 Cards
$94.01
I like consistency when playing an aggressive deck. With this in mind, I decided to play four of every single one of our core cards. The only non-core card we play as a four of is Yotian Frontliner, our other one-mana creature. I have to admit that I'm not the biggest fan of this soldier, nevertheless, as we said before, having a solid start and exerting pressure on our opponents' life total as soon as possible is key to success. With this in mind, we have to decide between Yotian Frontliner and Survivor of Korlis. Despite how good a Scry 2 can be during the mid-late instances of the game, Yotian Frontliner is more aggressive, letting us pump another attacker, making this a better creature for our purposes.
Myrel, Shield of Argive is very oppressive to our opponents that play two copies and therefore is a good choice most of the time. Curving a turn two Thalia, Guardian of Thraben into a turn four Myrel, Shield of Argive makes even the stronger decks in the metagame stumble and struggle trying to stop our aggressive plan. Also, its second ability reminds me of Hero of Bladehold, a creature that just like Myrel has to be removed immediately, or you're going to be dead after two attacks. Myrel was so good that I'm thinking about playing an extra copy in our 75 cards.
Finally, almost everyone knows how good Destroy Evil is in the current meta. Having the chance to destroy Sheoldred, the Apocalypse, and enchantments like Fable of the Mirror-Breaker in the same card is fabulous. However, in an aggressive deck like ours, changing this card for Valorous Stance can make us win many games on its own. Destroying Sheoldred while having the flexibility of protecting our more important creature in the same card seems logical and preferred in any White-based aggressive strategy.
Protecting our board is so important that I decided to play two Plaza of Heroes. Having 10 legendary creatures on our main board, plus two more in our sideboard, makes this land amazing. In conjunction with our pair of Valorous Stance, Thalia, Guardian of Thraben, and Myrel, Shield of Argive, removing our creatures from the battlefield is going to give more than one opponent a headache.
Sideboard Guide
Grixis Midrange
Thalia, Guardian of Thraben is good against much instant speed removal Grixis tend to play, and delaying Invoke Despair is always a good idea. However, when our plan is to play cards like Protect the Negotiators, Wedding Announcement, and The Wandering Emperor, Thalia has to go out.
Nevertheless, we want to keep our creatures hard to kill. Dennick, Pious Apprentice doesn't die against Bloodtithe Harvester's ability, and if it trades or goes down against any removal, it can come back as a spirit. Guardian of New Benalia has the same purpose, being extremely hard to kill while giving us the ability to scry constantly helps us navigate this attrition match with better resources at our disposal.
Cathar Commando is necessary for two main reasons: Fable of the Mirror-Breaker and Bladecoil Serpent, a new addition to the slower variants of Grixis that prefer to play the control plan. Phyrexian Fleshgorger is also a target, but is going to hurt trying to remove his creature in any conventional way. Here is where Protect the Negotiators shines. Countering any single relevant win condition like Sheoldred, the Apocalypse, Invoke Despair, or any of these artifact creatures is most of the time enough to give us the time we need.
Wedding Announcement and The Wandering Emperor let us grind this kind of match quite effectively. More bodies to our board, card draw, removal for Sheoldred, the Apocalypse, you name it.
Mono Blue Tempo
Trying to remove a Haughty Djinn or Tolarian Terror with Brutal Cathar seems almost impossible against a good Mono U player, we have to respond to these threats at instant speed. Our Valorous Stance, The Wandering Emperor, and even Protect the Negotiators can interact with these creatures better than a three-mana creature could.
Mono Blue doesn't kill our creatures, making the second ability of Siege Veteran almost useless against them, and we don't want to play a 2/2 for three in this matchup. Pressuring as hard as we can is our goal. Sungold Sentinel lowers our curve while doing what Mono Blue hates the most, keeping its graveyard empty. An empty graveyard makes both Haughty Djinn and Tolarian Terror struggle trying to accomplish their functions.
Esper Legends
Just as against Grixis, Yotian Frontliner feels too weak for this matchup. Thalia, Guardian of Thraben and Myrel, Shield of Argive go out mostly because they tend to play 30+ creatures with just 1 or 2 non-creature cards.
Dennick, Pious Apprentice and Guardian of New Benalia work better as two drops against many Esper's solid creatures. Valorous Stance shines once again, letting us take care of Adeline, Resplendent Cathar, Raffine, Scheming Seer, Sheoldred, the Apocalypse, and Ao, the Dawn Sky, while protecting our creatures from trades.
Wedding Announcement and The Wandering Emperor let us fight for the board while Sungold Sentinel deals with opposite Dennick, Pious Apprentice before it can come back as a spirit, this at the same time as preventing Ashnod, flesh Mechanist from creating 3/3 zombies.
Mirror Match and Other Aggro Decks
With this deck we want to be the aggressor in almost any match against other Aggro decks with better one drops than Yotian Frontliner. In this case, we want to make our deck a little bit more robust instead of playing a creature we play only for pressuring slower archetypes.
Thalia, Guardian of Thraben and Myrel, Shield of Argive are logical moves to sideboard out against Aggro, while Dennick, Pious Apprentice, and Guardian of New Benalia are our replacements when we want to take Thalia out.
Wedding Announcement and The Wandering Emperor give us tools to make our deck "wider" and "taller" than other aggressive archetypes, letting us have the upper hand in this kind of game.
Tips and Tricks
The ability of Recruitment Officer costs four mana and it can be used as an instant. This means that it can let us bluff The Wandering Emperor effectively, having something to do with our mana whether we have this planeswalker or not.
Yotian Frontliner's unearth ability gives it haste, letting us sneak a couple of unexpected damage from time to time.
Speaking of unexpected damage, Harbin, Vanguard Aviator lets us kill our opponents by surprise a lot of times. Remember that we don't have to attack with Harbin to trigger its ability.
Playing two spells in the same turn for taking all the advantage we can from Brutal Cathar is also easy with 24 lands. Waiting a turn to make it night could be the right choice in many situations if we have the capability of turning Brutal Cathar again the turn afterward (having a Valorous Stance to protect it is a plus).
End Step
The Brothers War brings a lot of very interesting cards to add to our decks and many others that push us to brew new archetypes. Thankfully, we had many fun and interesting months of Standard with the latest releases, and this seems to remain the same with this new set.
I'm always a fan of playing good Aggro decks that also have a bit of Death & Taxes feeling attached to them. Playing Thalia, Guardian of Thraben and Myrel, Shield of Argive in the same deck is extremely fun (for us). Many months have passed since the last time an Azorius Aggro deck felt like the most busted aggro option in the format; now that Azorius Soldier is clearly the top contender this doesn't seem like it will change at least for the next few months.
Two more sets await us until this Dominaria time-travel war arc ends, Phyrexia: All Will Be One, and March of the Machine (without counting March of the Machine: Aftermath), and without a doubt, both are bringing more soldiers to the table. This means that crafting these cards in case you don't have them and starting to enjoy this fun deck is a good idea. This archetype is clearly a deck that is going to be around for quite some time.
Let me know what you think about it in my social media (links below) and until the next time, dear readers, thank you for all the support you give to the MTG Arena Zone team, it pushes us to keep up the good work! And don't forget to smile every day, it surely makes a difference.
Enjoy our content? Wish to support our work? Join our Premium community, get access to exclusive content, remove all advertisements, and more!