Some of you may remember Value Town, a GW deck born 5 or 6 years ago. Many creatures in that deck had an ETB ability (ETB: Enter the Battlefield) like Eternal Witness. The ones that didn't usually were very good while trying to interact with their opponents like Scavenging Ooze or are very good at applying pressure and giving advantage in the long run like Tireless Tracker or Voice of Resurgence. This in conjunction with very good spells like Path to Exile or Collected Company used to be a very good plan in the old days of Modern (pre MH2 era).
Kamigawa: Neon Dynasty is one of the best sets in the past years. It's not only an amazing set for Limited; it also gives us many cards to build decks around. One of the most interesting of them is in the form of a red saga of an old acquaintance.
The comparison of the old deck with the deck I'm going to present is probably not yet clear, let me explain. The idea behind Value Town archetype was to play a good curve of creatures with effects that want to play interactive games with your opponents. One of the ways of getting more value from the creatures was playing cards that let us play our creatures more than once. Cards like Eternal Witness and Renegade Rallier were a central part of the equation.
Now, what happens if instead of bringing back our creatures from our graveyard we copy them with Fable of the Mirror-Breaker? That could be extremely powerful in the right metagame. Standard nowadays is a format where many of the decks prefer to play interactive spells instead of proactive ones, making many of our games attrition matches where exchanging resources in the best possible ways tends to determine the winner.
Fable of the Mirror-Breaker not only lets us copy our creatures when we flip it. In the process we get one 2/2 token that makes a treasure when it attacks, and then we can rummage 2 cards (Rummage: Discard a card to draw a card) one turn afterwards.
Without a doubt, this red saga has the word "value" written all over it. What is the best possible way to get the most out of it? Building a deck full of very good creatures that impact the game the turn they come into play plus the fact we can copy them with the red saga + efficient interactive spells sounds like a very good idea.
It's good enough that two players already made this idea happen and got incredible results with it in two different formats.
Alche Mardu Mirror-Breaker by Zach Dunn – Top 8 NMC
by Bohe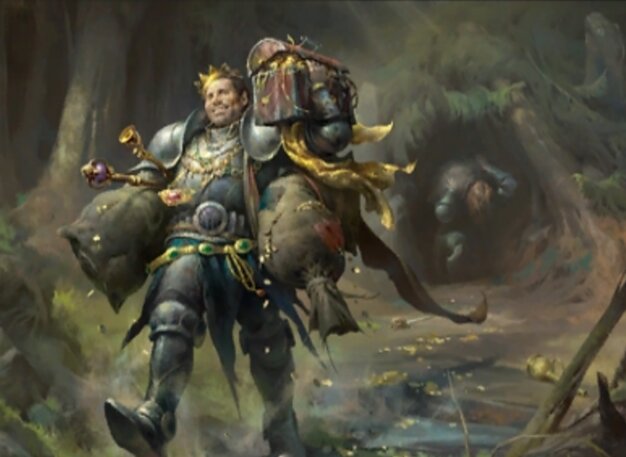 60 Cards
$395.59
Sideboard
15 Cards
$103.43
Standard Mardu Mirror-Breaker by TheOneJame – #531 Mythic
by Bohe
60 Cards
$371.48
7 Cards
$2.59
We can realize that the idea behind both lists is very similar. Efficient creatures that have an ETB ability or exert pressure, cheap removal spells to interact with our opponents and a way of getting more value of our cards. In the end, the comparison with GW Value Town is starting to make some sense to me.
As we can see, Zach's list is for Alchemy, and TheOneJame's one is for Standard Bo1 queue. After some work I made an adaptation for Standard Bo3:
Standard Bo3 Mardu Mirror-Breaker
by Bohe
Standard
Midrange
best of 3
60 Cards
$393.16
15 Cards
$16.15
This deck is capable of facing any of the most powerful decks in the Standard Bo3 metagame and emerge victorious thanks to how good it is while playing interactive games.
I added 1 more The Wandering Emperor. This planeswalker is without a doubt one of the best cards in the lasts years. Even if Zach and Jame play just a pair of it in their lists, drawing one during the transition between the early and the mid game makes a huge difference.
I also added one more Brutal Cathar and one more Elite Spellbinder. Always having the best option for Fable of the Mirror-Breaker is something I prefer instead of 1 Bloodchief's Thirst and 1 Vanishing Verse (both 3rd copies are now in the sideboard). The other cuts were the second Legion Angel (moving it also to the sideboard) and one Swamp for the second Hagra Mauling covering in some sense the two spot removals we move to the sideboard.
The incredible thing about the deck is that it works incredibly well without Fable of the Mirror-Breaker, but adding this enchantment to the plan we assemble during the early game makes a snowball that's incredibly hard to stop for our opponents.
Discarding two cards with Acquisitions Expert, learning two times with Professor of Symbology, taxing two card with Elite Spellbinder or removing two threats with Skyclave Apparition or Brutal Cathar is something that could take many games fast enough to leave our opponents without too much to do.
---
Potential Inclusions / Notable Exclusions
Valki, God of Lies is in Zach's Alchemy variant and it could be potentially good in Standard. The small problem with it is that Fable of the Mirror-Breaker can't copy legendary creatures. Even so, playing Valki on turn 2 or having the possibility of having an amazing planeswalker during the late stages of the game is something we can consider to sneak one or two copies in this deck.
Bloodthirsty Adversary came to my mind as a way to work a kind of Eternal Witness on steroids. If you copy this vampire, you can pay 3 while the token comes into play and trigger the ability of playing an instant or sorcery from our graveyard. Same goes with Tainted Adversary if you want to put some tokens or with Intrepid Adversary if you want to have some kind of an instant anthem effect with Kiki-Jiki.
I was thinking for a long time about playing Farewell in the sideboard, but we have many good options for answering directly the most important threats that Naya or Rakdos Anvil can present to us. And adding one more Hagra Mauling makes our mana base a little bit slower.
Duress is also playable here. Going for 3 Go Blank in our sideboard while having 4 Acquisitions Expert in our main board is enough most of the time against midrange/control decks.
---
Sideboard Guide
Mono White
Acquisitions Expert is a little too slow for this match. Even if we could also take out Elite Spellbinder, I prefer to cut a two drop because we are going to play 3 more two mana spot removals. Making this move tries to keep our curve consistent, and at the same time, having Elite Spellbinder can help us to contest the air battle against opposite Legion Angels or opposite Elite Spellbinders too.
This kind of matchup is very good for us. We not only have removal for their creatures, but also for their The Wandering Emperor, and Vanishing Verse hits almost every single card of their deck.
I say "almost" because there's a new iteration of Mono White that plays a pair of Crawling Barrens. If that's the case, save one of your own Emperors for it. Try to save Abrade for the last possible moment. Some versions also play 1 or 2 Maul of the Skyclaves.
Orzhov Midrange
Many of the recent Orzhov versions don't play Eyetwitch or Shambling Ghast. Instead, they're going for a more focused early to mid power transition. This means many Orzhov are now playing at least 2 Reckoner Bankbuster, making Abrade very good in this matchup (it also kills almost every single threat Orzhov can present, besides 1 copy of Edgar, Charmed Groom that tends to be there).
In the same line of ideas, Vanishing Verse just misses Edgar (and Silverquill Silencer if they're play that version). Having more options for removing threats like Lolth, Spider Queen or Wedding Announcement is just great.
Go Blank helps us by removing some resources from our opponents hand. We can grab some lessons from our sideboard thanks to Professor of Symbology (or rummage some cards) and the same goes for Fable of the Mirror-Breaker. Acquisitions Expert in combination with Go Blank is usually enough if we can stop Reckoner Bankbuster quickly enough.
Naya Runes
Naya Runes is without a doubt a deck that can overrun you really fast if you don't interact enough with it. Thankfully, we have 8 creatures that are also removal (Brutal Cathar and Skyclave Apparition.
Having a response for every possible threat is mandatory. Using Abrade as an instant speed removal for any of their creatures is really good even if they don't play artifacts. Adding Vanishing Verse also works even if it misses Jukai Naturalist. Hitting Generous Visitor, Kami of Transcience, and Runeforge Champion is enough to consider our third copy after game 1.
Archon of Emeria is one of the cards that really put this deck in trouble. As a three colored deck, it plays a lot of non-basic lands, and prohibiting them from casting more than one spell per turn is a hard brake to their game plan.
Jeskai
We have to be clear that I'm talking about Jeskai Control / Jeskai Treasures (Goldspan Dragon combo) variants. I don't think Vanishing Verse is good against Jeskai Hinata and I would remove our main board copies for Archon of Emeria and Sorin plus the 2 Bloodchief's Thirst for the Go Blanks
Even if Sorin the Mirthless is good in attrition matches, I think he shines in games where our life total matters. Adding Vanishing Verse is amazing against Jeskai because it lets us respond, at instant speed and for just two mana, cards like Goldspan Dragon and Lier, Disciple of the Drowned.
Go Blank and Archon of Emeria cut their resources and game plan, giving us time to flip Fable of Mirror-Braker and start getting a lot of value from our creatures. Curving Acquisitions Expert into Go Blank is really powerful against them. Making them start discarding one card each turn thanks to Kiki-Jiki is enough most of the time to close the game.
Rakdos Anvil
Professor of Symbology could be very good for curving into Reduce to Memory and exiling one of their Oni-Cult Anvil. However, the problem is that our 1 toughness creatures trade very badly against Dockside Chef and Voltaren Epicure. We cut the Professor because we can use our Abrade and Skyclave Apparition for the Anvil and we keep 2 Elite Spellbinder because they tend to play (at least) 2 The Meathook Massacre.
Vanishing Verse is also good in this matchup even if Verse can't exile Anvil. Exiling their Sorin the Mirthless or the aforementioned The Meathook Massacre is crucial.
Go Blank can seem like over sideboarding, but trust me, attacking their resources is good and preventing any Agadeem's Awakening attemps and/or Skyclave Shade is very good.
---
Tips and Tricks
Don't hesitate to +1 with Sorin the Mirthless. You don't have to put the card into your hand if it's going to hurt too much.
Professor of Symbology's ability can let us discard one card from our hand to draw a card. Don't forget this, it's something that can be very good in certain situations instead of taking a lesson from our sideboard.
Fable of the Mirror-Breaker says: "Create a token and sacrifice it at the beginning of the next end step." That means you can create a token during our opponents end step. That is going to give us the token for all our turn.
Copying Legion Angel is one of the fastest ways to close a game so keep that in mind.
Remembering the ability of our goblin token from Fable of the Mirror-Breaker is crucial. It gives us a treasure token with every attack.
The "Pathway Advice" is vital in a three colored deck. Save pathways and play them as late as you can. Choosing the wrong color because we played them earlier can make us stumble.
---
Final Notes
Without a doubt, Kamigawa keeps surprising me. I have high expectations for Streets of New Capenna. Having a lot of cards to build decks around is extremely healthy for the metagame and the game itself.
This archetype had very good results, and not just in Standard. Zach used a very similar shell to make a top 8 during the last Mythic Championship. The Fable of the Mirror-Breaker is just one of the many new cards we can build deck around.
This deck is extremely fun to play, and clearly a strong strategy that can be developed even more. What do you think about a Temur variant? Or maybe a Jund one… hmm.. Let me know in the comment section what could be the next best core for Kiki-Jiki and what NEO card could be explored next.
Ah, by the way! There's also a Izzet Vehicle Giants Kiki-Jiki Combo deck. Thanks Kamigawa for giving us this amazing opportunities to brew wild decks! (I can share this other Kiki deck in the comment section if you want me to).
Have an amazing weekend, dear readers! And don't forget to smile.