Standard Bant Vehicles Deck Guide: Hot Wheels Unleashed!
Does anyone remember Esika's Chariot? Before Kamigawa: Neon Dynasty, many claimed that this green vehicle had to be banned. Wizards of the Coast also rebalanced it for Alchemy and Historic purposes, but just like Luminarch Aspirant, the card is still great in Standard in its regular form.
Mono White has made it clear how strong Luminarch Aspirant still is, but why is no one playing Esika's Chariot? The truth is that there's many new cards that invite us to try new strategies. Nevertheless, Mono White Aggro remerges as one of the best decks when solid and consistent archetypes are needed, and most of the time this deck wins tournaments and puts people in Mythic ranks without almost any new cards.
Esika's case is a little bit different, but at the same time something we can evaluate in the same way as Luminarch Aspirant.
Not many competitive players are on Mono Green right now (even if it's still very strong).
Esika's Chariot is still extremely powerful for Standard.
Kamigawa brings many new cards for building around vehicles.
I'm going to ask again… Why are we not playing Esika's Chariot?
Fortunately, one Japanese player still remembers how good Esika's Chariot still is:
Bant Vehicles by Matsuda Hideyuki – 3-0 Hareruya Weekday
by Bohe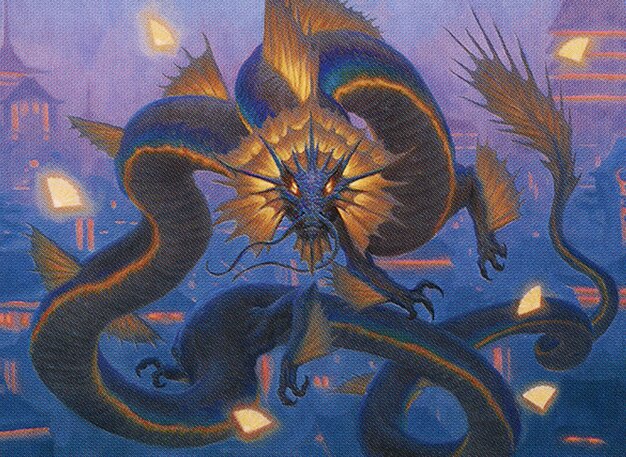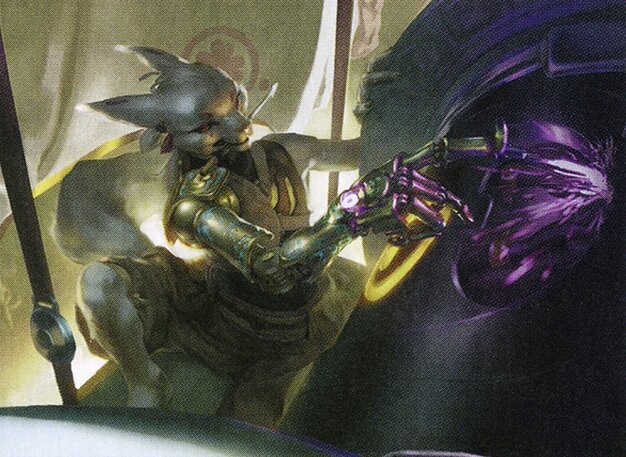 60 Cards
$248.18
15 Cards
$47.41
It's common knowledge that Japanese players are always very innovative. Most of the time, if a new wild strategy emerges or a known archetype gets a twist, players from the country of the rising sun are behind it; this Bant Vehicles deck is more proof of that.
Extremely enjoyable to play and very strong against the meta, what else could we ask for? Hotshot Mechanic, can pilot every single vehicle in this list alone and attack during the early game exerting pressure. Ingenious Smith has proven how good it is since UW Artifacts became a thing. It can find our vehicles or removal like Portable Hole while getting bigger in the process, giving us another body for piloting our vehicles or attacking by itself when it gets big enough. If one Ingenious Smith is not enough, Patchwork Automaton is also here. It doesn't find any more cards, but it grows just like Ingenious Smith and has ward 2, making it a little bit harder to remove for our opponents.
I think this archetype is the best place for Ao, the Dawn Sky to shine. Its first ability is amazing here. Let's be clear, looking at the top seven cards of our library is a lot! Then, we can put any number of permanents with total mana value of 4 or less onto the battlefield without paying their mana cost. That means: any of our 4 cost vehicles, two Reckoner Bankbuster, one Portable Hole, one Hotshot Mechanic and one 2 mana cost Vehicle… many combinations are possible thanks to the fact that all our deck (except Ao) cost 4 mana or less. To this we must add that Ao is a 5/4 vigilance flyer, and that it has another ability that could be relevant depending on the situation.
Regarding our vehicles, the list plays four of the aforementioned Esika's Chariot, a vehicle that I can't say too much about that hasn't already been said. It's the main reason for playing vehicles and the green splash for this deck. Now, as for the vehicles that accompany the Chariot, Reckoner Bankbuster is a card that we've compared before to Mazemind Tome. In any midrange/control deck, this card is awesome at giving us gas just like Tome did in the past, but here Reckoner Bankbuster also provides us with pilots and a 4/4 body for attacking. Just like Ao, I can't think of a better place for Reckoner Bankbuster to shine.
Surgehacker Mech is also here and there since Kamigawa: Neon Dynasty's release, but here is a card capable of dealing with almost every single threat our opponents can present to us thanks to how easy it is for it to deal 4-6 damage while entering the battlefield; attacking with a 5/5 menace body tapping just one pilot is also something our opponents have to be careful about.
This deck wouldn't be complete without one copy of Mechtitan Core. It could seem like some kind of meme, but in this deck it certainly isn't. Having one copy of this megazord enables us to deal 10 damage from nowhere to our opponents, and having all the requirements to activate its ability is very easy with this deck.
I haven't mentioned some Hideyuki's singles like March of Swirling Mist, Valorous Stance and The Blackstaff of Waterdeep, and even while these three cards are really good, many of my usual readers known how much I like consistent decks. After working on this deck for some time, I found my own version, something that swaps out the shenanigans the aforementioned cards enable in exchange for a more cohesive build:
Standard Bant Vehicles
by Bohe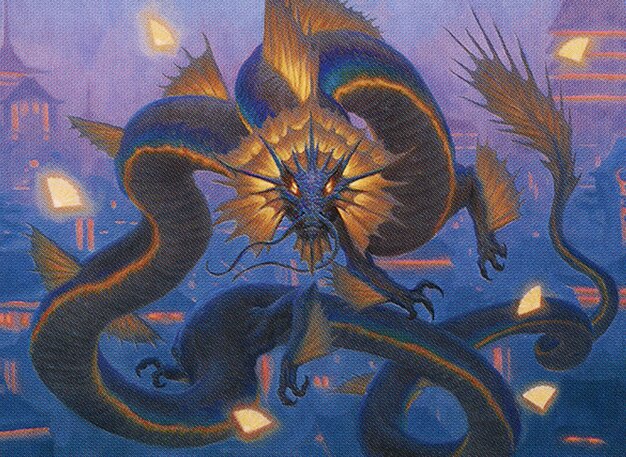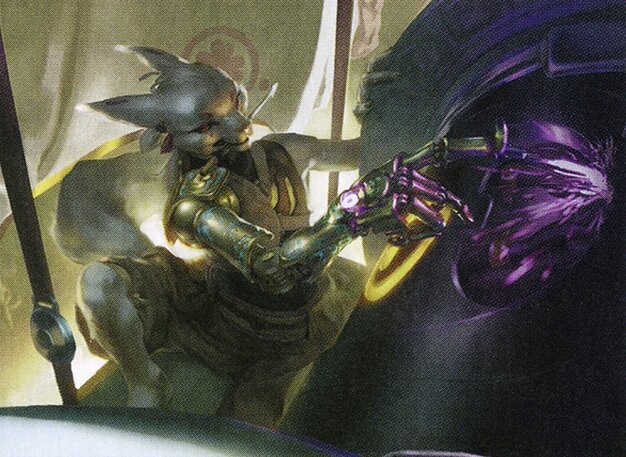 60 Cards
$247.48
15 Cards
$74.61
The reason behind these small adaptations are the following:
March of Swirling Mist is a card that can save us in many occasions, but having four Portable Holes in our mainboard + Doomskar in our sideboard seems enough for me. Maybe in a big tournament with open list the singleton would make more sense.
Valorous Stance is also a great card, but I think it works best in our sideboard.
The Blackstaff of Waterdeep has given several surprises before. UW Blackstaff was an archetype that was lurking around Japanese Nationals during 2021 (hosted by Hareruya), and it proved many times how good can be. In my opinion, this card would shine in a deck centered around it or at least one a little more dedicated to exploit the advantages this staff can give us.
Using these three slots serves incredibly well to make this deck a little bit more consistent. One more Hotshot Mechanic, one more Ao, the Dawn Sky and the fourth Moonsnare Prototype were the cards I chose to replace the aforementioned singletons.
I also changed the sideboard a little bit, but it was just a tiny change. One Skyclave Apparition goes out for our second The Wandering Emperor. My usual readers known how much I like this card and how strong I think it is and playing just one copy if we are in White feels like it's not enough. Also, the third copy of Skyclave Apparition doesn't seem mandatory while we are playing many answers for almost every threat in the meta either in our main deck or on our sideboard.
Before I forget to mention it, I tweaked the mana base a little bit. The fourth Mech Hangar feels mandatory. Being able to transform two of our vehicles even if we don't have creatures to do it lets us win many games. I cut two Branchloft Pathway; one for the aforementioned Mech Hangar and one for the second Overgrown Farmland.
Powered by
---
Potential Inclusions / Notable Exclusions
Playing Mobilizer Mech is possible. It has evasion and lets us crew our other vehicles at the same time that we crew this blue mech. A version with 2-3 copies of this vehicle is something that already has gone 5-0 in MTGO (by idhnag).
Same as the other uncommon vehicles, Imperial Recovery Unit seems good against heavy removal decks. It can bring back any of our creatures except Ao and our Reckoner Bankbuster. It feels a little bit slow, but playing 1-2 in our sideboard against attrition matches could be an option.
Born to Drive seems good, but sadly the two pilots it makes are 1/1, something that lets them crew as if they have 3 power which is usually not enough for most of our vehicles without using both. That's why we add the fourth Hotshot Mechanic (crews as a four power creature) and Patchwork Automaton, a creature that grows just like Ingenious Smith.
---
Sideboard Guide
Mono White / Boros Aggro
Not many threats would be left after our four Portable Holes and Surgehacker Mech + three Doomskar + two Skyclave Apparition, and if some would still try to attack us, our enormous Ingenious Smith and Patchwork Automaton + our Esika's Chariot cats would stop them without a problem. All of this without even taking Surgehacker Mech into consideration.
We cut our slowest cards, but we add a pair of The Wandering Emperor. Having another card that lets us stabilize the game is appreciated. Depending on the situation we could choose to play a turn four Esika's Chariot or pass open to play The Wandering Emperor during our opponents turn.
Orzhov / Esper Midrange
Cutting one Hotshot Mechanic could feel weird, but against this kind of archetypes it tends to trade really badly against their one drops like Eyetwitch, Shambling Ghast or even two drops like Spirited Companion or Luminarch Aspirant. Here we prefer to draw one in the transition of early to mid game to start crewing our vehicles. Attacking with Reckoner Bankbuster for example, is something that we are not going to do early, preferring to draw a card with it instead.
All of our choices here aim to stop or deny their planeswalkers. The Wandering Emperor could be very good in attrition matches, but against the midrange strategies nowadays, it's something that could be sided in or not depending on the situation. In these cases they don't have a relevant creature we want to exile with it. The only one could be Legion Angel, but Disdainful Stroke checks it. This Angel is another reason why I prefer Disdainful Stroke in this matchup instead of our Emperor. Countering the only Legion Angel they have means the end of the problem, but letting one resolve could be extremely hard to take care of.
Reidane, God of the Worthy and Elite Spellbinder delay Lolth, Spider Queen, Sorin the Mirthless, and The Wandering Emperor for quite awhile which is obviously great. Skyclave Apparition can remove almost every planeswalker they play as well (except for Lolth) and Disdainful Stroke can counter it all.
Be careful playing out Skyclave Apparition. Saving one for Wedding Announcement (or The Restoration of Eiganjo) is the right choice most of the time.
Cutting two Ingenious Smith could be somewhat obnoxious, but they play Vanishing Verse so leaving our four Patchwork Automaton gives them a rough time trying to deal with it. Verse can also exile Ao, the Dawn Sky, but the high risk high reward decision of leaving this white dragon against midrange decks pays off more times than not.
Naya Runes / Selesnya Enchantments
One Spell Pierce could seem irrelevant, but against this deck, countering one rune played for zero when they don't have more mana can make the difference between winning or losing. Stopping the beginning of their plan to voltron all their auras onto one creature is key. Countering one Showdown of the Skalds or Hallowed Haunting is also relevant.
Same as against Mono White, we have many spot removal to check their threats even if they try to protect them (Spell Pierce is also good because of this).
The Wandering Emperor is amazing here. Exiling one big creature while letting us put a body to block gives us enough time to navigate this matchup.
Azorius / Jeskai Control
Even if Hotshot Mechanic is amazing at exerting pressure since the first turn, all of our other cards are a bit better for these kind of matches. That's why we cut one copy of this pilot.
Certainly, Azorius and Jeskai are in a incredible position right now and are extremely strong decks, but that doesn't mean that they are unbeatable.
Same as against Orzhov and Esper, Reidane, God of the Worthy, Elite Spellbinder and Disdainful Stroke are here for delaying or answering their planeswalkers. However, against these control archetypes, there's more than planeswalkers. We can also answer expensive cards like Teferi, Who Slows the Sunset, Goldspan Dragon, Hullbreaker Horror, Lier, Disciple of the Drowned or even a Legion Angel.
The Wandering Emperor comes in since, unlike Orzhov or Esper, this control archetype has big creatures we need to answer as soon as possible. Having the chance to do this while having an incredible card for attrition matches makes this planeswalker amazing in this matches.
Rakdos Anvil
Playing Reidane, God of the Worthy as Valkmira is amazing in this matchup. The shield stops any damage from their Oni-Cult Anvil, giving us incredible amounts of time for dealing with their threats.
Skyclave Apparition is very good here because almost their entire deck costs less than four mana. Basically, if you make Ingenious Smith or Patchwork Automaton big enough, it's extremely hard for them to kill it with Voltage Surge.
Portable Hole also has an amazing time here removing almost every single card they can play. Just be careful with the new versions running Fable of the Mirror-Breaker. Skyclave Apparition is our only answer when this red card is in enchantment form. After that, we have many forms of dealing with the Reflection of Kiki-Jiki.
---
Tips and Tricks
Speaking of treasures, Reckoner Bankbuster also creates a treasure when it creates a pilot so keep that in mind setting up your next turn.
Surgehacker Mech's menace ability is very often relevant, always keep it in mind when doing combat math.
It would never be enough to remind you once more the "Pathway Advice". Save Pathways for the last possible moment. Choosing the wrong color in the first turns is something that happens often…
---
Final Notes
A vehicle deck was something Wizards wanted since Kaladesh. Many Dwarves were printed in Boros color pair, but the first pilots weren't enough even if an extremely strong card like Unlicensed Disintegration was there. With the release of Aether Revolt and the print of Heart of Kiran things changed. The aforementioned Rakdos removal and this amazingly good 2 mana vehicle configured one of the strongest decks during the 2018 Standard format.
Now Kamigawa pushes pilots and vehicles again, and let me tell you something, this Bant Vehicles deck is almost as strong as the 2018's Mardu one. Many 3-0 during Hareruya's tournaments from Hideyuki Matsura + the first 5-0 on MTGO Challenges show us that we are on truly on to something and it depends on us if this sticks as the next Tier 1 competitor or not. The great interactions, card potential, and great matchups are there.
I had a lot of fun working with this archetype. I hope you do as well when you start playing this deck. Without a doubt, it's another great idea with a lot of potential thanks to a player from the country of the rising sun.
Let me know what you think about it in on social media (links to mine below) and don't forget smile at least once every day.
Enjoy our content? Wish to support our work? Join our Premium community, get access to exclusive content, remove all advertisements, and more!