3 Very Powerful Blue Decks With Alchemy Horizons: Baldur's Gate
If you're a Blue mage and like Alchemy, DoggertQBones thinks you're in luck with this new expansion! He has three powerful decks that are sure to appeal to any style of player whether you love Blue or not!
Hello everyone!
Alchemy Horizons: Baldur's Gate is coming on July 7, and with it, a huge slew of cards that we can try out! While there are many decks and ideas that I'm sure are going to come out of this set, there were a few that I wanted to highlight in particular.
These three decks that I'm going over have two things in common. One, they are all Blue decks as the title gave away. Two, they all immediately jumped out at me as good strategies when I was reviewing the whole spoiler list.
While many decks take time to put together, these three decks gained cards that jumped right off the page and made it really easy to slot them into preexisting archetypes, dedicate whole decks around them, or both! Without further ado, let's go over the three Blue decks that are looking to be excellent with Baldur's Gate.
---
Jeskai Hinata
(A) Jeskai Hinata
by DoggertQBones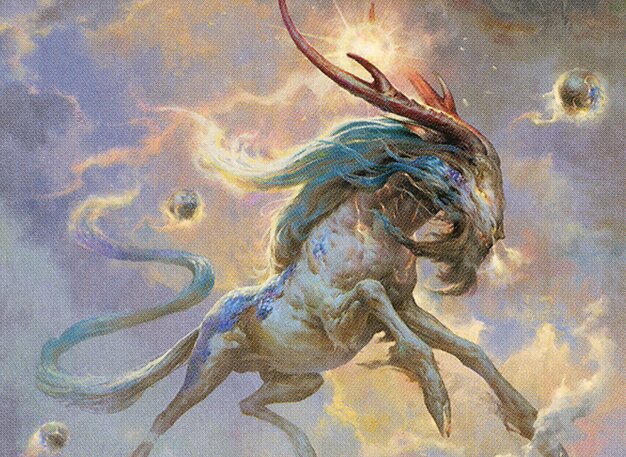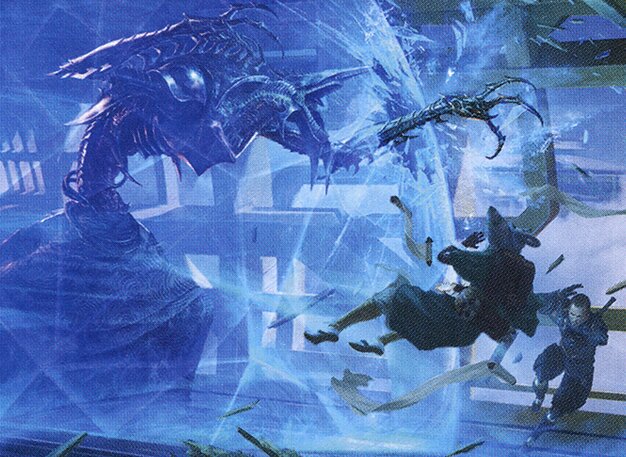 For the first deck of the article, we have the Standard monster: Jeskai Hinata.
Despite being Standard's best deck, it's a bit surprising that it really hasn't made a splash in Alchemy. For what it's worth, Citystalker Connoisseur is a pretty nasty counter to both Hinata, Dawn-Crowned and Magma Opus as it could rob you of either, but beyond that, I'm not seeing any major issues. The most likely scenario is that Hinata rose to prominence after the last Alchemy set release so the timing was likely just off.
Never the less, Hinata is an extremely powerful deck that, like Boros Aggro, will likely be a great option in Alchemy as well. I already talked about it in an earlier article, but I'll recap what card has me specifically excited for Hinata's chances in Alchemy.
This card is absolutely insane with Hinata, Dawn-Crowned. Similar to Magma Opus, it's a card that's pretty strong in the late game, but if you can cast it with a Hinata on board, it'll be lights out almost instantly. Simulacra will let you conjure up a copy of every single nontoken permanent on board and then put the best one in for free if you have a Hinata. Talk about some obscene value!
One of the issues I have with the Hinata decks in Standard is its consistency in the combo as Hinata without Magma Opus is just a decent creature and Magma Opus without Hinata is a very clunky bomb. Simulacra is good at splitting the difference as you can play it in the mid game to "draw" the best few permanents on board, and when you have Hinata out, just get obscene value. The only "issue" I'm having with Simulacra is I'm not sure if I want three or four copies, but I'm sure with time and testing that will become a lot more obvios.
The only thing I'm sure of is that this intermediary bridge is sure to make Hinata an extremely powerful strategy moving forward.
---
Dimir Control
(A) Dimir Control
by DoggertQBones
60 Cards
$100.24
3 Cards
$1.39
Next up on the list is a much more classic iteration of Control: Dimir Control.
For a long while, Black was far and away the best color in Alchemy. With the best threats and card advantage, it was hard to deny that anything could hold a candle to it. Rakdos Midrange in particular took the dominant role in Alchemy utilizing as many of these broken cards as it could get its hands on, became the only game in town, and continues to be one of the best choices now. However, since Black was mostly just utilized alongside Red, a lot of other options get swept under the rug. That's where Dimir comes in.
Blue has always been a strong color in Historic, but it was really only paired with White for Azorius Control. While Azorius has a lot of merits going for it, why don't we combine the broken cards from Black with the best cards in Blue?
Considering it's going to be hard to tell what exactly the metagame is going to look like, I added in a lot of 1 and 2 ofs to diversify what this deck can do, but let's talk about the most important cards.
Control lives and dies by it's interaction, so in terms of new cards, Undersimplify and Cast Down are extremely powerful weapons for this deck. While Quench is a relatively innocuous card, Undersimplify is so much more than that. Being able to tax the opponent's mana and shrink a creature or nab a spell outright, Undersimplify is excellent in a deck that's just trying to stay alive. Furthermore, Quench effects have become much more popular recently with Make Disappear making waves in Standard.
Cast Down, on the other hand, is just a super clean removal spell. There aren't too many legendary creatures in Alchemy you have to worry about (beyond Hinata of course) so having a versatile removal spell that hits almost everything is more than welcome. That's just the brand new cards, what other bangers do we get by being Dimir?
Like I said, when we combine the best Blue and Black have to offer, good things happen. For Black, getting access to Undercity Plunder and Citystalker Connoisseur is awesome. Not only are these two cards just very powerful in a vacuum, they're substantially better in a deck with counterspells. Why? The most common play pattern to beat counterspell decks is to run out your worst threats first to bait the interaction and then slam your bombs. If the opponent does that, we can safely counter their worse threats and then strip their hand of their best threats! It's a brutal combination that's surely to put a lot of opponent's into really tough situtations.
For Blue, being able to still play Divide by Zero and gaining access to Discover the Formula is similarly great. Divide by Zero has been banned in Standard for awhile now, but a functional three mana Remand that grabs a lesson and can hit permanents as well is still an amazing card.
Discover the Formula on the other hand is just the perfect late game card as you can do it when you have some room to breath and immediately launch yourself ahead in terms of value.
Combine all these elements alongside the other interactive pieces we get access to, and you have yourself a powerful deck!
---
Azorius Blink
(A) Azorius Blink
by DoggertQBones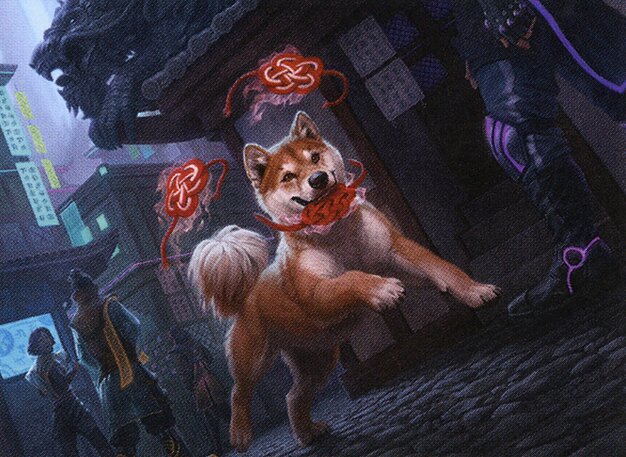 60 Cards
$145.52
Sideboard
4 Cards
$1.74
For the final deck of the article, we have the sweetest deck of them all with Azorius Blink.
Lets cut right to the chase.
This card is bonkers good. While it is gated by how strong the creatures it can blink are, the fact that every spell can accrue you an insane amount of value should not be underestimated in the slightest. To that end, it may be weird to see the list only have three of them, but unfortunately, it's hard to play enough good spells and good creatures in Alchemy.
Nevertheless, I expect really great things from Kitten as it'll lead to many opponents being buried in value. However, that's not the only insane Blink card we have at out disposal.
When I saw Displacer Kitten coming to Arena, I thought that was going to be the be all end all for Blink decks. Imagine my surprise when we have a second Blink card that can contend with it! Lae'zel's Acrobatics is very similar to Semester's End and Ghostway, but 55% of the time will double all your blink ETBs! This may be the most powerful iteration of this effect ever printed (beyond Yorion, Sky Nomad, I was referring more to the Instant speed versions of this effect) as doubling up on all your triggers is sure to do some serious damage to any opponent.
For the last Blink enabler, it's far from a new card, but Teleportation Circle is still great. Getting a fresh ETB each end step is definitely powerful, and funny enough, this works with Lae'zel's Acrobatics so you can do both in the same turn need be.
With all of these payoffs, all you have to do is play good enablers. Thankfully there is a slew of great ETB creatures in White that love to be blinked. Most of them draw you a card one way or another, but also getting interaction in the form of Elite Spellbinder and Skyclave Apparition is quite powerful. Also something to keep in mind that this is just for Alchemy, if you're looking at Historic, the volume of powerful creatures you can blink skyrockets!
If you like have obscene value turns and all your creatures accruing a boatload of value, this seems like a great deck to play.
---
End Step
That's all the decks for this article! If there's a deck you're particularly interested or you think I missed a cool deck, let me know in the Discord!
Thanks for reading!
Enjoy our content? Wish to support our work? Join our Premium community, get access to exclusive content, remove all advertisements, and more!