MTG Arena will be hosting a series of three events over three weeks called the College Cup, which is the festival equivalent for the Strixhaven: School of Mages expansion. This guide will contain everything you need to know about this event including the schedule, rewards and our exclusive sample decklists.
Overview
Strixhaven University holds an annual competition between the five colleges – Lorehold, Prismari, Quandrix, Silverquill, and Witherbloom. It consists of three events that will challenge players to create decks unique Standard formats to test their mastery of magic within the halls of Strixhaven University.
Each event runs for four or five days spanning three weeks, from May 13, 2021 to May 31, 2021. The first four wins of each event rewards players with the Japanese Mystical Archive card styles, allowing you to collect twelve different ones in total.
Furthermore, players can represent a college (or colleges) of their choice by equipping a Strixhaven college-themed sleeve, avatar, and pet. The first win each day in each of the three College Cup events contribute towards the college leaderboard, depending on the event itself and the cosmetic used:
| Event | Avatar | Pet | Sleeve |
| --- | --- | --- | --- |
| Test of Knowledge | 2 Points | 2 Points | 3 Points |
| Test of Wit | 3 Points | 3 Points | 5 Points |
| Test of Leadership | 5 Points | 5 Points | 8 Points |
Sleeve
Players can get their five free college sleeves by taking the Strixhaven Quiz and entering the code you receive in the emailed acceptance letter at myaccounts.wizards.com or in the Store tab in MTG Arena on PC or Mac. Below is the complete list if you wish to skip the quiz. You can also get the complete codes from our guide here for more free packs and cosmetics!
| Code | Reward |
| --- | --- |
| DebateDuelists | Silverquill Sleeve |
| MathWhizzes | Quandrix Sleeve |
| SwampPunks | Witherbloom Sleeve |
| ArtClub | Prismari Sleeve |
| RockJocks | Lorehold Sleeve |
Avatar
Each college's avatar is available in the second position in the Strixhaven Mastery web.
Pet
Each college has a Tome pet available within the first ten levels of the Strixhaven Mastery Pass rewards levels.
The highest scoring college will earn a special card sleeve featuring their emblem given out to all players via code redemption, and a special college-themed celebration will take over all of MTG Arena after the events wrap up.
Standings
Updated: June 1, 2021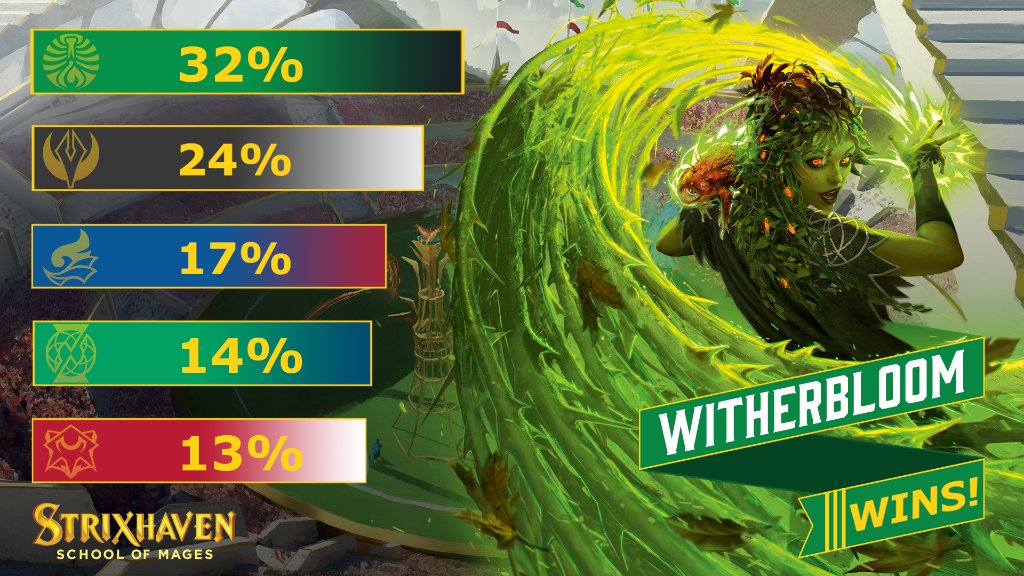 | College | Points |
| --- | --- |
| Witherbloom | 32% |
| Silverquill | 24% |
| Prismari | 17% |
| Quandrix | 14% |
| Lorehold | 13% |
Test of Knowledge
The first event is Test of Knowledge and the format is Standard Singleton, which means you can have at most one copy of any card in your deck (excluding basic lands), but with a twist: Archmage Emeritus will be overseeing this test. Whenever a player casts or copies an instant or sorcery spell, that player will draw a card!
Event Details
Rewards
Test of Wit
The format for the second event, Test of Wit, is 100-Card Treasure Standard. Your minimum deck size is 100 cards and each player will create a treasure token during their upkeep.
The following cards will also be banned for this particular event:
Event Details
Rewards
Test of Leadership
The final challenge is to test your leadership skills in a Strixhaven Brawl. This means that all legendary creatures and planeswalkers not in the Strixhaven expansion cannot be used. That is, players are required to build Brawl decks that only contain legendary creatures and planeswalkers from Strixhaven, and of course, any non-legendary card from Standard.
Event Details
Rewards
Enjoy our content? Wish to support our work? Join our Premium community, get access to exclusive content, remove all advertisements, and more!
No ads: Browse the entire website ad-free, both display and video.
Exclusive Content: Instant access to all exclusive articles only for Premium members, at your fingertips.
Support: All your contributions get directly reinvested into the website to increase your viewing experience!
Discord: Join our Discord server, claim your Premium role and gain access to exclusive channels where you can learn in real time!
Special offer: For a limited time, use coupon code L95WR9JOWV to get 50% off the Annual plan!