Hello everyone and Happy Thanksgiving for those who celebrate!
It's been a minute since I did this series as we were all wrapped up in spoilers, but now that we have a full week of The Brothers' War under our belts, we can talk about fresh brews again! Since it's week one, you better believe there's a myriad of lists to cover, which I definitely can't fit into a single article, but will be chipping away at through the course of this series!
For week one, I didn't even have to go onto Magic Online to find three awesome lists to go over, and these already have some proven success, as they are all 7-0 lists from the Standard Metagame Challenge! Let's get into it!
Mono Red Ramp
Mono Red Control
by MTG Arena Zone
Standard
Control
best of 3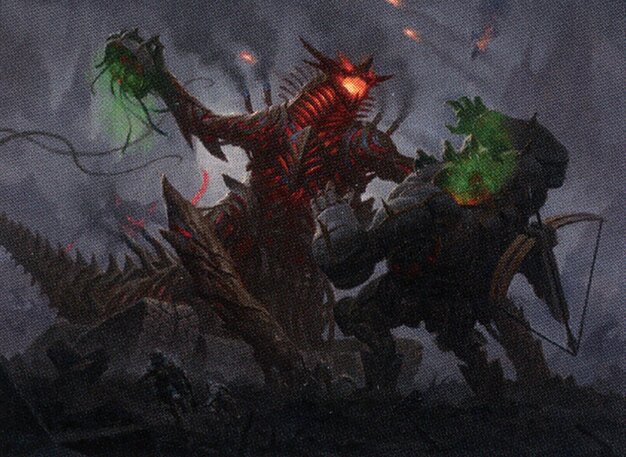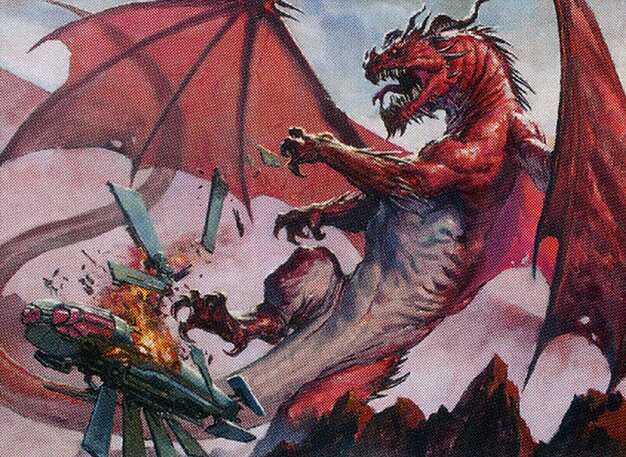 60 Cards
$186.62
15 Cards
$42.99
The first deck right out of the gate is easily one of the spiciest I've seen in awhile with Mono Red Ramp! This deck is all about staying alive and ramping into your big payoffs, and to that end, we have a lot of great options to help us out.
Since we are a top heavy deck, we need the tools to help stay alive early. Horned Stormseeker is an excellent early drop as it can help us accelerate into some of our payoffs, and if it isn't helpful early, we can simply use the 2/2 body to trade to preserve our life total.
In the same vein, Voltage Surge will help prevent some damage early, or could kill something larger later on if we have errant Powerstones or Treasures laying around.
Finally, while not exactly an early play, Reckoner Bankbuster gives you something to do with excess mana to dig you towards your payoffs.
Moving up the curve, we have a litany of excellent three drops to work with. Phyrexian Dragon Engine is a solid blocker early, and once it dies, you can Unearth it to refuel your hand once you run out of gas.
One of the most innocuous, but potentially one of the best cards in the deck, Excavation Explosion not only deals with a pressing issue, but also ramps us! This can be invaluable since a lot of our payoffs are artifacts, so a removal spell that doubles as ramp is a huge deal.
Lastly, we have this little known card called Fable of the Mirror-Breaker to help ramp us, as well as providing some additional power in a deck that's flush with it.
So what are we looking to ramp into? I'm glad you asked! We have a lot of great payoffs for going with this build, between card advantage, threats, and interaction. While Karn, Living Legacy had a less than stellar reception, this deck makes pretty good use of it by either providing ramp or card selection depending on what we need.
As a pure win condition, Tyrant of Kher Ridges has flown under the radar thus far, but is reasonably powerful, as it can come in and kill something (or bonk the opponent), then threaten a huge swing the following turn!
Half ramp and half payoff, The Mightstone and Weakstone may seem weird without the Urza counterpart, but five mana to help accelerate us further and guarantee card advantage on entry is still quite powerful.
Finally, the largest payoff in the deck, Cityscape Leveler is there to instantly level your opponent's best permanent, and if they can't kill it immediately, it will instantly run away with the game. Even if they can kill it, the Unearth ability guarantees another trigger and a brutal hit from an 8/8!
The final element of this deck, that we definitely shouldn't ignore, is the consistency of being mono colored. Not only can you not get color screwed, but you get to play a host of utility lands on top of that! If you're ever unsure what to do with your Powerstone tokens, these provide you something to do!
Between solid early game, great payoffs, and perfect mana, this is definitely an option that blends style and power!
Jund Anvil
Jund Sacrifice
by MTG Arena Zone
Standard
Midrange
best of 3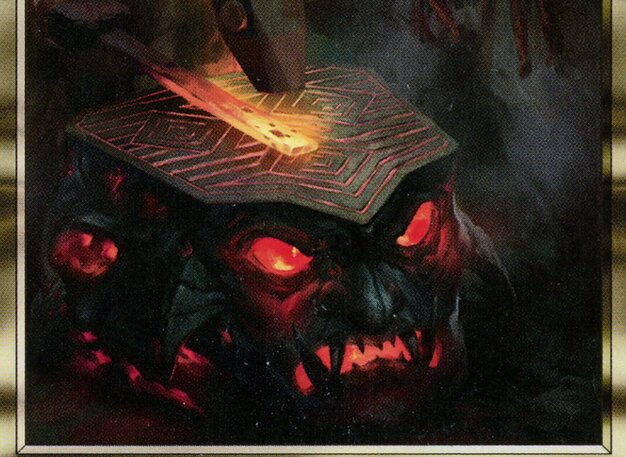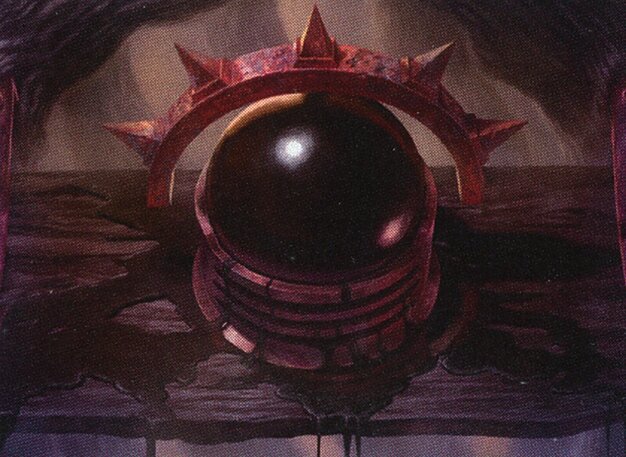 60 Cards
$270.46
15 Cards
$50.69
For our second sampling of the article, we have the Crokeyz special to breakdown, Jund Anvil! While Grixis seems to be the current flavor of Anvil, going Jund gives you access to some powerful cards as well.
Not every deck gets the option of good one drops, but Jund gets three excellent ones to choose from! Voldaren Epicure is a staple in the Anvil archetype providing a free Blood token as well as a 1/1 body to throw around for whatever you need it for.
As for a new option, Teething Wurmlet is an incredible addition to the deck as you can potentially scale it every one of your turns, keep gaining life, and have a huge creature for the opponent to now worry about.
Finally, we have Mishra's research Desk which seems to have more or less replaced Experimental Synthesizer in the Anvil lists. While it's more of a mana investment up front, this gives you more flexibility on what card you can cast and when, and better yet, can be Unearthed for more value. This makes it an excellent option for grinding in a long game, just as long as your mana isn't bottlenecked.
Moving up the curve, we get to the deck's excellent two drops. Like Epicure, Bloodtithe Harvester is another staple in this archetype, and just an excellent card in general.
The titular card of the deck, Oni-Cult Anvil is the whole reason the deck is built this way, and now that we have some serious upgrades from The Brothers' War is better than ever.
Finally, we have the closest we're ever getting to Skullclamp, Transmogrant's Crown can be a brutal card advantage engine when attached to an otherwise irrelevant body to make an annoying attacker or defender that also gives you a card! This, in particularly, is very powerful as making your Anvil tokens work double duty is a huge deal to increasing the power and consistency of the deck.
Just like that, we're already at the top of the curve for the deck! Believe it or not, we also play Fable of the Mirror-Breaker here as the card is just obviously insane.
Another awesome Jund exclusive for Anvil, Skyfisher Spider gives this deck excellent removal options. Functioning similarly to Rite of Oblivion, this Spider can come in, eat a random permanent, and kill their best threat which is a great deal in a deck that's going to have a lot of random nonsense laying around.
While the Grixis version of Anvil has some excellent and powerful options, the Jund version has cards that look equally tenable, so it'll be interested to see if this remains the fringe choice or develops a following of it's own!
Mardu Midrange
Mardu Midrange
by MTG Arena Zone
Standard
Midrange
best of 3
60 Cards
$510.24
15 Cards
$143.85
For the final deck of the list, and one of my favorite Bo1 decks prior to rotation, we have Mardu Midrange! Half of the three colored pairings have been overlooked as they lacked a land to go along with it, but here, we trade out a little bit of consistency for power!
There isn't too many proactive early plays here, but honestly, it's not that necessary for this deck either. Staying alive is the name of the game, and most of these cards assist in that capacity. Bloodtithe Harvester makes another appearance as an excellent card that can trade on board, whether it's through attacking, blocking, or the activated ability, making it powerful and versatile.
We have excellent removal spells in terms of Cut Down for early threats and Go for the Throat for pretty much everything else.
Finally, for some additional grindy elements, there's two Reckoner Bankbuster to keep the gas flowing.
The real reason you may be interested in playing Mardu is the three drop slot. By being in this color combination, you get access to not just the best three drops in Standard, but potentially the best cards in Standard.
Graveyard Trespasser, somehow, is by far the worst of the three drops as it only provides a hard to kill body, some life gain, and graveyard hate.
Wedding Announcement is an absolutely incredible card that will often provide three bodies and a permanent anthem for three mana, which is an obscenely underpriced deal.
Finally, and once again, we have Fable of the Mirror-Breaker as another excellent card, here on sheer power level alone.
You thought the insane hits may have ended at the three drop slot, but we have even more topping our curve! In case you want your opponent to pull their hair out as you recur one of your broken three drops, Serra Paragon is there to make that dream come true!
A common adage is that if a card is insane in Limited, it's probably good in Standard, so since Archangel of Wrath was one of the best cards in DMU Limited, it must be true here! Considering we can use both kicker abilities, being able to come in, create a huge life total swing, and have a strong body, this is pretty versatile.
Finally, we have Standard's best four drop, Sheoldred, the Apocalypse as yet another powerful card.
More so than many other decks, Mardu Midrange epitomizes the idea of slamming good cards together to make a scarily strong deck.
Do you have any interesting decks I should consider for the next highlight? Make sure to let me know on our Discord!
Thank you for reading!