Hello everyone!
With a full week of The Brothers' War under our belt, we can finally start making some assessments on it's impact on Arena! While Standard is generally going to be the talk of the town, that doesn't mean there hasn't been an impact in other formats as well! To that end, I'll be giving a brief overview on the state of affairs, so to say, for each of the formats so you can be kept up to date on the newest trends! The first step to attacking a metagame is understanding it, so I'm hoping that this is helpful to those looking to get ahead of the competition!
For clarity's sake, I'll be going over each of Arena's Constructed formats in alphabetical order – Alchemy, Explorer, Historic, then Standard for your convenience. Without further ado, let's dive right in!
Alchemy
I won't split hairs in this section, since Alchemy is profoundly unpopular, there is generally not much innovation going on. However, there is one brave pioneer who is constantly trailblazing in the format, our very own Altheriax!
Altheriax has made numerous brews for Explorer and Historic, but has been branching into Alchemy as well by concocting decks with insane win percentages that easily rocket him up to the top of the ladder. To that end, he has one such innovation again with a twist on an old favorite archetype of his, Rakdos Anvil.
Rakdos Anvil by Altheriax
by DoggertQBones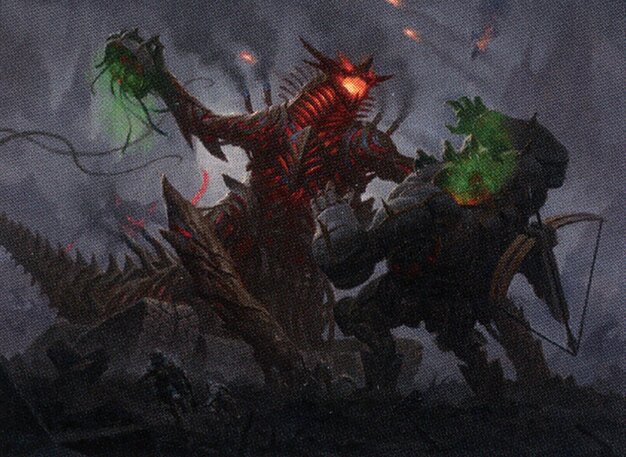 60 Cards
$486.92
15 Cards
$145.37
Rakdos Anvil has been a mainstay in Alchemy since it's inception as it in conjunction with Sanguine Brushstroke is an extremely powerful synergy that can quickly drain out the opponent. While we still have those and all the familiar faces of Voldaren Epicure, Bloodtithe Harvester, and Sheoldred, the Apocalypse, we have the new Meld pairing in Phyrexian Dragon Engine and Mishra, Claimed by Gix!
Like in Standard, the reason I like this Meld pairing the most is they are the strongest cards on their own, that still come together for an extremely brutal pair. At it's very worst, Phyrexian Dragon Engine is a three mana 2/2 Double Strike, which isn't a bad rate at all. If that's all it did, we wouldn't be playing it, but it has a lot of functions! First off, and obviously, it's a Meld pair which gives it value. Second, the Unearth ability is very powerful as this iteration of Anvil doesn't have any other card draw, so being able to refuel in the late game is invaluable. Lastly, it's an artifact itself, so if you need to pitch it to an Oni-Cult Anvil or Voltage Surge in a pinch, you can!
While not as versatile as Phyrexian Dragon Engine, Mishra, Claimed by Gix is quite powerful as well. Acting as a Brutal Hordechief, Mishra can make good use of all the errant tokens you have laying around if you don't have a Sanguine Brushstroke yet, as you could convert small chump attacks into instant kills with the right board state. With these two additions to the deck, the deck's base power level and consistency go way up, so it's no surprise that Altheriax was able to reclaim the #1 spot with this!
For those interested, he has a game play video in the Tweet below, and we'll have a guide coming soon!
Explorer
While there were many powerful cards entering Arena in general, thus far, it seems none of them have made their way into Explorer. For what it's worth, Explorer is in the middle ground of strong so Standard cards aren't often going to make a resounding impact in older formats, but they also miss out on being able to play the Retro Frame Artifacts like Historic can! That said, that doesn't mean we haven't seen any mobilization in Explorer either.
While we haven't seen new cards making an impact on the format, Worlds has obviously had a huge impact on the general Explorer metagame on Arena. Prior to Worlds, while it wasn't the highest win rate deck, Rakdos Midrange was the proverbial king of ladder. This is anecdotal and I didn't track the stats, but there was a period where I was playing a lot of Explorer and I faced Rakdos Midrange in, quite literally, almost all of my matches. If I had to guess, I was likely playing around 80%+ of just Rakdos Midrange at that time. Now that Worlds has shown the actual top decks like Mono Blue Spirits, Abzan Greasefang, and Rakdos Sacrifice performing well, these decks have represented a much larger metagame share than before, and the metagame has been more diverse as a result.
If you're looking for the best lists of these archetypes and others, be sure to check out our Tier list!
Historic
Historic is in a somewhat similar position to Explorer as The Brothers' War hasn't had a huge impact on the format, but it's has substantially more for two reasons: Brotherhood's End and the Retro Frame Artifacts.
The impact of Brotherhood's End is salient and simple. The best deck, prior to The Brothers' War was Azorius Affinity (with Boros Thopters not too far behind). While it's still an excellent option, having a versatile board wipe and Shatterstorm is extremely back breaking for all sorts of Artifact strategies. The problem before was that a lot of the best artifact hate cards like By Force or Shatterstorm are extremely narrow cards that are only good against Artifacts.
Brotherhood's End, however, can be brought against any creature deck, and then is incredible against Artifacts. Having access to this effect provides a much better check to the Artifact strategies as you aren't losing that much equity in your sideboard by including a narrow card. Again, while I expect Artifact decks to still perform extremely well, I don't believe they'll be as dominant as they were prior to The Brothers' War.
Izzet Pardoxical Outcome
by Skura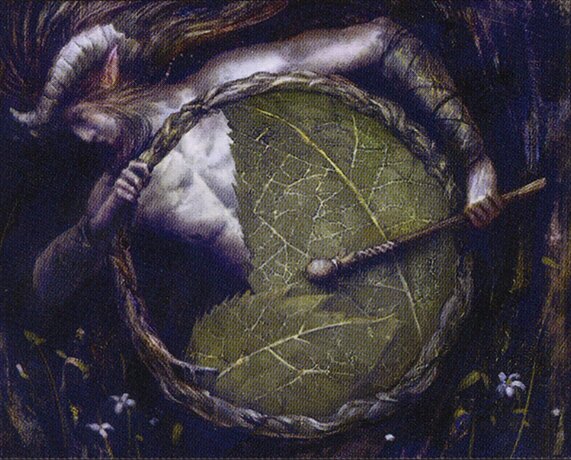 60 Cards
$371.2
15 Cards
$69.01
This is just one example of the new artifacts impact on Historic, and I'm sure there's going to be a lot more of these popping up as time passes. I won't deep dive into what artifacts have the best chance to make it as Altheriax did that for me, but particularly powerful ones like Springleaf Drum and Goblin Charbelcher are sure to have some sort of impact. For example, the list above makes great use of Springleaf Drum (and Third Path Iconoclast) giving the Outcome deck more explosiveness and consistency, allowing it to do it's thing much faster than before.
Again, something like Brotherhood's End will likely limit how powerful these strategies can be, having more combo decks in Historic will be interesting to see and can breed new deckbuilding space both for the combo players and those looking to capitalize on their existence. While there hasn't been too much movement right now, I expect that there will be a lot of interesting decks propping up in the near future.
Standard
Finally the golden child of Arena is here, and obviously, there's been huge reverberations with the inclusion of The Brothers' War. If you're curious to see a holistic picture of what's been happening in the metagames, you can check out the Tier lists below for the latest shifts and updates.
However, the Tier list can't reflect everything so there are some decks in particular I wanted to highlight as particularly stand out for this week.
Grixis Anvil
Grixis Anvil
by DoggertQBones
Standard
Artifacts
best of 3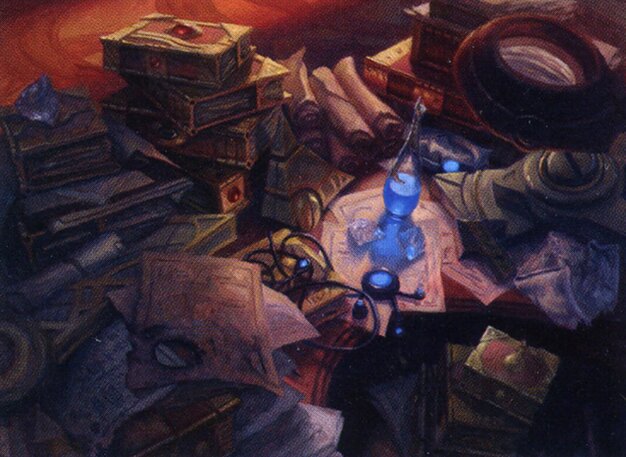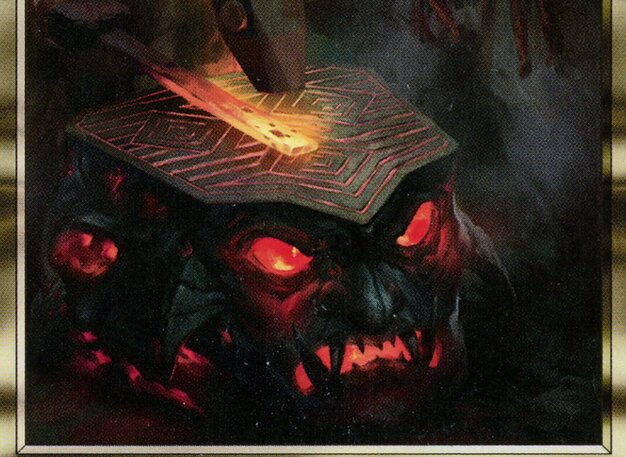 60 Cards
$303.96
15 Cards
$100.97
While this deck still has a lot to prove, the easy winner for this week is Grixis Anvil. Even though it's a brand new strategy, it's already taken both Magic Online and Arena by storm with a huge increase in representation and an excellent showing the past weekend both in the Magic Online Standard Challenges and the Standard Metagame Challenge. Looking at the deck, it's not hard to see why.
If you look back at Altheriax's new take on Anvil, you'll see that there's only a single card that he's playing that isn't Standard legal – Sanguine Brushstroke. It seems weird that a whole deck is taken off the table because it's missing one card, but that's how important Brushstroke is in Alchemy Anvil. So what does Brushstroke offer to Anvil? Power. Brushstroke itself doesn't really increase the consistency of the deck, it still works it's best in conjunction with Oni-Cult Anvil, and while still good without it, isn't nearly as impressive.
What Anvil in Standard needed wasn't necessarily more consistency, as Altheriax could be playing Deadly Dispute which was a main stay in the old lists, and isn't, but more powerful cards to add to the fold. If you go Grixis, that's no longer a problem. Saheeli, Filigree Master is exactly what this deck needed in terms of power. It can be a card advantage engine, it can add more artifacts to the board for pressure, and the ultimate can be used almost instantly and give a huge anthem to your board if you have a lot of artifacts laying around which can easily convert into a quick win. Saying that this is the perfect card for the deck wouldn't be a stretch.
Also, speaking of having a lot of artifacts laying around, Third Path Iconoclast converts all your non-creature spells (which is nearly all of them) into additional 1/1 artifacts for you to use, furthering the consistency and power of the deck.
While these cards still can't replace the sheer power Sanguine Brushstroke provides in Alchemy, it does bring the deck relatively close to the same power level, and with how good the fixing is in Standard, the Blue splash is nearly free. I expect to see a lot more of this deck, and seeing it's power, I wouldn't be surprised to see it climb higher in the meta rankings as well.
Azorius Soldiers
Azorius Soldiers
by DoggertQBones
Standard
Tribal
best of 3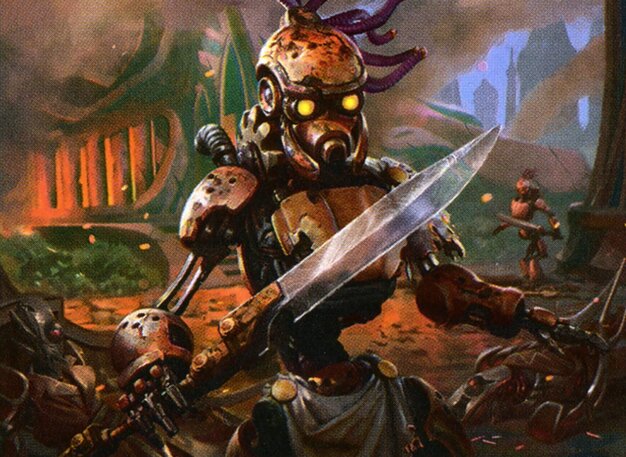 60 Cards
$98.52
15 Cards
$91.59
The next clear winner of this week is The Brothers' War block deck, Azorius Soldiers! The metagame has been sorely missing an aggressive deck for quite awhile, and now that The Meathook Massacre is gone and the early creatures are stronger, we can finally play aggro again.
While I'd say there's still a concerning amount of aggro hate available in the format, it will be hard for midrange decks to justify adding too many pieces of that as they'll lose enormous equity in the other midrange matchups that are more prevalent in the meta. Beyond that, Soldiers has the added benefit of being surprisingly grindy as it has excellent mana sinks in the forms of Valiant Veteran, Recruitment Officer, In the Trenches, Mishra's Foundry, Fortified Beachhead, and grindy cards in Skystrike Officer and Siege Veteran.
Despite being new, this deck has already put up strong results with decent Standard Challenge results on Magic Online and plenty of 7-0s in the Standard Metagame Challenge.
Esper Legends
Esper Legends
by DoggertQBones
60 Cards
$532.88
15 Cards
$139.53
The final deck that performed particularly well this week was Esper Legends.
I remember when just CrK was jamming this deck by themselves and crushing it in the Standard Challenges, and now it definitely seems to be picking up some steam. I've personally tried this a bit, and I can definitely attest to the power of the deck. I said before that Azorius Soldiers had the best mana in Standard, and now I'm thinking that this deck has it beat. Despite being three color, you get access to Plaza of Heroes which is a big deal, but better yet, you get to play a large amount of the Channel lands. It's easy to forget, but the abilities on these lands are reduced by 1 for each Legend in play, so often, these will cost one mana! Generally you aren't looking to play 28 lands in an aggro deck, but when they can be a Gideon's Reproach, Unsummon, or Raise Dead for free, that's a huge amount of value!
Furthermore, your threat quality is simply fantastic in this deck, and there's no need to list them all as you're playing pretty much every strong Legend available in Esper colors. While it may look a little janky to play functionally no interaction, the deck's proactive game plan is powerful enough to justify it.
Boros Invoke
Boros Invoke
by DoggertQBones
Standard
Midrange
best of 3
60 Cards
$323
15 Cards
$102.87
For my final note to leave you on that's filled with bias, I want to highlight Boros Invoke. I personally think this deck is obscenely well positioned, powerful, and unbelievably underplayed. It goes over the top of nearly everything, and counterspells have been much less popular recently. I don't know if this deck is ever going to pick up much steam as it is a bit out there, but if you're at all interested in it, I'd recommend you give it a try!
End Step
That's the first week wrap up for The Brothers' War Despite it being just week one, it's exciting to see how much change and innovation is already happening, and one can only assume, it's going to pick up the pace as more information is shared.
Thank you for reading!