Untapped.gg Reveals the Most Popular Ladder Decks in Post-Rotation Standard
The period directly following rotation is one of the most exciting times to be playing Standard MTG, and here at MTGA Zone we have been carefully watching the meta in both competitive scenes and the Arena ladder.
Over the weekend, we saw the first tournaments featuring post-rotation Standard. If you're looking for the latest on the developing competitive meta, be sure to check out our coverage of those events, linked below:
Now, MTG Arena deck tracker Untapped.gg has revealed the top post-rotation best-of-one decks on their tracker with an impressive sample size of 240,000 matches via their Twitter page.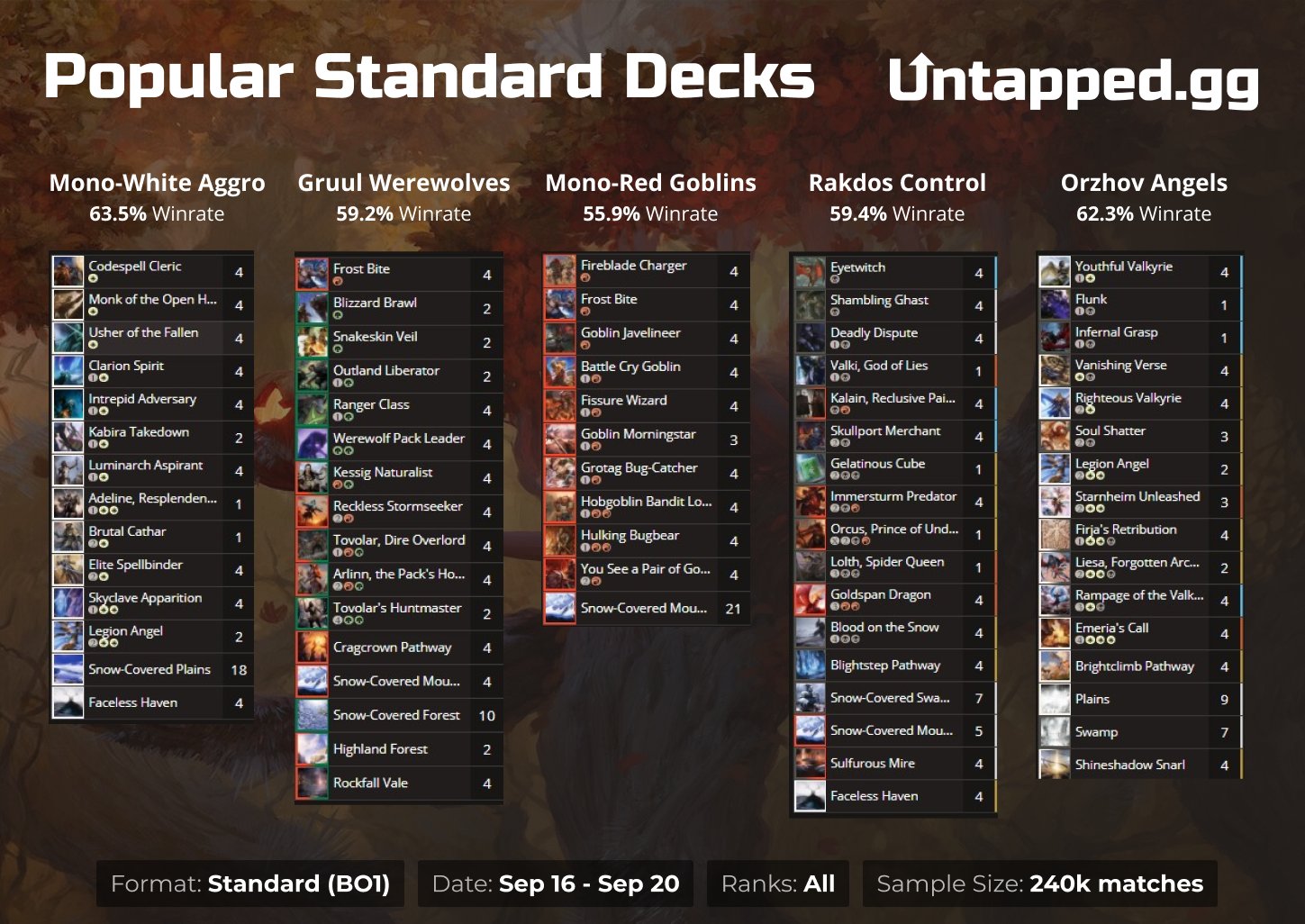 Untapped.gg is one of (if not the most) popular 3rd party deck trackers among the MTG Arena community. The tracker is commonly used by major content creators and average players alike, and while there's no way to get the full data set concerning what decks are being played on Arena, Untapped.gg offers us the best snapshot we can reasonably expect.
The Results
All five of the archetypes on this list are sporting impressive winrates, but none more so than Mono White Aggro at 63.5% and Orzhov Angels at 62.3%. It's important to remember that these results are based on best-of-one play, and the top archetypes are likely quite different for traditional best-of-three matches.
It's interesting to see Rakdos Control near the top of the list when many considered the sacrifice decks to be dead after the rotation of powerful staples such as Claim the Firstborn. As it turns out, Immersturm Predator is quite a strong card in the new format, along with other staples in the color pair such as Goldspan Dragon and Blood on the Snow.
BO1 Mono White Aggro – 63.5% Win Rate
by Terence
60 Cards
$218.42
Sideboard
2 Cards
$1.98
BO1 Orzhov Angels – 62.3% Win Rate
by Terence
60 Cards
$180.12
Sideboard
2 Cards
$1.98
BO1 Rakdos Control – 59.4% Win Rate
by Terence
Standard
Control
best of 1
60 Cards
$400.18
Sideboard
7 Cards
$10.01
BO1 Gruul Werewolves – 59.2% Win Rate
by Terence
Standard
Tribal
best of 1
BO1 Mono Red Goblins – 55.9% Win Rate
by Terence
Standard
Tribal
best of 1
We've already got a ton of new content surrounding post-rotation Standard to browse – especially concerning Gruul Werewolves which has been extremely potent in Bo3 tournaments as well as the Bo1 ladder. See below for example decklists from each of the Untapped.gg top 5 archetypes, as well as more deck guides and constructed content on the fresh Standard format.