Welcome! All cards in Core Set 2021 have now been fully revealed, which you can now check out on our spoiler page! The rest of the cards added today were mainly filler commons and uncommons, so you did not miss much if you have been keeping up to date until now. Ultimately, the set is due to be released on MTG Arena on June 25th along with the game update, and the paper release will follow up on July 3rd. There's a lot to cover in the next few weeks, so here's a summary of what's to come:
Limited Set Reviews and Tier List
The limited set reviews from our dedicated staff members and infinite/top mythic drafters Drifter and Compulsion will be returning for their third consecutive set! You can check out their Theros: Beyond Death Set Review for more information and introductions. These will begin in the next couple of days, starting with Introduction and White, followed by Blue, Black, Red, Green, and Multicolour/Artifacts/Lands, to be released each day leading up to the set release.
A Core Set 2021 Limited Tier List will then be released; this is a compiled list of all the grades from their Set Reviews, released right after Multicolour/Artifacts, so you can get right into Sealed and Draft when the patch drops. Drifter and Compulsion will be updating this regularly throughout the lifespan of the set so it'll always be relevant to furthering your drafting success! You can check out the previous tier lists if they ever come back on a rotating draft schedule – be sure to bookmark them:
Seth Manfield's Constructed Set Reviews
Starting from this set, Seth Manfield – Magic Hall of Famer, Magic Pro League member and former World Champion, will be joining us in reviewing the cards from Core Set 2021! We're really excited to share what cards he thinks will make an impact on MTG Arena and his insight should help you navigate the set in terms of which cards you can make best use of. These will be released in conjunction with the limited set reviews as a six-part series, so keep an eye out!
Jumpstart Previews
Jumpstart is a new way of playing Magic: The Gathering – you mash up two themed booster packs together and you are ready play! The set is due to be released on July 17 to MTG Arena, with a bunch of new cards to be introduced into the Historic card pool. You can read more about the product here, and previews for this set start June 17, which we will be adding to the Jumpstart card gallery. After Office TTV also has his own exclusive cards to reveal for this set on July 19 right here and on his stream!
He has also been exploring the interesting cards from Core Set 2021 so far, which you can check out now:
Theorycrafting and Early Access Streamer Event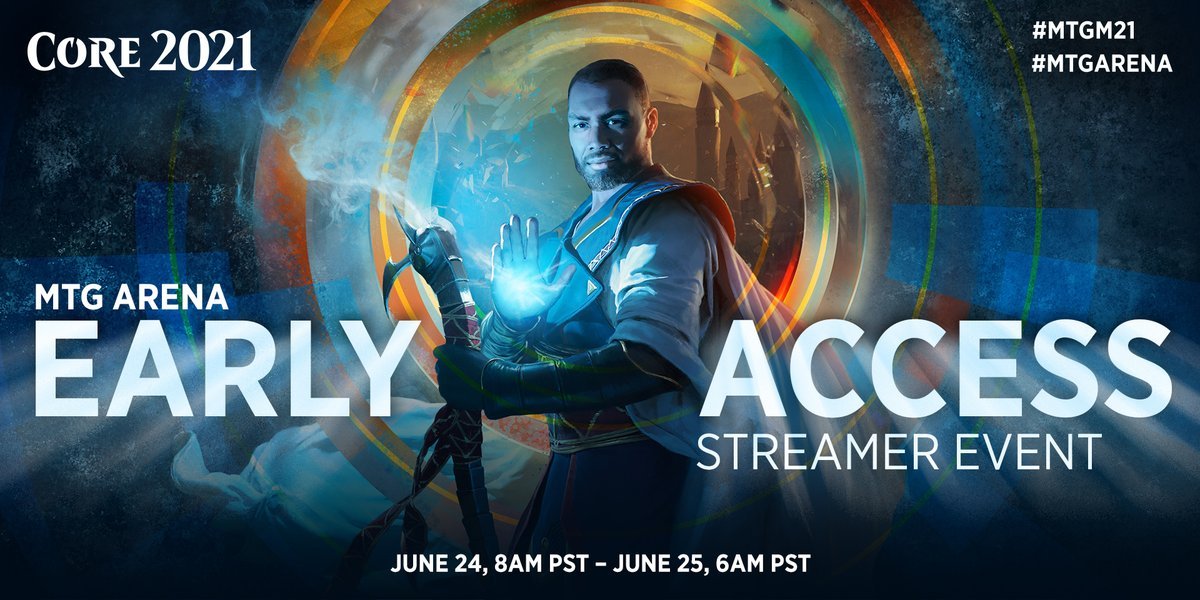 As we have been doing for the past few expansions, we'll have a multitude of deck ideas, brews, and theorycrafts, leading up to the set release by our talented content creators. We'll also get to see many decks featuring the new cards in the Early Access Streamer Event that starts on June 24.
MTG Arena Zone Open Tournament Series
On a finishing note, the MTG Arena Zone Open Tournament series will continue – we're currently focusing on Historic, but we're also be adding Standard in once Core Set 2021 is out, and you might see some news on a league structure, as well as some interesting stipulation tournaments too if the format becomes too stale. Be sure to sign up for our latest Historic tournament this Saturday!