One of the undeniable truths in Magic is that modal cards are, most of the time, great choices while building a deck.
The first "commands" were printed in Lorwyn: Austere Command, Cryptic Command, Profane Command, Incendiary Command, and Primal Command redefined how flexible a card could be. After this first design experiment, modal cards with four or more effects became a crucial part of the game.
Proof of this is that, a few years later, Dragons of Tarkir and Strixhaven brought their own cycle of commands:
Now, The Brothers' War does the same! Just one year after the last iterations of this great kind of spell, five new mono-colored commands arrive to shake the Standard meta, and without a doubt, become staples in many mono-colored commander decks.
Kayla's Command
Kayla's Command is the first on the list. Something familiar between some of these new spells is their card type. Being sorceries is something that could potentially hold back these new cards. However, their flexibility makes them stronger than they look at first sight.
Regarding this first example, many of its possible combinations of effects are clearly good deals for just three mana. There are many viable White decks in Standard that can be happy playing this card like Orzhov or Selesnya, however, Mono White Midrange is probably the best place for it:
Standard Kaylas Command Midrange
by Bohe
Standard
Midrange
best of 3
This iteration of Mono White has been gaining popularity during the last month. Playing Kayla's Command here gives this archetype redundancy, something that let us solidify this deck plan.
We can find Plains, just like Ambitious Farmhand and The Restoration of Eiganjo let us do. Scrying becomes extremely valuable when we have card draw with Reckoner Bankbuster, Spirited Companion, and Roadside Reliquary. We can also create an extra 2/2 construct while helping Ambitious Farmhand transform, lowering the cost of Vanquish the Horde at the same time, and give us another target for The Wandering Emperor's +1. Finally, it can provide us with an extra artifact, making Roadside Reliquary even better. All this without counting how easily Ao, the Dawn Sky can seal a game if we put a +1/+1 counter on it while giving it double strike simultaneously.
Every angle we can take with this card seems highly favorable for this archetype, and without a doubt is one of the first cards I'm most excited to try when Brothers Wars arrives at MTG Arena.
VERDICT
Urza's Command
The next command is from one of our protagonists himself, Urza. This is probably the more demanding one in terms of deck building. The first and last modes can be played together in a wide variety of decks that aim to reach later instances of the game, working almost like Cryptic Command. Instead of tapping all creatures our opponent control + drawing a card, here, we can give -2/-0 to all attackers and then scry for 1, then draw a card. Against many stompy/tokens decks that play a lot of small creatures, this could be functionally better. The problem here is how the second and third require an artifact core to shine at its best.
UW Artifact Control
by Bohe
Standard
Control
best of 3
As curious as it sounds, Tezzeret and Urza seem like the new best friends duo for the next iteration of Standard. Added to the aforementioned capabilities of stalling aggressive decks, Urza's Command plays a major role in this Azorius Control deck thanks to how we prioritize maximizing its second and third modes.
The Powerstone token can be used for many things: Tezzeret, Betrayer of Flesh's -2 and -6 abilities, paying Disruption Protocol's additional cost, giving us 1 colorless mana for colored spells with the help of Moonsnare Prototype, and paying activation costs of Reckoner Bankbuster, The Celestus, Karn's Sylex, and two new lands: Blast Zone (a reprint from War of Spark) and Hall of Tagsin. Also, with an artifact shell like this one, the 0/0 construct created by Urza's Command's third mode will be a 4/4 most of the time, something that would let us compete for the board without many problems.
With all this in mind, Urza's Command seems like a solid card that can help a deck like this one in a wide variety of scenarios, making it a must in Blue-centric artifact archetypes.
VERDICT
Gix's Command
Probably the hardest command to fit in a deck in the current Standard is Gix's. Certainly, this card has a variety of uses that can help in many attrition matches, games that are quite common nowadays.
Thinking carefully, many Black-centric decks in the current Standard like Jund, Esper, Grixis, Rakdos, and Mono-Black can play this card and take advantage of doing so. I think that even Nathan Steuer's Grixis list which made him our latest world champion can be suitable for this card. However, trying to compete against Invoke Despair for the five-mana spell slot is complicated. That's why after analyzing all these decks, I think Rakdos is the best place for this new command.
Standard Rakdos Gixs Command
by Bohe
Standard
Midrange
best of 3
Rakdos has some advantages while trying to play this card over the other archetypes. First, all of our creatures have 3 or more power, making the second mode of this card amazing against aggro or even Esper that have creatures like Dennick, Pious Apprentice and Raffine, Scheming Seer. We have an amazing removal in the form of Bloodtithe Harvester, a creature we can sacrifice more comfortably knowing that Gix's Command can bring it back during the late game.
The last mode works in conjunction with the second one, working as a virtual Wrath of God in many possible scenarios in the current Standard. Finally, the first one is more or less situational but lets us gain some extra life thanks to giving lifelink to one of our creatures and is going to save us more than once.
This is probably the command we have to playtest the most to have a clear idea of its full potential.
VERDICT
Mishra's Command
Izzet Prowess is clearly going to be a contender when Brothers War gets released. Besides the red command, we are also getting fantastic creatures in the form of Monastery Swiftspear, a card that Red players were claiming long ago for Explorer, and Third Path Iconoclast the new Young Pyromancer.
Standard Izzet Prowess Mishras Command
by Bohe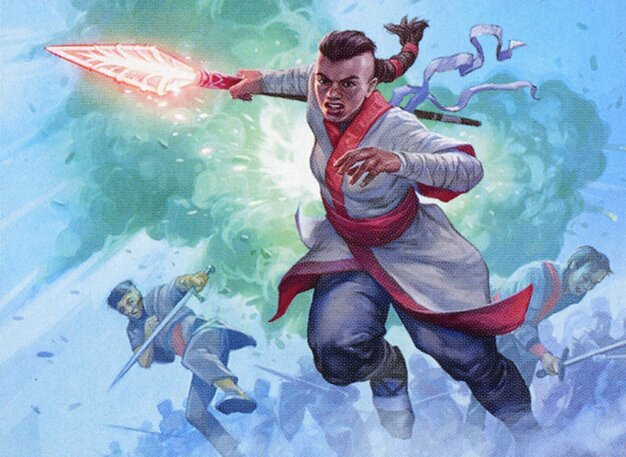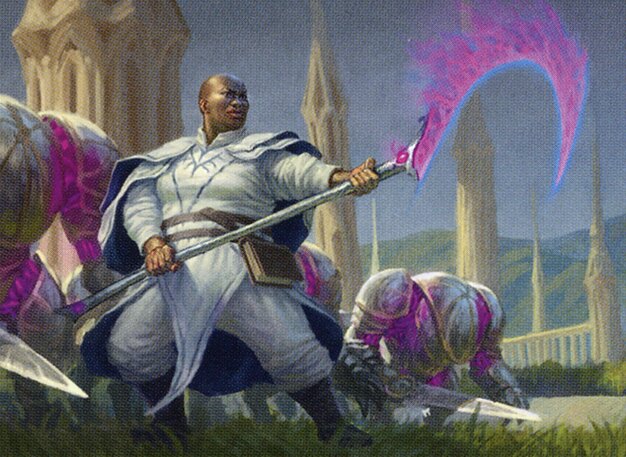 We are going to see Monastery Swiftspear everywhere, and this archetype is no exception. Mishra's Command plays a major role in this deck. Every single one of its modes helps this spell-matters aggro deck to fulfill its job. Just like any other prowess/heroic deck, we are going to play a lot during our turns, aiming to grow our creatures' power by playing as many spells as we can. The second and third modes of Mishra's Command help us in our task of attacking without having blockers (or other targets such as Planeswalkers) in our way. Pumping any of our attackers with the last mode of this red sorcery lets us keep the pressure up, and choosing Balmor, Battlemage Captain or Electrostatic Infantry can be fantastic thanks to its flying and trample abilities respectively.
The first mode of Mishra's Command lets us filter through cards, having the gas we need with the same card that lets us push damage through our opponents' defenses. Stormchaser Drake could be amazing here, but like many other Young Pyromancer decks, having a transformation plan in our sideboards makes our opponents stumble. We can play Third Path Iconoclast in our sideboard if preferred and play Stormchaser Drake in our main board. However, the counterspell plan that lets us grow our army during our opponents' turn while protecting our creatures for a big attack by playing just one or two spells during our turn thanks to Balmor, Battlemage Captain seems pretty strong to not try it during game 1.
I'm a big fan of Boros Heroic and playing this deck would be at the top of my list. I think that having a modal card in this archetype that also has a mana value that we can adjust to every moment of the game could make a great difference in comparing this idea against other iterations of spell-matters decks.
VERDICT
Titania's Command
Probably the command that will see more play trough a wide variety of formats is Titania's Command. The reason behind this affirmation is its third mode. The capability of finding any two lands enables many incredible interactions. Dark Depths + Thespian's Stage or Urborg, Tomb of Yawgmoth + Cabal Coffers are just a few examples. Other fantastic lands that you cand find with Titania's Command could be Nykthos, Shrine to Nyx, Gaea's Cradle or even Field of the Dead.
Its similarity to Hour of Promise or Primeval Titan makes this card a staple in certain archetypes. However, while these cards are not available in Standard, let us show how powerful this card can be in the proper deck.
What could we do with this card in Standard? Well, many cards in the format are lands that care about how many lands we have in play:
Standard Titanias Command Ramp
by Bohe
Wrenn and Seven and Kura, the Boundless Sky can make tokens with power and toughness equal to the number of lands we have in play. Boseiju Reaches Skyward also has the same ability Wrenn and Kura's tokens have when this enchantment becomes a creature. By these means, if we use the first turns for ramping out as fast as we can, we can have enormous monsters attacking our opponents over and over during the mid and late instances of the game.
With other cards like Azusa's Many Journeys Augur of Autumn, Topiary Stomper, and Bushwhack, having the lands flowing and entering the battlefield every turn is something easy. Speaking of Bushwhack, this is another new card from The Brothers War that fit perfectly in this archetype. It not only can find a land when we need it but also serves us like an efficient removal spell thanks to how big our creatures could be.
I was wondering about Awaken the Woods. After thinking about this new mythic for a while, I decided this time to leave this card out. Nevertheless, play-testing a pair is not a bad idea.
Finally, Llanowar Loamspeaker is the only card that lets us ramp without finding lands, but its ability to let us attack with our lands as 3/3 is something we can't let go.
The other modes of Titania's Command are not bad, and their flexibility can be fantastic depending on the situation. Making our creatures bigger, especially our flyers or tramplers that can close the game pretty quickly, and putting two 2/2 Bear tokens can let us stabilize against many decks while we keep the ramp going. The first mode can be something many could overlook if we are not playing against a graveyard-based deck. However, gaining 8-10 life during the mid or late instances of the game is something that could be enough to let us grind complicated games.
VERDICT
End Step
Day after day Brothers Wars lets us see that the next set is full of incredible cards that are going to raise the bar of power level in Standard. I'm seeing many new cards that can be taken into consideration even for Explorer. Just a couple of weeks separate us from knowing all the remaining secrets buried in the depths of Koilos has for us.
What do you think about this new commands? Let me know on our social media (link below) or in our MTG Arena Zone Discord. Until the next time, I'm going to keep my mind busy thinking about other archetypes that can be the next home for these commands, and the many new amazing and fun strategies that can be developed with every new card this spoiler season has prepared for us.
Ah! And dear readers, thank you so much for reaching this last paragraph of the article; don't forget to smile every day; it surely makes a difference.