Hello everyone!
With the banning of The Meathook Massacre, we have a new metagame to navigate! While the top decks are still mostly Black decks, that doesn't mean they are the only good options! Players are constantly innovating, and even if they approach Standard with a deck that isn't technically the perfect choice, there are plenty of powerful options waiting to be discovered. That said, I wanted to start a new series where I can shine a light on these decks!
While not every brew is going to work, I did a deep dive of all the published Standard lists available for this week and pulled three decks that are fresh, powerful, and above all, very interesting! If you feel that you want to try something new in Standard, this is the article for you! Let's get into it!
Five Color Kami War
Five Color Kami War by Yotsugi – 2nd Place
by DoggertQBones
Standard
Midrange
best of 3
60 Cards
$450.94
15 Cards
$16.59
Boy oh boy. While it wasn't viable for the vast majority of it's existence, The Kami Waris one of my favorite decks in Standard. I just love five color decks as it reminds me of the Standard masterpiece that was Omnidoor Thragfire (though I still think Worldfire wasn't good in the deck). Before we dive in to take a look, if you don't know what I'm referencing, you have to see the spice.
Omnidoor Thragfire
by DoggertQBones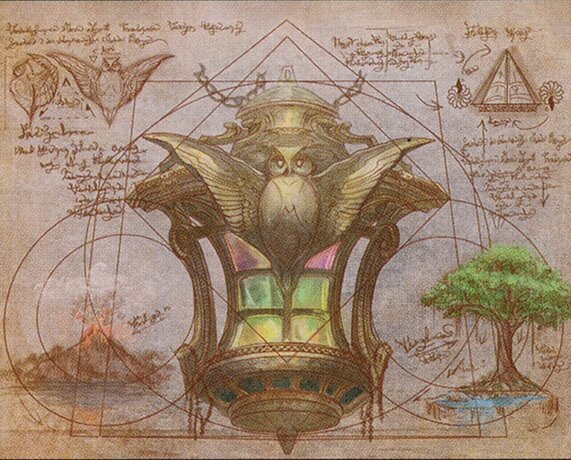 53 Cards
$271.19
13 Cards
$16.31
I mean come on, but I digress. Let's break down the newest iteration of Kami War!
This deck is already inherently greedy due to the mana base, but this deck triples down on the greed factor by having only FOUR proactive plays before turn three. Four! This deck is not concerned about being run over, and by looking at the metagame of Esper and Jund, it's hard to blame them!
Llanowar Loamspeaker is the card we're hoping to see every turn two as it can get the ball rolling earlier than usual. Since our real cards start at three mana, being able to play this on turn two, a tap land and a three drop on three is a huge advantage. The latter two cards don't have "immediate" impact on turn two, but can do something for two mana. Herd Migration is a great Domain payoff once we hit seven mana, but if you need something to do early, you can convert it into a basic land. Reckoner Bankbuster is a grindy tool which may seem unnecessary in this deck, but you'd be surprised how often you're dying to draw an extra card. This is awkward as this does literal nothing on turn two, but being able to play something and have something to do when you have holes in your curve is pretty nice!
Now we start getting to the meat of the deck with the three drops.
Ads the odd one out, we have a lone Shadow Prophecy as a solid card selection spell. You likely don't want to be casting this turn three unless you have no other plays, but even if you do, this should act as a Memory Deluge most of the time that's a mana cheaper, but loses you two life. In terms of the other three drops, these are the additional sources of ramp. The Celestus is purely a ramp card, but Fable of the Mirror-Breaker, to put it mildly, does a smidge more, but only a smidge.
Then we work our way to the midgame where we have a smattering of powerful threats.
The main ones are of course Sheoldred, the Apocalypse and Workshop Warchief as they gain life which will be sorely needed at this point. Even if you aren't facing an aggressive deck, considering how slow the mana is, you likely have taken a hefty amount of damage at this point. While our aforementioned two creatures are amazing stabilization tools, we have Ertai Resurrected and Ao, the Dawn Sky as fun ofs as they're just good cards.
Finally we reach what I think is the best feature of the deck, the removal suite.
Starting off with another fun of, we have Tear Asunder which is half Naturalize, half Golgari Utter End which is a pretty solid rate. Past that though, we have only the best removal the format has to offer. Unleash the Inferno is extremely powerful as it's pretty much the only card that can full clear a Wedding Announcement or Fable of the Mirror-Breaker which is a huge deal. For single target removal we have Leyline Binding, and while this naturally costs six, realistically, this will be anywhere from one to three mana in this deck which is obviously a stellar deal. Finally, the namesake itself in The Kami War. There's no two ways about it, this card is messed up powerful. I literally don't know the full text of the card despite playing with and against it a lot as most players simply scoop when it comes down. This is removal and a win condition all in one that will end games in the matter of a few turns.
Overall, I'm a big fan of this deck, but it is rather metagame dependent when you can play it. As I said, I think the interaction suite is the best part of this deck, but that also means the deck is only powerful when the interaction is powerful. For most of The Kami War's life, playing six mana grindy removal spells wasn't tenable, thus the deck wasn't viable. However, if the metagame keeps towards the direction of being a grindy midrange fest, it's hard to do better than this!
Five Color Jodah Humans
Five Color Jodah Humans by SeventhProphet – 7th Place
by DoggertQBones
Standard
Midrange
best of 3
60 Cards
$361.24
15 Cards
$41.35
Coming up next we have yet another five color deck to discuss! While I have very little experience with this deck and I thought Jodah, the Unifier was all hype, this list managed to snag a top 8 spot in the Standard Challenge so there may be something here yet! Let's take a look at Standard's weirdest aggro deck!
While ideally we would be starting the curve at one mana for our aggro decks, that's pretty much impossible with the mana base. With that in mind, we have to start at two!
One of the few non-legends in the deck, Intrepid Adversary is simply a solid card as it can hit hard, regain some life, and has nice scaling later in the game. Thalia, Guardian of Thraben is a White aggro staple that is used in full effect here as we play only three non-creature spells in the entire deck! Dennick, Pious Apprentice also can gain some life back which is nice if we have a slow start, randomly shut off graveyard matters cards, and then can come back as a Flier who draws cards! Aggro rarely gets access to such grindy two drops, and while this isn't Tenacious Underdog level grindy, it is quite powerful. Finally, we have one of the glues that holds the deck together, Katilda, Dawnhart Prime. Since we may fall behind from tap lands, converting all your threats into mana dorks can instantly catch you back up, but more often than not, accelerate you ahead like crazy.
Moving up the curve, we have the crux of the deck with our three drops, and let me tell you, there are a lot of different ones, but only twelve total compared to fourteen two drops!
Let's split them up into interaction and aggression as that's the easiest way to go about it.
While it's only a one of, Anointed Peacekeeper is our Elite Spellbinder at home that can severely slow down an opponent by naming a card in hand or a permanent on board to make it difficult for them to cast/use. To deal with creatures, we have Lagrella, the Magpie as our Brutal Cathar equivalent that can also insulate one of our threats if we want to.
Now for the crux of the three drops, we have the aggression. Another one of, Torens, Fist of Angels is mostly here as it helps diversify the three drop suite rather than here on power alone. That said, being able to generate a lot of tokens with each creature cast will definitely be relevant when you have a Katilda, Dawnhart Prime on board! Speaking of tokens, Adeline, Resplendent Cathar makes plenty of them, and as anyone who plays with or against this card knows, Adeline is a beating! While not as strong as something like Wedding Announcement or Fable of the Mirror-Breaker, she really isn't that much weaker either. King Darien XLVIII is a solid lord that's both a mana sink and a way to protect the tokens we make! Finally, we have Shanna, Purifying Blade which is yet another mana sink that works well with Intrepid Adversary and Dennick, Pious Apprentice to draw a bunch of cards when you're running low on gas.
Just like that, we're already at the end of our curve!
As our only non-creature spell, it's hard to question why The Wandering Emperor is here. Whether used offensively or defensively, The Wandering Emperor is nuts good. A holdover from the previous format that hasn't seen as much play because of Cut Down, Halana and Alena, Partners is an insanely powerful threat that will quickly run away with the game if left unchecked for a turn or two. Finally, like The Kami War, we reach our namesake last with Jodah, the Unifier. Jodah is the whole reason we play all these Legends as he's a Coat of Arms and Cascade enabler all in one. If you get to untap with Jodah and you have spells in hand, you will very likely win the game as you'll be able to attack for ridiculous amounts and grow your board like crazy.
I'll admit that I'm still relatively skeptical about this deck, you can't deny how sweet this is. While this can be dismantled with enough removal, with The Meathook Massacre no longer in the format and midrange decks still taking the top spot, there may not be as much interaction as before which can potentially make this a solid choice moving forward.
Orzhov Control
Orzhov Control by tobyy2580
by DoggertQBones
Standard
Control
best of 3
60 Cards
$505.66
Sideboard
15 Cards
$10.03
For the final deck of the list, we have this Orzhov Control deck that stuck out to me in how insular the game plan is. I've seen so many Orzhov Midrange decks, but just playing all interaction and grindy threats is definitely a new spin on it!
First we have our two drops, and funny enough, not a single proactive play in sight.
For removal, we're opting for four Fateful Absence, one Infernal Grasp, and ZERO Cut Down. Toby is not scared of small creatures and this list shows! It may be weird to play so many Fateful Absence in what seems to be a Control deck, but it's actually a pretty genius move. If the opponent is spending the time popping the Clue, that's time not spent developing the board state. Since this deck is going to go over most other decks in the metagame, letting them draw a card is really no big deal. Speaking of drawing cards, we also have the full four Reckoner Bankbuster to really churn out cards when we have excess mana to work with!
Moving to the crux of the deck, we have our mid game threats.
Liliana of the Veil has lost a lot of popularity since the beginning of the format, but we're still a fan here as taking any card that can produce card advantage is what this deck is all about, even if the +1 is symmetrical card disadvantage. While Wedding Announcement is one of the best cards in Standard, we're only playing three copies here as without other creature threats, we can't make the best use out of this. However, being able to create three chump blockers for Planeswalkers may just be good enough! Once again, no surprise to see The Wandering Emperor as she is a defensive house against any deck looking to attack. Finally, we have the rare full playset of Sorin the Mirthless to round out the four drops. Seeing four The Wandering Emperor is no surprise, but in the vein of just playing every grindy card available to us, Sorin definitely fits the bill as well!
Somehow, we're already at the end of our curve! Once you hit five mana, you can start slamming down insanely high impact cards.
Similar to Liliana, Invoke Despair has lost some popularity as the midrange win condition of choice, but it's still an insanely powerful card. Always netting a three for one, Invoke can really disrupt the opponent's plan, deal them massive amounts of damage, or even both! Finally, we have a full playset of Farewell as a nice reset button. Since Farewell doesn't hit Planeswalkers, we can easily use every mode of Farewell to completely annihilate the opponent's board while likely keeping something on our side. If that isn't back breaking, I don't know what is.
Similar to The Kami War, I suspect this deck being extremely metagame dependent where it's removal is relevant. Running this into something like Mono Red Aggro or Mono Blue Tempo definitely wouldn't bode well, but in the midrange grindfest that is Standard, this could be yet another way to attack at an angle most aren't expecting.
Hopefully, at least one of these decks caught your interest and can inspire you to try something new in Standard!
Thank you for reading!