Yargle Day! Event Guide
Today is the 3rd of September, and that can only mean one thing: It's Yargle Day! The 9/3 vanilla frog spirit from Dominaria gets to celebrate its special day, MTG Arena is holding a free to enter 24 hour event and a Secret Lair drop to go along with it. Find out what today entails in this guide.
Yargle Day! Event Details
When Belzenlok's lieutenant Yar-Kul grew to ambitious, the Demonlord transformed him into a maggot. The frog that ate the maggot grew and grew, until a ravenous spirit burst from its body. Today, we celebrate that spirit, everyone's pal, Yargle!

We asked Yargle how best to celebrate, and here's how we interpreted its gurgles and shrieks:

– Yargle makes the rules! Yargle has provided decks for everyone to use, and we've even cleaned most of the slime off them.
– Yargle is the center of attention! Yargle is the only-non common card allowed, and you'll have plenty of extras so you won't run out.
– Yargle is special! Yargle will be faster to get into the fight, so nobody has to have fun alone.

Join us for a rip-roaring good time with a spirit of a frog which ate a maggot that was actually a transformed lieutenant of a demon. Happy Yargle Day, everyone!
Happy Yargle Day! Emblem
Duration: September 3, 2020 at 12:00 AM – September 4, 2020 at 12:00 AM
Format: Historic Pauper Preconstructed (with special rules)
Entry Fee: Free
Ends After: Keep playing until the event ends.
Match Structure: Single matches (BO1)
Rewards
Following last week's Standard 2021 Artisan event, players are once again able to earn up to 1200 Core Set Mastery XP (1.2 levels) as a one off in this event to help catch up. We still exactly two weeks until the Zendikar Rising Mastery begins on September 17, so be sure to use our Mastery Calculator to see what level you can reach. This will be especially helpful if you are wondering whether purchasing the paid Mastery Pass is worth it for you – remember, rewards are retroactive!
1 Win: 900 Mastery XP
2 Wins: 300 Mastery XP
Event Decks
To participate in this event, you can choose from the five Historic Pauper decks below but each deck has 9 Yargle, Glutton of Urborg and it costs only 3 mana to play due to the emblem! Each deck is built around the card to make use of its 9 power, such as giving it unblockable, double strike or trample.
Each deck looks fun to play on their own, but if you are after the two quick wins then the Blue or the Red deck looks to offer the most value to disrupt your opponent's Yargle to make way for your own. The Mono Black one offers consistency in the mana base and is not too far behind.
---
Happy Yargle Day! Secret Lair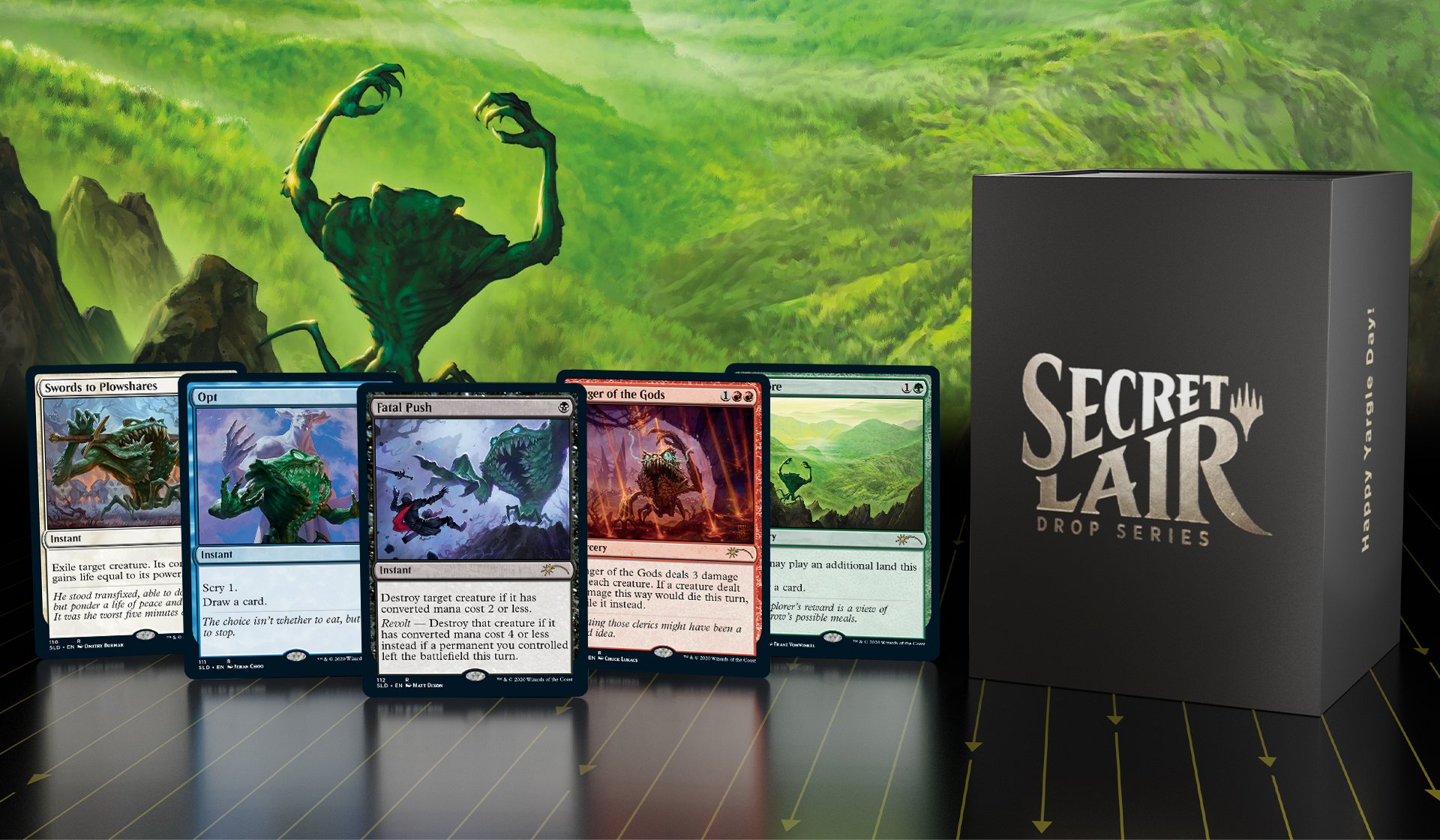 Starting at September 3rd at 9 AM PST, the Happy Yargle Day! Secret Lair will be available in both regular and foil versions for $29.99 USD and $39.99 USD respectively. Please note that this is a tabletop Magic product, and there are no MTG Arena sleeves associated with this drop.
For our entire lives, we have celebrated Yargle Day every single September 3rd. This is well-known information and taught over and over again in schools, but here are a few Yargle Day reminders:
If you hear footsteps on your roof, REMAIN CALM. Yargle can smell your fear.
It doesn't matter if you're naughty or nice, Yargle's gaping maw is large enough to accommodate both kinds of children at once.
Save your milk and cookies for December. Consider tying a goat to a fence on the outskirts of your property, and maybe he'll get full.
Yargle never gets full.
It seems a single card in Dominaria was not enough to appease this beautiful, cruel spirit, so we have printed several popular cards with new art celebrating his glorious visage. We fondly remember the sacrifices artists who undertook this daunting challenge: Dmitry Burmak, Jehan Choo, Matt Dixon, Chuck Lukacs, and Franz Vohwinkel. May Yargle have mercy on their souls.
CONTENTS:
1x Foil Alt-Art Anger of the Gods
1x Foil Alt-Art Explore
1x Foil Alt-Art Fatal Push
1x Foil Alt-Art Opt
1x Foil Alt-Art Swords to Plowshares
MTGO Redemption:
One (1) unique code to redeem for one (1) foil copy of each of the Happy Yargle Day! Secret Lair Drop Anger of the Gods, Explore, Fatal Push, Opt, and Swords to Plowshares cards for use in Magic Online.
*MTG Arena and Magic Online codes must be redeemed within one year of order confirmation. Not available in all countries or territories. Not for resale.
**MTG Arena and Magic Online codes are not available in the following regions: China, Hong Kong, Macao, Singapore, Taiwan and Vietnam.
***Unless otherwise stated, all printed Secret Lair drops are English language.