Standard Izzet Fable Deck Guide: An Unending Train of Value
This guide contains everything you need to know to be an excellent Standard Izzet Fable player in Magic: The Gathering.
We seen in many occasions before how cards that start being one more rare in a set suddenly skyrocket to a multi format all-star. Right now, Fable of the Mirror-Breaker definitely fits that bill.
Many sagas could feel like slow cards, especially when you pay four or five mana for them. Nevertheless, this red saga shares one common factor with many of the best Standard star third drops: it leaves something behind and/or give us high amounts of value even if removed from the field.
A 2/2 Goblin creature that our opponents have to kill if they don't want us to gain more resources, something that most of the time forces a removal spell.
It let us rummage two cards, all of this after our draw step. This effect let us fix our hand to look for our best cards when we need them plus something that let us throw cards to our graveyard in case our strategy involves graveyard shenanigans.
Finally, the cherry on the top. A remembrance of a nerfed Kiki-Jiki, Mirror Breaker. A creature that allows us to generate an insane amount of advantage.
In summary, this is a card that allows us to trade two for one with our opponents most of the time, and in case our opponent doesn't interact with it soon, things will definitely get out of hand.
Without a doubt, this card is a powerhouse; something so strong that some players also mention that its impact in the format could be strong enough to be banned. I don't think that's something that is going to happen, or at least not soon, nevertheless, it's strong enough that many archetypes in many formats are playing this remembrance of Kiki-Jiki, Mirror Breaker.
How we can make this card even better? Well, Shlop S, won a tournament a few weeks ago with a very interesting Izzet list that could give us some hints:
Izzet Fable – Shlop S 1st NBL Saturday Magic
by Bohe
Standard
Control
best of 1
60 Cards
$420.36
15 Cards
$6.67
This red saga does a lot for just three mana. Paulo also said that if we look at the good three drops in Standard right now (which includes this card), they're all cards that leave us with something behind, even if our opponent interacts with them. Having this in mind, seeking ways for getting more of these cards is a very good idea.
The key behind this list is the full set of Bloodthirsty Adversary. Fable of the Mirror-Breaker lets us discard up to two cards to draw that many cards. This is a very good way of fixing our hand, but what happens when we want to keep all the cards we have? Usually we just don't discard, not exploiting all the potential this saga it can have.
Having Bloodthirsty Adversary changed that completely. With a card that lets us play instants and sorceries from our graveyard, we could discard spells we don't need immediately, even if they are good, letting us keep drawing while knowing that we can play them later with the aforementioned vampire ability.
Prismari Command gives the deck redundancy, letting us keep drawing and discarding cards, giving us answers for our opponent's threats and the best cards for every turn in the game, and filling our graveyard for later Bloodthirsty Adversary shenanigans.
Having a plan like this makes Wandering Mind finally find a home. The deck plays more than 25 non-creature spells. Looking at the top six of our library for one of them is a big deal. Goldspan Dragon ties this up perfectly, giving us a win condition and large amounts of mana, something that we can use in very different forms; multiples instances of Bloodthirsty Adversary trigger being one of them.
Now imagine what happens when Fable of the Mirror-Breaker transforms. Copying Bloodthirsty Adversary lets us play a card from our graveyard every single turn. Doing this with Wandering Mind makes us find the answer we need almost immediately, and closing the game with a horde of Goldspan Dragons is more common than you can think.
The rest of the lists goes down with a wide variety of very good spells that let us control the peace of the game, dealing damage to our opponent creatures and countering problematic spells.
A strategy so good as this one is something that couldn't pass without notice. 3 other players already made very good finishes with the archetype recently, even post Streets of New Capenna's release:
Izzet Fable – DoomBringerIL 1st The Lotus Lookout\'s
by Bohe
Standard
Control
best of 3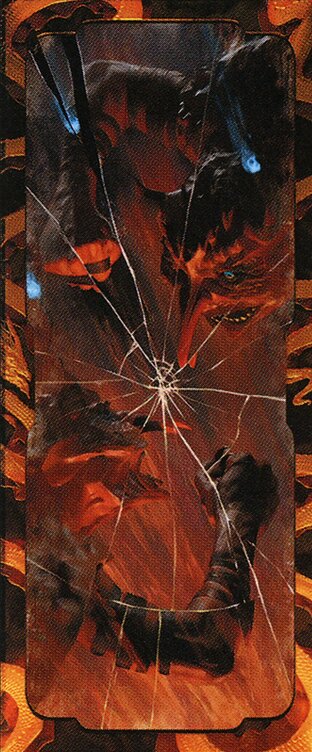 60 Cards
$420.84
15 Cards
$6.67
DoomBringerIL piloted an almost identical build to 1st place on The Lotus Lookout's Standard tournament and a top 4 on MMA Avril#8.
The only change is something very interesting. One less Island and Mountain for a pair of Roadside Reliquary. Playing two colorless lands in a two-colored deck is not a problem most of the time. Having the upside of extra draws is definitely very good. We can make a treasure token to have an artifact very easily (the reason why this deck also plays a full set of Voltage Surge). The goblin token from Fable of the Mirror-Breaker, Prismari Command, and even Goldspan Dragon make this very easy. For enchantments, we only play the red saga, but finding a copy is not hard most of the time, and the best of this is that Roadside Reliquary draws a card if we control an artifact and a card if we control an enchantment; we don't need both types for drawing, making this land a very interesting addition that lets us keep the cards flowing.
Izzet Fable – Kodama Hiroshi 5th Hareruya TBTC
by Bohe
Standard
Control
best of 3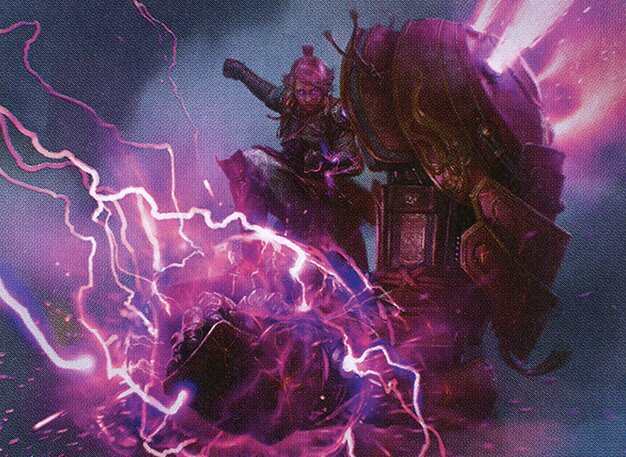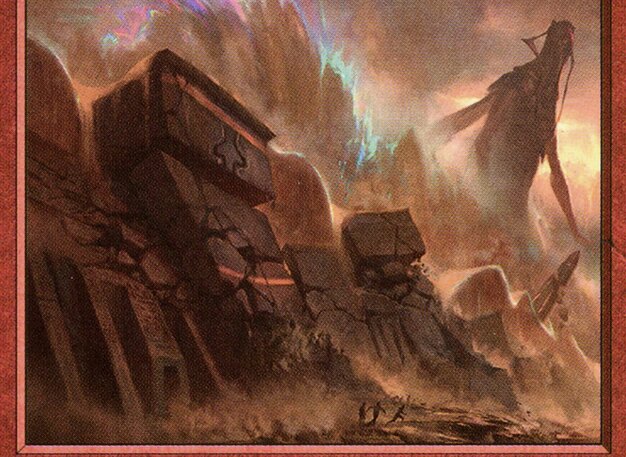 60 Cards
$398.94
15 Cards
$9.75
Kodama Hiroshi choose Izzet for a very big tournament in Hareruya (66 players). Like we can expect from a Japanese player, there's some very interesting card choices in Hiroshi's deck.
Aegar, the Freezing Flame is probably the most noticeable card in this list. However, if all of our removal spells rely on damage, this giant can let us draw a lot of cards. Reservoir Kraken is one of those cards that shines in Limited, nevertheless, it's something that requires a lot of resources from our opponent when trying to get rid of it. The ward 2 taxes any kind of removal aimed at it, and a 6/6 trampler for four mana is a good deal most of the time. If our opponent wants to hold this kraken during combat, tapping a creature always makes their plans stumble; also, anyone who has played Streets of New Capenna Limited knows that a 1/1 unblockable fish can deal enough damage to call for removal from our opponents.
Curiously, Hiroshi didn't play Bloodthirsty Adversary. Nevertheless, the raw drawing power of this list in the form of a full set of Reckoner Bankbuster and Aegar, the Freezing Flame helps a lot to keep the hand full of options.
Izzet Fable – Augusto Lespier 3rd $500 GGtoor #12
by Bohe
Standard
Control
best of 3
60 Cards
$390.36
15 Cards
$49.13
Finally, Augusto Lespier had an amazing run during the GGtoor #12, making a top 3 finish in a 163 players tournament.
This time the list follows the same basic idea. Bloodthirsty Adversary, Goldspan Dragon, Fable of the Mirror-Breaker, and a lot of very good instants and sorceries. We have to notice two very interesting choices in this list: All-Seeing Arbiter and Big Score.
All-Seeing Arbiter is a card that has seen a lot of play recently. Almost every single version of Esper plays 2 copies, one on the main board and the other on the sideboard. The biggest reason is how good it is against aggressive strategies. It gives -X/-0 to a creature the opponent controls until our next turn, something that shuts down problematic threats. This is extremely powerful in this shell because this effect triggers whenever we discard a card. This blue avatar lets us draw two cards and then discard a card when it enters the battlefield or attacks. If this is enough for Esper, imagine how good it is on Izzet when Fable of the Mirror-Breaker, Big Score, and Prismari Command also discard cards.
Big Score also gives us more redundancy, more discard effects in exchange for more value. Draw two cards and create two treasures (also good for Voltage Surge) let us put ourselves in a position for powerful turns, something that explodes in a combination of all our other cards.
After playing this archetype for a while, I ended up with my version which gave me very good results during these last weeks:
Standard
Control
best of 3
60 Cards
$393.72
15 Cards
$44.39
All the aforementioned players contributed something to the evolution of this archetype. I did my best to aim to build the best iteration of this deck, and after almost 30 matches, I can assure you that this is without a doubt a potential next tier 1. I'm going to explain further the reasoning behind this configuration during our Sideboard Guide section.
---
Potential Inclusions / Notable Exclusions
---
Matchups and Sideboard Guide
Naya Runes
We take out one Bloodthirsty Adversary because although we do want to draw it, we don't want it until later in the game. Flashing back one Fading Hope in our graveyards does wonders.
We also take out Wandering Mind because even if we want ways of finding our removal , it's a little bit slow. Same goes for Prismari Command that is too expensive for this matchup on top of the fact that they don't play artifacts. It's a similar case for Big Score.
Keeping two Negate is a key part of our plan. I know that countering an aura is something we are not going to do most of the time; instead, not letting them have powerful turns with Showdown of the Skalds is amazing. Also, they are surely going to bring two copies of Hallowed Haunting which is another good Negate target.
Mind Flayer is good against almost any creature deck, but it's in our sideboard basically for this match. Plan your plays accordingly.
Mono White Aggro
We have a very similar sideboard plan against Mono White, the main difference is that we add Seismic Wave to the equation. This card has seen a lot of play lately, and the reason is clear, it's amazing against many planeswalkers. Most of the time it can kill the planeswalker and the token/s it leaves behind. Against Mono White, it's a 2×1 in many situations (in other cases, like against Lolth, Spider Queen it could even be a 3×1 or more).
Another point that we have to keep in mind is that we take out all our Negate, so countering The Wandering Emperor is not really an option unless we have Jwari Disruption. Don't worry about it, but keep this planeswalker always in mind. We have many good removal spells to deal with it without a problem.
Jund Midrange
Having Flame-Blessed Bolt in our sideboard is mostly because of how good it is against Tenacious Underdog (Kami of Transience is also a reason). With this removal spell in combination with the fourth Dragon's Fire and Seismic Wave, we could take out Voltage Surge without worrying too much about lacking removal. Speaking of Seismic Wave, having this card against a deck that has Ob Nixilis, the Adversary and Lolth, Spider Queen helps us a lot.
Orvar, the All-Form is also here because of Ob Nixilis. Getting value from the opponent's planeswalker is definitely powerful!
Disdainful Stroke does wonders countering Workshop Warchief and their Titan of Industry friend which makes it a strong inclusion.
Esper Midrange
Finally, the deck to beat. At least, in my opinion, Esper is just a bit over the other tier 1 decks, mostly because of Raffine, Scheming Seer and Kaito Shizuki. These two cards are amazing in combination or by themselves which makes Esper more or less a "pile of good stuff".
Flame-Blessed Bolt became handy again against Tenacious Underdog. Killing off any creature, especially Raffine, with this removal stops Nullpriest of Oblivion from getting any of them back as well.
Disdainful Stroke has many good targets that otherwise could be very problematic like Sanctuary Warden, All-Seeing Arbiter, or any of their planeswalkers. Gladly for us, we also have Seismic Wave against Kaito Shizuki, The Wandering Emperor and Lolth, Spider Queen to clean up tokens.
We keep Prismari Command against Jund because of Esika's Chariot. Against Esper, this card and also Big Score can be good, but we prefer cards that trade better whenever possible.
---
Tips and Tricks
If you have enough mana, paying Bloodthirsty Adversary's ability more than once is possible. Also, playing one during turn 2 in case you are facing a very slow deck could be a good idea to pressure during the early game.
Wandering Mind can give us any non-creature card, this means that we can find Fable of the Mirror-Breaker with this creature.
All-Seeing Arbiter triggers whenever we discard a card. Keeping in mind discarding effects from Prismari Command, Big Score, and Fable of the Mirror-Breaker while having this creature in play is very important.
Expressive Iteration is better when we play it before playing a land, something that lets us exile a land if we find one for playing it and then assuring more land drops during the game if we have more lands in our hand.
Always remember that Spikefield Hazard also exiles it's target if it dies, just like Flame-Blessed Bolt.
Value your treasure tokens. They let us kill Raffine, Scheming Seer for just two mana at instant speed with Voltage Surge.
The best moment for copying a creature with Reflection of Kiki-Jiki is at the end of our opponent's turn. This lets us keep the copied creature during our turn until the end step.
Many people suggested during my streams copying our creaturelands with Kiki-Jiki. Going for this using Den of the Bugbear and Hall of Storm Giants doesn't work. The copy is not a creature and the land enters the battlefield tapped (because we surely have more than two lands in play).
Sokenzan, Crucible of Defiance tokens have haste. This could be the difference between a lethal attack and one that's not.
Even if we haven't mentioned Hullbreaker Horror yet, our copy in our sideboard goes amazingly well against slow decks such as Jeskai Control/Hinata/Dragon Combo, Azorius Control, or Izzet Control (with Lier, Disciple of the Drowned, etc).
---
Round Up
Let me tell you one more time, dear readers, that this is an amazing deck that is also very fun to play. Building a deck after brainstorming ways of making a good card better ends with archetypes like this one as a result.
We've heard many times how healthy and well balanced Standard feels in the last months. Since Kamigawa: Neon Dynasty and now with Streets of New Capenna, playing any kind of strategy is possible. From the more aggressive strategies to the hardest control deck, with all the mid range and combo decks in between. I enjoyed a lot playing many matches with this Izzet deck and climbing the ranked ladder without many problems. I hope you can have the same fun as I did with this archetype.
Until the next time, let me know what you think about this deck on my social media and/or my streams (links below). Do you have any cards that you want to break next? I have already have a few ideas… Let's discover that on my next column, and remember; don't forget to smile when your day starts. It makes a difference. ❤
Enjoy our content? Wish to support our work? Join our Premium community, get access to exclusive content, remove all advertisements, and more!