We're less than a week away from the November 15th release of the new Standard-legal set, The Brothers' War, on MTG Arena. We already have access to the full set spoiler, and I can't emphasize how excited I am to start playing with the new cards!
There's a lot of buzz about the set's potential to be an exciting Limited set as well as one that contributes a ton of powerful cards to multiple Constructed formats. If you're interested in seeing what The Brothers' War has in store for Standard, Explorer, and Historic, you'll definitely want to check out the Early-Access Event on November 10 that Wizards of the Coast has invited many popular Magic streamers to.
We're also fully in the tank at MTGA Zone working on new decks and strategy guides ahead of the set's full release. In this Standard-focused article, I want to look at Esper Midrange – probably the most popular deck in the format since the printing of Raffine, Scheming Seer – and see how we can improve the archetype with cards from The Brothers' War.
Something you might have learned playing Standard on the Arena ladder or following tournament results over the last couple months is that there are many ways you can build Esper Midrange to get a leg up on the metagame. PVDDR talks more about the adaptability of the midrange decks in the format here.
In my experience playing the format, giving you just one updated Esper Midrange deck list will fail to capture the diversity of Standard right now and won't adequately address how building the deck differently can give you an advantage in the early weeks of The Brothers' War Standard. Instead, I'll look at three of the more successful ways I've seen top players build the archetype, I'll break down why these builds look good, and I'll provide updated deck lists for these variations on the theme.
What Makes Esper Great?
I wanted to highlight what most, if not all, Esper builds should have in common going into the refreshed Standard format. The reason why this deck continues to take down events and do well, even despite regularly facing down other decks built to beat it (Grixis Midrange and Izzet Tempo, to name two), is that it will always have these powerful characteristics that make it competitive at all stages of the game:
Plaza of Heroes as the Perfect Mana Fixer
Raffine, Scheming Seer Snowballs Out of Control
Access to Powerful 4-Drops
Flexible Removal Package
At first glance, Plaza of Heroes might look like the type of card that enables some sort of janky 5-Color Legends deck, maybe with Jodah, the Unifier. However, most successful Esper decks currently play between 2-4 copies. The land does an awesome job fixing for difficult-to-cast cards like Raffine, while making sure you don't flood in the late game with its relevant protection ability.
Speaking of Raffine, this three-drop has dominated Standard since it came out in Streets of New Capenna. It's difficult to kill, and lets you take control of the game with minimal effort. All you need to present your opponent with a headache is curve a two-drop into Raffine and threaten to both grow your attackers and filter your draw.
Four-drops like Sheoldred, the Apocalypse and The Wandering Emperor team up with Raffine to comprise the perfect curve-out of flexible, powerful, and resilient threats. One of the factors that makes the deck so successful and versatile is you can customize your four-drop slot for the metagame. After putting 3-4 The Wandering Emperor in your deck, you can choose between Sheoldred, and many other powerful cards like Ertai Resurrected, Obscura Interceptor, and Sorin the Mirthless.
Finally, the Esper colors let you play a slew of cheap and flexible answers like Destroy Evil, Infernal Grasp, Cut Down, and even creature answers like Brutal Cathar and Ertai Resurrected
With that, let's move on to the three main builds of Esper and look at how The Brothers' War might augment the lists I've selected
Esper Midrange
First, I'll cover what I'll call "vanilla" Esper Midrange. This version of the deck tries to balance the four strengths of the archetype that I outlined above to build a deck that will always have access to the most purely powerful plays on curve. This list that Magic: The Gathering Online player marcofabrizi finished 2nd with in a recent Standard Showcase Challenge is the perfect illustration of this.
marcofabrizi's Esper Midrange Deck
marcofabrizi – Esper Midrange
by INickStrad
Standard
Midrange
best of 3
60 Cards
$539.84
15 Cards
$49.81
Using Plaza of Heroes to fix mana? Check! Four copies of Raffine? Of course! Resilient bombs at the top of the curve and a removal suite with answers to everything? You betcha! This version of the deck just wants to trade resources early and go over-the-top with Ao, the Dawn Sky or one of the four-drops to end the game. This list also plays a mix of snowball cards like Kaito Shizuki and Wedding Announcement and cheap plays that stay relevant in the late game.
Updating this list with The Brothers' War cards is all about finding threats and removal that boast a better rate or are relevant more often than cards we want to cut. Fortunately, BRO is filled with both.
Phyrexian Fleshgorger is an incredibly powerful card that's great whether you cast it for three or seven mana. Crucially, it dodges common removal spells like Destroy Evil and Cut Down , while making Infernal Grasp very painful for your opponent to use on it. I expect many players to replace Grasp with the more flexible Go for the Throat, and Fleshgorger is immune to this one as well.
It's also an excellent attacker, with menace and lifelink combining to pressure opposing Planeswalkers and life totals while making up for some damage you might take from your own lands and Grasps. The only issue that might come up in this deck is not being able to cast it on turn three with Plaza of Heroes, but the addition of Underground River helps a little. Furthermore, you can also hold it until you can cast it for seven mana.
Meanwhile, I'm also excited about Misery's Shadow in the deck as a counter to sticky threats in Esper mirrors like Ao, the Dawn Sky, Dennick, Pious Apprentice, and Tenacious Underdog. I'll be playing a few of each alongside Shadow initially, but I wouldn't be surprised if the proliferation of opposing copies make me dig into Scryfall for other options at two mana.
Here's where I would start with vanilla Esper Midrange. I've left out the sideboard for today's deck lists because it's hard to say what we want to be prepared for.
Esper Midrange featuring The Brothers' War cards
Esper Midrange With The Brothers\' War
by INickStrad
Standard
Midrange
best of 3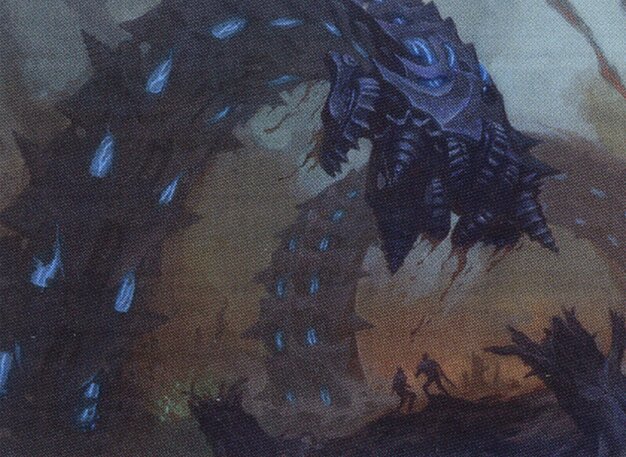 Esper Legends
In a Standard Challenge on Magic Online I played a couple of weeks ago, I was playing for top 16 and got paired against legend and Hall-of-Famer Willy Edel. He's always a nightmare to play against, and this time he completely destroyed me with a sweet twist on the usual Esper Midrange deck.
Willy Edel's Esper Legends Deck
Edel – Esper Legends
by INickStrad
Standard
Midrange
best of 3
60 Cards
$382.84
15 Cards
$17.15
Edel blew me out by curving Thalia, Guardian of Thraben into Anointed Peacekeeper, a sequence seemingly more at home in a Mono-White Aggro deck than a list that played Raffine's Tower on turn one. He maintained his early advantage by answering my plays with Ertai Resurrected and protecting his creatures with Plaza of Heroes.
I was very impressed with this deck and wanted to see how a version with The Brothers' War could optimize for the crucial fixing and interaction that Plaza provides a more aggressive and creature-focused Esper deck.
While a little less flexible than Phyrexian Missionary, I want to play some number of Harbin, Vanguard Aviator in the deck. It's going to be pretty unlikely you ever trigger the second ability, but a 3/2 flier for two mana is exactly what we want in a beatdown deck that wants to play two-drop into Raffine.
Loran of the Third Path is going to be a great sideboard card across different White decks, but I want to start with one in the main deck. Killing an artifact or enchantment is very relevant in a format with The Brothers' War and with old stalwarts like Wedding Announcement and Fable of the Mirror-Breaker. The draw ability could also be relevant when you're trying to find another creature to keep the pressure on your opponent.
The new card I'm probably most excited to play in this deck is Myrel, Shield of Argive. The reason Ao is such a popular card, despite costing five mana, is that it insulates you against The Wandering Emperor by attacking with Vigilance. Myrel is one mana cheaper and also interacts with a lot more cards from your opponent. The Wandering Emperor is a lot less scary when it has be cast on your opponent's turn. I would start by cutting Anointed Peacekeeper from this version of the list, but it's a card that works well with Thalia and Myrel, so it might come back in for something like Brutal Cathar, or for the Adeline, Resplendent Cathar I've included in this list.
Esper Legends featuring The Brothers' War cards
Esper Legends with The Brothers\' War
by INickStrad
Standard
Midrange
best of 3
Recommission is a bit of a wildcard in that deck that doesn't work well with Thalia but offers some extra resilience, in the late game. If there aren't too many Misery's Shadow running around, you will often have access to several legends in your graveyard that do something relevant to the current game state, and Recommission makes them more of a threat to boot.
Esper Flash
The final Esper build I wanted to feature is the list that Karl Sarap, aka Terribad, took to the Top 4 of the recent Magic World Championship. Terribad is a great player and I'm not surprised he was brave enough to show up to Worlds with an Esper deck that played zero copies of Sheoldred, the Apocalypse in the main.
I call this version Esper Flash because it looks to keep mana open more often than tap out. It relies less on raw power and more on both Raffine's ability to carry a game single-handedly and on a clutch of versatile spells you don't always see in Esper like Rona's Vortex and Void Rend. Siphon Insight holds the deck together, allowing you to use your mana when you're not disrupting your opponent's game plan.
Karl Sarap's Esper Flash Deck
Terribad\'s Esper Flash
by INickStrad
Standard
Midrange
best of 3
60 Cards
$346.14
15 Cards
$187.61
This is the hardest list for me to tweak, because it is such a specialized build of Esper that wants to excel in the mirror and to a lesser extent against Izzet and Mono-Blue Tempo decks. Right now, I'm looking to update the list with more flexible removal options and keep it in my back pocket in case other versions of Esper overrun the early Standard format.
I would want to try Myrel over Ao again in this list, simply because Myrel is such a powerful card that must be answered right away. Meanwhile, Go for the Throat comes in and I want to play one or two copies of Legions to Ashes to deal with problematic permanents like Phyrexian Fleshgorger and Reckoner Bankbuster.
Esper Flash featuring The Brothers\' War
by INickStrad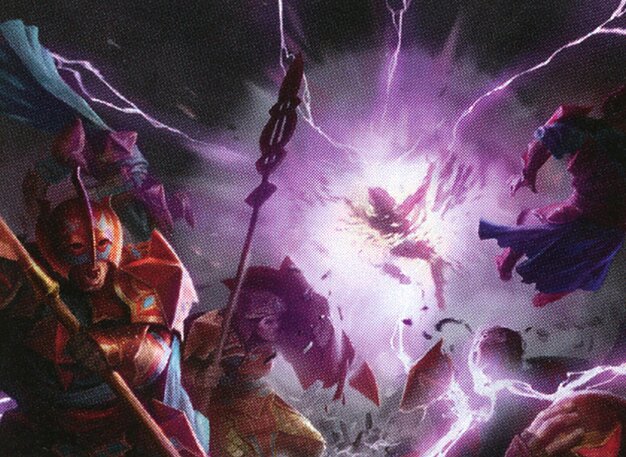 Esper Usual
Aside from various updated versions of existing midrange decks, I expect The Brothers' War to throw some new archetypes into the mix. Standard is hopefully going to be a puzzle for a while, and I hope I helped you make sense of it a little by distilling the different directions you can go with Esper into one article. Be sure to let us know which cards from the new set end up powering up your Esper decks!