---
Howdy folks! From the previews, Kamigawa: Neon Dynasty seems to be a pretty powerful set, particularly when compared to the latest Innistrad block. I'm fully expecting it to revolutionize the meta, and hopefully bring back under the light some archetypes that haven't seen much success in recent years.
Such is the case of tempo decks, that have essentially disappeared (in standard) since Ixalan and Monoblue rotated out. Thankfully, Kamigawa will be giving us some sweet tools to fight back and find a spot in the meta for my favorite archetype!
Today I'll be showing you three different lists that I believe could hold their own, each with their strengths and weaknesses, but a solid and clear game plan. Let's get into it.
---
MONOBLUE SPIRITS
Few things in Magic scream tempo as much as a spirits deck! With this list, we take to the skies, as we fly over our opponents' creatures while stifling their threats with our instant speed plays.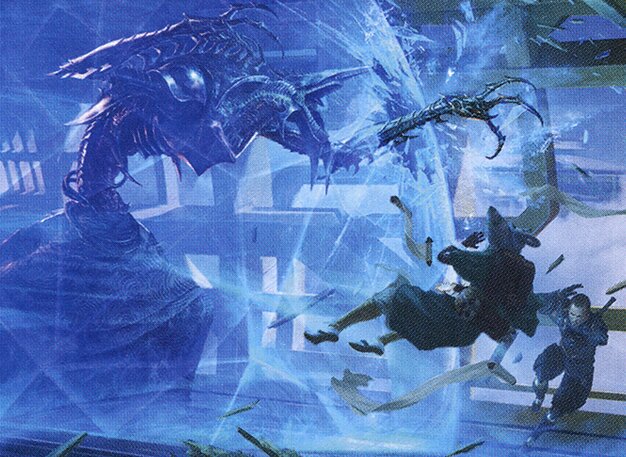 60 Cards
$109.16
Sideboard
15 Cards
$13.89
CREATURES
Every single one of our threats comes with extra benefits: card advantage, card selection, tempo advantage.
Delver of Secrets and Ascendant Spirit are real win conditions, and will end a game quickly if left unchecked. While Delver can flip and become a true threat on its own, Ascendant Spirit needs some help. Thankfully, we can activate its abilities at instant speed, which makes it easy to hold up interaction as we wait for our opponents to commit.
Suspicious Stowaway is an unblockable threat that makes sure our hand is always filled with action, by either looting, or straight up drawing cards during night time.
Spectral Adversary is a criminally underrated card, capable of saving our team from a wrath, phasing out key blockers, or simply letting us hold up a Turn 2 counterspell before committing more creatures to our board.
Cemetery Illuminator and Dreamshackle Geist are our haymakers, capable of turning the tides of any game in our favor thanks to their flexible and impactful abilities: exile a dangerous graveyard card or generate card advantage, tap a key blocker or freeze a threatening attacker.
INTERACTION
Fading Hope constitutes our only form of removal, and unfortunately it is only temporary… but who needs removal when nothing can enter the battlefield?
With 14 different counterspells we're ready to take over the world!
Being a (mostly) spirits deck lets us run Geistlight Snare, which makes a great impression of Mana Leak.
Jwari Disruption is on double duty, and finds itself at home in our monoblue deck: like all MDFCs it can turn an otherwise unkeepable hand into a good one, and doubling up as a serviceable early game counterspell is the icing on the cake.
Essence Capture is crazy good in creature matchups, often being Counterspell with an added bonus that fits right into our plan: how does a turn 2, 4/3 Delver of Secrets sound? I can't wait to take a screenshot of that!
Finally, Spell Pierce is one of the best tempo plays in Magic's history, and I'm once again ready to counter 5-mana planeswalkers for 1 mana.
LANDS
Unfortunately, Faceless Haven is no longer with us. Fortunately, snow lands help us enable our Ascendant Spirit, so we'll stick with those!
While I don't expect (nor hope) to activate Hall of Storm Giants frequently, it's essentially a free creatureland in our monoblue deck, with very minimal opportunity cost.
Same thing goes for Otawara, Soaring City, which just like Jwari Disruption fits into our deck thanks to its flexibility and almost nonexistent drawbacks.
SIDEBOARD
A bit of removal and a bit of conditional counterspells, each with a specific matchup in mind!
In particular, I'm interested in seeing how March of Swirling Mist will perform: adaptability is king in Magic, and March can act both as a protection spell for our threats, as well as a "removal" spell to push through big blockers and deal extra points of damage.
I expect great things from it, and I can easily see it as a main deckable option, should the meta allow it.
---
AZORIUS AURAS
Auras decks are often held back by the lack of good creatures to enchant, and the subsequent difficulty to rebuild, should something go wrong. Thankfully, both Innistrad and Kamigawa provided us with great enablers, and I'm ready to buy into the deck.
60 Cards
$121.24
15 Cards
$12.41
CREATURES
Chaplain of Alms is the only 1-drop in our deck, but as a recursive threat, capable of protecting itself (at least in the early stages of the game) and capable of trading favorably thanks to first strike, it fully earns that spot.
Dorothea, Vengeful Victim acts as a decent 2-drop, but is mainly used for the aura on its backside, turning one of our creatures into a makeshift Geist of Saint Traft. Running out one of our more valuable creatures on turn 2 is generally ill-advised, so Dorothea fills that gap nicely, by giving us some board presence while we set up for later turns.
Stormchaser Drake and Light-Paws, Emperor's Voice are our engines, and our success heavily depends on getting one of them to stick to the board for multiple turns. Rather than going wide, we're planning to go tall, and when you do that, you want to make sure that you protect your queen at all costs, so plan accordingly.
Katilda, Dawnhart Martyr is a phenomenal creature in an enchantment based deck, but takes time to build up and is only truly effective on an already established board. I really want to give this card a chance, but at the moment I don't feel comfortable with having more than one in the deck.
AURAS
As already said, our plan is to go tall, but we have to be very careful and time our spells accordingly.
To help us play the tempo game effectively, we're going with mostly cheap auras, especially with ones that provide additional bonuses.
For example, Fly gives us evasion and ventures us into the dungeon, Rune of Sustenance gives us lifelink and draws us a card, Spectral Steel and Valor of the Worthy grow our creature and can later help us recoup, should things take a wrong turn.
Cradle of Safety is the best aura in the deck, as it grants hexproof while also pumping our target at instant speed.
Due to Light-Paws's triggered ability, we want to try to differentiate the auras in our deck, also so that we are able to sort of act as a toolbox deck, and fetch the auras we need on demand.
INTERACTION
While blue lets us access counterspells, we don't want to overload our deck with them and risk not drawing our valuable auras. In short, our interaction suite should be limited, but very powerful.
Spell Pierce is a mainstay in just about any tempo deck, and this is no exception: countering a single spot-removal spell from our opponents could essentially win us the game.
Due to the heavy enchantment count, we can also rely on a few copies of Geistlight Snare, as early game insurance.
To round it up, a copy of Sejiri Shelter fits perfectly in our deck that wants a relatively low land count, as well as protection spells.
LANDS
Lots of different lands!
The creaturelands, as well as the Kamigawa legendary lands are essentially a free roll, and one copy of each sounds about perfect.
We can also get away with one copy of Emeria's Call, should the game go longer than we intend to. While the spell itself is quite expensive, putting 8 flying power on the board and giving indestructible to all of our other creatures sounds quite reasonable.
SIDEBOARD
Light-Paws rewards us for playing auras, so even for our sideboard we're partially leaning on those: Bind the Monster, Ray of Frost and Curse of Silence fuel our plan while throwing a wrench into our opponents'.
Fateful Absence was designed for combo and tempo decks, so we're taking full advantage of that by including a couple copies as our catch-all options.
Spell Pierce grants us further safety, and You See a Guard Approach and March of Swirling Mist can work both as soft "removal" tools, as well as protection spells for our board.
---
DIMIR TEMPO
My dear tempo players, I won't lie to you: this list is the one I'm most excited about, and I'm going to try my hardest to make it work. Having access to the prime removal color and an additional flash creature gives Dimir Tempo a whole new layer of flexibility and adaptability.
If that's not enough to convince you, then I hope Kaito Shizuki will!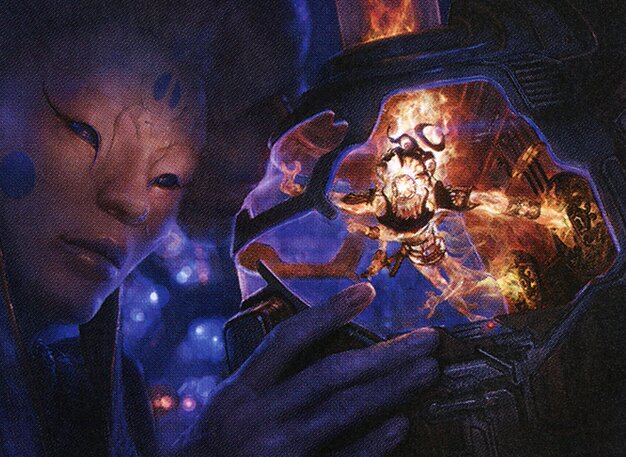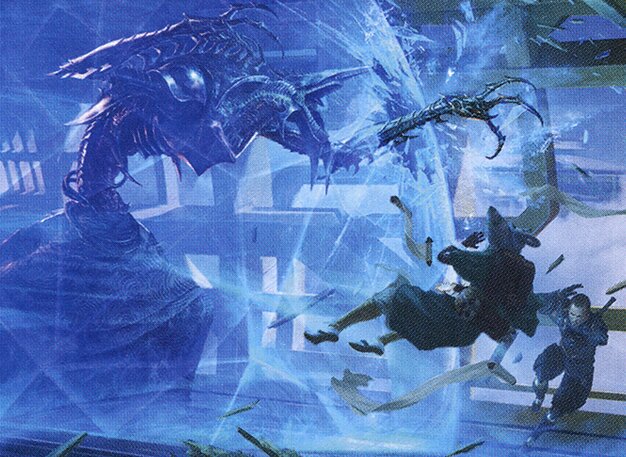 60 Cards
$150.1
Sideboard
15 Cards
$19.43
CREATURES
Delver of Secrets needs no introduction, and much of our early game's success may depend on it. Network Disruptor is not the most exciting 1-drop on the planet, but it has evasion, is a rogue, and has a relevant ETB ability that, even on turn 10, could help us push through some damage.
Suspicious Stowaway does its best creature + Curious Obsession impression, and will help us massively in fixing (or replenishing) our hand. Also, another rogue…
Soaring Thought-Thief and Spectral Adversary are our flash threats. Sometimes it's difficult to decide whether you want to play a creature on turn 2, or whether you'd prefer holding up countermagic. Flash solves that problem for us, as we can now wait for our opponent to take action before we commit to a decision. Given time, Thief can also buff all of our rogues, and Adversary can help us deal the last points of damage or save our board thanks to its phasing ability.
INTERACTION
Our main deck interaction is very similar to that of Monoblue Spirits, and even though our mana base can sustain black, most of our cards require blue mana, so I want to keep our reliance on our secondary color relatively limited.
Spell Pierce and Jwari Disruption can do some heavy lifting in the early game, so that we can run away with our fliers and set up our win.
Essence Capture helps us in doing just that, by slowing our opponent down while also increasing our own pace.
We've all learned how good Fading Hope is, and a tempo deck is the perfect shell to take full advantage of its power.
KAITO SHIZUKI
Ever since he was spoiled, I've had my eye on Kaito Shizuki, and I've thought of ways to break it. Many of us have been traumatized by 3 mana planeswalkers in recent years, and I honestly think this one may be next on the list… only this time I'll be doing the traumatizing!
Kaito is only truly effective in a deck that can get creatures on the board in the early turns, and a tempo deck does just that.
Generally, we would get heavily punished for tapping out on turn 3, but Kaito is so good that it protects itself the same turn it comes down, effectively removing the biggest weakness of a planeswalker. While this doesn't guarantee at least two activations, this is as close as it gets.
Realistically we'll be attacking every turn, so realistically we'll be drawing an extra card for at least two turns. That sounds pretty good to me!
LANDS
Since we're mainly leaning on blue, that is also reflected in our mana base.
While it may need some more tweaking, pathways, slow lands, Takenuma, Abandoned Mire and Hive of the Eye Tyrant should be more than enough to support our little black splash.
I doubt we'll be casting Sea Gate Restoration in many games, but the card acts as a land that also flips Delver, so I decided to include a copy of it. Should the meta favor aggro decks, where we can't afford paying 3 life, I can see dropping it for another painless blue source.
SIDEBOARD
Having access to black, expands our sideboard options significantly.
Historically, tempo decks have struggled against creature decks due to lack of adequate removal paired with good pressure. Black gives us access to some of standard's best removal options in Bloodchief's Thirst and Infernal Grasp. Hopefully, that will be enough to recoup some percentage points in the matchup.
The rest of the sideboard is mainly dedicated to control and midrange decks, with real silver bullets like Test of Talents and Disdainful Stroke.
Since I'm expecting to meet a lot of enchantments in the coming weeks, I also decided to include two copies of Feed the Swarm, which can act both as creature removal, as well as enchantment destruction.
---
FINAL THOUGHTS
I strongly believe tempo decks can have a big resurgence in Kamigawa standard, but only time will tell. Each of the builds presented has its pros and cons, but every single one of them can thrive in the right circumstances.
In a vacuum, I expect Dimir Tempo to perform well, thanks to its flexibility and ability to deal with just about any threat, as well as taking advantage of a great planeswalker.
That's it from me folks! I hope you enjoyed the read, and I hope we can all get to play some good tempo decks in the next few months. Long live Delver of Secrets!